By Larry Stewart, Executive Editor | September 28, 2010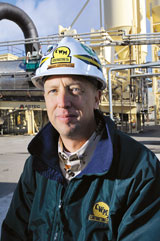 Frank Crumbley, VP, Asphalt Plants
With corporate agility that might be called "heroic," C.W. Matthews Contracting scrapped plans to replace two of its 18 asphalt plants in favor of purchasing Bankhead Asphalt Paving and APAC-Georgia, all in the span of less than 20 days. Absorbing operations that were larger than its own, the 60-year-old family-owned asphalt contractor added 20 plants, sold its only operations outside Georgia (Chattanooga and Cleveland, Tenn.), and brought its entire network of asphalt plants up to state-of-the-art in about 20 months.
"We've all heard of purchases like this not going well and ruining a good company," says Frank Crumbley, vice president of asphalt plants for C.W. Matthews. "We felt like the only way to make this one work was to convince the people who worked for the acquired companies to trust us, involve them in our plans and show them that their ideas don't just go in one ear and out the other."
C.W. Matthews retained field managers and other employees from the acquired companies, and relied heavily on their input to plan the massive reshuffling of plant assets that launched the company into cost-effective production.
"During the due diligence (an intense 18 days in August 2006) we rode around to plants with the APAC general superintendents and talked about what was good and what was bad about each plant, and what was on their wish lists," says Crumbley. "We came back after the acquisitions and sat down with both teams — traditional Matthews personnel and our new people — and said: 'Here is where we have duplicate plants. Here are the locations we want to keep. How do we use these plants and components to make sure we have all state-of-the-art plants when we're done? Which components can we salvage, and where are they needed?'"
A spreadsheet — a large one — was created that listed plant components and indicated which were keepers and how each fit the master list of desired plant locations.
"We had two plants that were already scheduled for major upgrades when this opportunity to purchase came into play and changed the whole game plan," says Crumbley. "At our Douglasville, Ga., location, we were going to scrap the whole plant and put up a new one. The acquisitions put the brakes on that because in Forest Park, we (APAC and C.W. Matthews) owned a plant each within a quarter mile of each other — both in great shape. One of the Bankhead plants was right next door (to Matthews' Douglasville facility)."
Instead of buying a brand new plant, Crumbley's crew shut down the original Bankhead plant at Douglasville and sold most of it, continuing to produce from the Matthews plant. They dismantled the Matthews plant in Forest Park and moved it to the original Bankhead location in Douglasville. When it came online, the original Matthews Douglasville plant was shut down and parted out to the rest of the network.
"We ended up with two great plants (Douglasville and Forest Park)," says Crumbley. And this was just the start. "We had pretty much the same situation in Forsyth, Ga., Cummins, Ga., and we had thee plants in Kennesaw, and a similar situation in Lawrenceville, Ga."
Crumbley estimates C.W. Matthews saved about $18 million on equipment upgrading plants in 28 locations with a combination of new and used components. But hardware savings were just the beginning. With redundant plants in several locations, the firm was able to renovate operations more thoroughly, seizing every opportunity for improved efficiency without having to rush back into production.
"We did 11 major renovations, but we were able to stage them so there was no downtime in any location," says Crumbley. "We were able to plan it out better, and we did things like grading and paving the lots for the maximum drainage, which helps you on your drying costs. We took nothing from one location to another location without checking it out thoroughly and repairing it so that when it arrived in its new location, it was like new."
Production numbers bear out Matthews' careful planning. In 2005, before the acquisitions, the company's original 18 plants produced 3.2 million tons of hot mix. In 2006, which included about 3½ months of ownership of the APAC-Georgia and Bankhead plants, the company made 4.7 million tons of mix. By the end of 2007, they were down to 28 plants and most of the renovations were complete. The company produced 6.1 million tons of asphalt. Crumbley suggests that if the bottom hadn't dropped out of the market in 2008, the company would have produced 7 million tons.
The company made huge strides in energy efficiency. Installing insulated tanks and moving some tank farms made a big difference. In the rural mountain community of Ballground, Ga., for example, C.W. Matthews and APAC had neighboring plants, offering a tremendous upgrade opportunity.
"The Matthews plant was the better plant, but one of the things we didn't like was that the tank farm was so far from drum and burner that in particularly cold weather we would have to go out with a torch and heat the lines prior to cranking up the plant," Crumbley says. "We took portions of the APAC tank farm and constructed a new tank farm right next to the drum while the plant was still in operation. We completed the piping over a weekend and had a plant with a much better tank farm.
"Prior to relocating the tank farm, our drying cost was 2.2 gallons of RFO (recycled fuel oil) per ton, and afterward it went down to 1.65 gallons per ton."
Only five of the 18 original Matthews plants had access to natural gas. Of the firm's 28 plants today, 14 have access to natural gas. Crumbley acknowledges that advantage, remembering when RFO prices increased 50 percent in 2008 while natural gas costs were dropping.
"If we didn't have ability to swap over to natural gas, we would have spent 60 more cents per mix ton," he says. "And the plants that have access to natural gas are some of our higher-production plants. They made 4 million mix tons in 2007 — 2/3 of our total capacity.
"Our plant restructuring put us in a great position relative to being the low-cost asphalt provider, despite the profound economic slowdown that we're all experiencing," Crumbley adds. "We've had to make some adjustments in manpower and mode of operation, but we don't have to concern ourselves for the time being with making additional capital expenditures on our plants."