September 28, 2010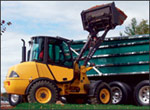 The L20B and L25B compact wheel loaders feature parallel loader linkage and have lift capacities of 1.8 and 2 tons, respectively, and a dump height of 8 feet 1 inch. Operating weights range from 9,590 to 11,042 pounds. The loaders can be fitted with more than 60 attachments. Each model is equipped with a hydraulic attachment bracket for quick switches—within seconds and without the operator having to leave the cab.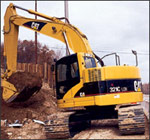 With a tail-swing radius of only 5 feet 6 inches, the 321C LCR excavator is designed to rotate with little to no counterweight extending beyond its tracks. The 138-hp Cat 3066T engine is said to reduce sound and vibration, and the automatic engine speed control maximizes fuel efficiency. The larger cab features a new compact monitor that displays machine information.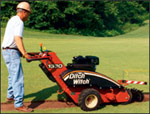 Ideal for rental yards, irrigation and utility contractors, the 1330 hydrostatic trencher slices to depths of 36 inches with trench widths to 6 inches. At 81 inches long and 34 inches wide, the machine works in tight spaces. Color-coded controls help new operators learn to use the trencher quickly. Two-speed ground drive with dedicated dig and drive speeds provides increased productivity.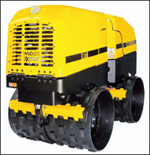 RT 56-SC and RT 82-SC smart trench rollers use an infrared signal, which uses line-of-sight control for safety. If the operator comes within 3 feet of the front or rear sensing eye with the control box, the unit will stop moving and vibrating. The RT 56-SC has a 22-inch-wide drum, and drum width on the RT 82-SC is 32 inches. Centrifugal force ranges from 7,000 to 14,000 pounds, and total applied force is 18,000 pounds.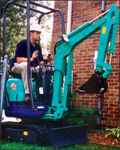 Weighing 2,060 pounds, the 9NX mini-excavator features more than 9 feet of reach and a digging depth of 5 feet 2 inches. It has a zero tail swing design and comes with an expandable undercarriage of 27.5 to 37.5 inches. It comes attachment-ready with auxiliary hydraulic piping that accommodates one- and two-way hydraulic attachments.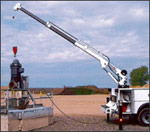 Available in either a 12-volt electric/hydraulic or full hydraulic configuration, the 4420 telescopic service crane has a 16,000-ft.lb. capacity and can lift a maximum of 4,000 pounds at 4 feet. It uses a planetary winch system with a hydraulic/mechanical brake system. The unit has a 25-foot/minute single line winch speed and a maximum reach of 20 feet from the centerline of the crane.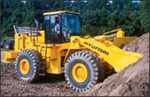 Second largest in Hyundai's 17-model wheel loader range is the new Tier-II HL770-7. Featuring a new Cummins QSC8.3-C engine with electronic control, the loader incorporates the Ergopower automatic transmission, designed to shift smoothly under load, or in steep terrain, with no interruption in traction. The HL770-7 is rated at 300 horsepower, has an operating weight of 50,300 pounds, and a maximum bucket size of 6.5 cubic yards.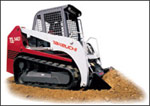 Powered by an 81-hp Isuzu engine, the TL140 rubber track loader features a two-speed travel system. It uses a hydrostatic drive system directly coupled with planetary final drives for efficient power transfer. It has an operating weight of 9,590 pounds and a tipping load of 5,952 pounds. The unit features 18-inch-wide tracks and an undercarriage with floatation capabilities, which allows it to operate on a variety of ground conditions.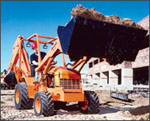 Powered by a 33.3-hp Isuzu engine, the TLB-535 backhoe-loader houses a 65-hp rated hydrostatic transmission equipped with servo control, which offers the operator infinite control of the machine. With a 6,000-pound digging force, the machine features an 11-foot digging depth and has a maximum breakout force of 3,400 pounds.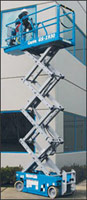 Upgraded GS-1530 and GS-1930 self-propelled scissor lifts feature a lighter weight and larger, more powerful drive motors. The GS-1530 reaches a working height of 21 feet and has a lift capacity of 600 pounds. The GS-1930 has a 25-foot working height and lifts 500 pounds. Both have a 36-inch extension deck. Component trays swing out to provide complete access to all components.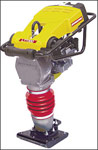 The LT 6000 vibratory rammer features a multifunctional fuel tank with a breather shut-off, electrical shut-off, fuel shut-off and throttle control in three fixed positions (stop, idle and run). It generates an impact force of 3,330 ft.-lbs. The Rammer comes in 9-or 11 inch plate widths.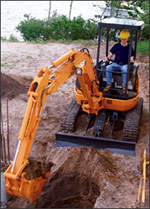 Five compact excavators—the CX14, CX25, CX31, CX36 and CX47—feature digging depths from 6 feet 11 inches to 11 feet 11 inches. Weights range from 3,240 to 10,428 pounds. With zero tail swing and a compact profile, the excavators can work in confined areas. They also come equipped with a hydraulically controlled backfill blade.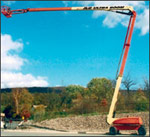 With a 125-foot platform height, Model 1250AJP Ultra Boom aerial-work platform is an articulating and telescoping unit with 63 feet 2 inches of horizontal reach. The JibPLUS jib boom rotates 130 degrees vertically and 125 degrees horizontally. The QuikStik boom allows the platform to be lowered to the ground while the tower boom is fully raised and extended.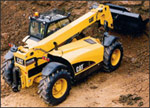 Model TH220B and TH330B telehandlers feature electronically controlled engines, new controls, more work tools, and extended service intervals. With an operating weight of 14,771 pounds, TH220B has a rated load capacity of 5,500 pounds and a maximum lift height of 20 feet. The TH330B carries a 7,000-pound load and has a lift height of 24 feet. Both machines can be diagnosed with the Cat Electronic Technician service tool for faster troubleshooting.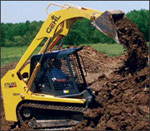 Models CTL60 and CTL80 feature a dedicated rubber crawler track design with rated operating loads of 1,620 and 2,470 pounds, respectively. Both machines provide a 93-inch dump height and have lift heights to 126 inches. Standard equipment includes two-speed travel, pilot-operated servo joystick controls, auxiliary hydraulics, engine-shutdown system, and spacious cab.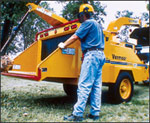 Powered by either a 115- or 170-hp John Deere diesel engine, the BC1800XL brush chipper can cut through 19-inch-diameter material. Increased drum speed allows the unit to process larger, harder material with greater chip-throwing velocity and distance. For safety, the bottom-feed stop bar is located so that operators can strike the bar and stop the feed rollers in an emergency. The SmartFeed system monitors engine RPM rates and automatically stops the feed rollers to enhance production.


New to the Night Hawk Series, the LT-12D and LT-12P light towers have a maximum mast height of 30 feet and rotate 360 degrees. Built to withstand gusty winds, the towers feature four metal halide floodlights, a 30-gallon fuel tank that provides 64 hours of continuous run time, and high-temperature and low-oil-pressure shutdowns. Internal lights illuminate the light tower cabinet, and two exterior receptacles allow the operator to power small tools and equipment without opening the cabinet doors. Eight units load on a standard flatbed truck.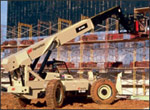 Upgrades to the VR-1056C telehandler include increased power and greater boom control. With a 56-foot lift height and 40.5 feet of forward reach, IR says the machine still leads the 10,000-pound class in operating height and reach. It is powered by a new Tier II Cummins engine, and it has an improved ergonomic cab.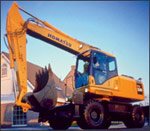 The PW200-7 and PW220-7 wheeled models have maximum operating weights of about 48,000 and 51,000 pounds, respectively. Bucket choices range from 0.63 to 2.1 cubic yards. Both machines are powered by the Komatsu SAA6D102E-2 diesel, rated at 158 horsepower, and both use the HydrauMind hydraulic system. A blade and stabilizers are interchangeable and can be attached to the front or rear of the chassis.
Air Vantage 500 is a welder, generator and air compressor in one unit. Direct gear-driven compressor has no belts or clutches, and pumps 60 cfm, 100 psi at 100 percent duty cycle. It comes standard with up to 20,000 watts of three-phase 240-v AC power. High-output welding capability comes from 500 amps at 100 percent duty cycle for stick, TIG, MIG and flux-cored welding. It's powered by a Cummins B3.3 diesel and is covered by a three-year warranty. The engine and compressor are covered separately by their manufacture