By G. C. Skipper, Contributing Editor | September 28, 2010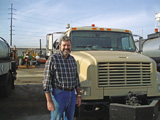 Incoming national president Ron Hutchinson, CEM, says professional equipment managers must emphasize operational safety, work site safety and shop safety.
When Ron Hutchinson, CEM, takes the helm as national president at the annual conference next month, he will bring with him a deep sense of history as well as a clear view of the association's role in the future.
Hutchinson, who became a CEM in 2002, is construction equipment manager, Midwest South region, for Barrett Paving Materials. He is responsible for the company's fleet of 200 mobile units that range from pickups and wheel loaders to excavators and pavers.
Hutchinson's sense of history is tied directly to his company, which has been in business for more than 150 years. "We were one of the earliest road builders in the United States," he says. "We were paving roads prior to the introduction of the Model T, which came six years later."
Barrett started in Chicago as a recycling company that used waste products generated by whale blubber burned in street lamps. The waste product, patented by the company as Tarvia, was used to make paving material for streets and, later on, to build roads. Because the material greatly improved the roads, Hutchinson says, people were able to go and come from work faster. As a result, he says, "we helped start the first 40-hour work week."
Today, Barrett is owned by a French company called Colas, Hutchinson says, but the tradition of technology development continues. Among the Barrett products is a fabric that goes down before asphalt is poured during road and street paving projects. The membrane, called FiberDeck, is used mostly in Europe, Hutchinson says. "It prevents alligator cracking that comes up through asphalt. It's a very clean operation that does a good job, so we're beginning to introduce it into the U.S. market." Although the product "is on the expensive side," it lasts about two times longer than other road paving fabric, he says.
As colorful as history is, it is the future that should take center stage for both the association and the industry, Hutchinson says. And that future has its challenges: safety issues, in operations and on work sites alike; fuel management; and preparation for the inevitability of tighter emissions regulations.
Professional equipment managers must place safety at the top of any priority list, Hutchinson says. Operational safety, work site safety, and shop safety cannot be emphasized enough, he says. Traffic control at work sites is particularly important. "We've got to make sure we're not running into people and make sure the equipment is being operated in a safe manner," says Hutchinson. "When safety improves, it lowers your operating costs."
The only way for any fleet manager to instill safety as part of the company culture is through education, Hutchinson points out. Equipment professionals should make a special effort to take advantage of seminars, safety clinics, and the wide variety of courses offered through AEMP, manufacturers and other sources, he says.
As for his own company, Hutchinson says full-time safety officers are at each service center, and their main job is to keep track of risks and exposure to liability. They also are responsible for tracking operational safety.
Another top priority facing fleet professionals is fuel management, Hutchinson says, and that challenge isn't going away any time soon.
Ideas on controlling fuel costs can best be gained through the experience of other fleet managers. That's why networking is important in organizations such as AEMP. In Hutchinson's particular case, his company has been able to put a lid on rising fuel costs, thanks to early negotiations with fuel distributors.
"We came up with volume buying that guarantees a certain price," Hutchinson says. "Like the stock market, it's a gamble, but it paid off for us earlier this year when fuel prices reached an all-time high."
In addition to negotiating a price at the beginning of the year, Hutchinson took a look at his quarry equipment and, for the first time, estimated what fuel usage should be on an hourly basis. He already had hour meters, purchased last year, but no history of performance based on a full year's use.
This year, for the first time, he tracked fuel usage by the hour, based on information from manufacturers. He also tracks fuel going into the equipment. "The jury is still out because we made the estimates at the first of the year," he says. "But looking at the general trend so far, we're not going to be too far off. We'll recap all the information at the end of the year."
He says the company has always tracked fuel going into the equipment, but until this year, "we really never tied it to the hour meter. We added that extra step."
He's also cutting down on equipment idling. "A lot of money is spent idling equipment, so we tightened up on that," he says. He also makes sure equipment is functioning properly by regularly checking such things as valve settings and making sure maintenance if performed on time.
A third challenge for professional equipment managers is ongoing emission regulations. Hutchinson has no doubt, however, that his fellow professionals and AEMP are well prepared to take the first step in meeting that challenge when it comes.