By Walt Moore, Senior Editor | September 28, 2010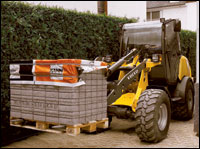 The "compact concept" illustrated: This Volvo L25B has the hydraulic power to handle heavy loads, the trim dimensions to fit through small spaces, and the tight-steering ability to maneuver with minimal ground disturbance.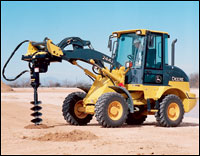 Although hydraulic flow in the compact wheel loader's auxiliary circuits is generally lower than that for a comparably sized skid-steer loader, says Doug Laufenberg, product manager for Deere's compact loaders and attachments, the wheel loader still has the hydraulic muscle to handle a selection of powered tools.
---
---
Perhaps you've noticed in the last five years or so that an increasing number of prominent brand names have been showing up on small wheel loaders. Some might say that these "compact" loaders are relatively new to the North American market, the result of marketers noting the success of these machines on congested European jobsites and bringing the concept here.
But, just to set the record straight, small wheel loaders aren't a new phenomenon on this side of the Atlantic. The once-mighty International Harvester, for example, was building small wheel loaders for worldwide consumption in the mid-1960s, and brand names such as Waldon, Swinger, Power Trac and TCM have endured successfully in the U.S. market.
That said, however, there's no denying that the North American market has rediscovered the compact wheel loader in recent years, as evidenced by the expanding number of suppliers and the corresponding rise in sales numbers. And with this rediscovery has come a new generation of machines, which skillfully concentrate the power and versatility of larger loaders into much smaller packages.
Our introduction to the design specifics of today's small wheel loaders came a year or so ago when Volvo loaned Construction Equipment an L20B for an installment of Hands-On Earthmoving. The 56-horsepower L20B features dual-range hydrostatic drive, parallel-lift loader linkage, standard auxiliary hydraulics, choice of proprietary or universal coupler (both hydraulic) and operator amenities that include a multi-function joystick with built-in switches for transmission control and for ground-speed control independent of throttle position.
According to David Morice — heavy-line sales manager for JCB, whose 67-net-horsepower models 407ZX and 409ZX just missed our cutoff — the small wheel loader's market success is establishing a trend toward even more design enhancement, including such features as high-flow auxiliary hydraulics, more precise return-to-dig systems and ride-control.
At the heart of their design, compacts neatly insert conventional wheel-loader features — efficient truck loading, load-and-carry capability, smooth ride, stability, friendly steering, roomy cab and attachment-handling ability — into packages of more application-accommodating size. Wheel-loader buyers simply have more choice now for matching machine size to the needs of a given operation.
The size of compact wheel loaders within the horsepower class (65 net and less) that this report addresses varies considerably. Operating weights range from less than 1,500 pounds to more than 12,000 pounds, net horsepower ratings from the low twenties to 65, and hinge-pin heights from around 105 to nearly 130 inches. Despite the wide variations, these machines do, however, exhibit general similarities.
Most, for example, are hydrostatically driven, usually with the combination of a single high-pressure, variable-displacement hydraulic pump and single hydraulic motor. The motor in most units drives through a mechanical gearbox to conventional planetary axles, which often use sealed, wet-disc brakes. Maximum travel speeds may range from the low teens to 25 mph.
Most also employ articulated-frame steering, but with notable exceptions. Gehl and Mustang units (except for the articulated Gehl AL20DX) feature all-wheel steering in conjunction with their one-piece frame. The Deere 244J is a hybrid of sorts, incorporating both articulated-frame steering and rear-wheel steering — a system Deere calls Stereo Steering.
Implement-hydraulic systems are typically gear-pump systems, and an auxiliary hydraulic system (providing flow to powered attachments) often is available. These auxiliary systems, however, usually don't produce oil flows that compare with the output of high-flow systems in large skid-steers. Although this limitation might preclude the use of certain attachments, many hydraulically powered tools can still be used. According to Caterpillar, for instance, its model 904B, with a 22-gpm auxiliary system, can handle trenchers, snow blowers, stump grinders and cold planers.
The question buyers should ask in this regard, though, is whether the auxiliary flow in the specific wheel loader model being considered is sufficient to power attachments intended for use with it.
It's probably safe to say that when the new generation of compacts began appearing, available attachments, in many instances, were limited to pallet forks and specialty buckets — such as multi-purpose, side-dump and stone-sieve types.
Even though many of these machines were equipped (or could be equipped) with a universal (skid-steer) type coupler, manufacturers generally were cautious about recommending the use of skid-steer attachments with compact wheel loaders. Since many compacts use Z-bar loader linkage (or a variation thereof), which typically generates considerably higher breakout force than does skid-steer-loader linkage, the concern was that these stronger machines would structurally overpower attachments designed for skid-steers loaders.
"Placing a skid-steer bucket on a compact wheel loader is not a good idea," says Georg Seyrlehner, Ingersoll Rand's product manager for earthmoving equipment. "Given the wheel loader's greater breakout force, there's potential for damaging both the bucket and the coupler."
As the market has matured, however, more attachments have been developed specifically for the compact wheel loader, further expanding its versatility.
"Specialty buckets and forks still remain the most popular attachments," says product manager David Wolf at Case, "but brooms, augers and ground-conditioning attachments, for example, are now generally available."
The best advice about using skid-steer tools on a small wheel loader is to ask your dealer if a specific attachment's structural strength and (if powered) its hydraulic flow and pressure requirements are a match for the wheel loader in question.
In addition, buyers should be aware of two other considerations related to attachment use with small wheel loaders: coupler type and loader-linkage type. Regarding couplers, some manufacturers equip their compacts with only conventional wheel-loader-type couplers, others use the universal-style coupler, and still others use the conventional coupler, but offer a universal-style adapter.
Loader linkage is typically either standard Z-bar or parallel-lift. The latter automatically keeps pallet forks level from ground level to full lift, which is handy if the machine frequently works with forks. Depending on the specific linkage, however, the parallel-lift configuration may sacrifice a bit of digging force. But not always; some manufacturers claim linkages that competently blend the best qualities of both linkage types.
A final consideration you might have, of course, is whether a compact wheel loader or comparably sized skid-steer loader is the right choice for your operation.
"That's not an easy decision in some instances," says Gehl's Brian Rabe, "because both machines have distinct advantages. I try to help customers think through all aspects of their operation before making that choice."
Average Costs for Small Wheel Loaders
Category (Net HP)
Average List Price
Hourly Rate1
1Hourly rate = monthly ownership costs (based on price, economic life, and 4.5 percent cost of money), plus monthly operating costs (fuel at $2.33 per gallon and mechanic's wage at $39.33 per hour) divided by 176 hours.
Source: EquipmentWatch
800-669-3282 or www.equipmentwatch.com
Up to 39
$42,120
$16.15
40–59
$60,306
$21.33
60–69
$63,200
$23.01
">
">
">
">
Small Wheel Loaders (65 net horsepower and less)
Supplier/Model
HP (net)
Operating Weight (lb.)
1Gross horsepower ratings
Atlas
 
 
AR 35
33
5,500
AR 35 Super
33
6,040
AR 50
50
9,149
AR 55
53
8,756
AR 60
60
10,802
AR 65
60
10,360
Buhler
1030DP
22
3,200
1070M
38
4,360
1090DP
48
6,600
1904DP
48
6,800
B56
56
n/a
Case
221D-II
57.5
12,189
21D-II
51
10,370
Caterpillar
904B
52
9,810
Coyote
C5
27
5,500
C8C
38
9,590
C9
49
9,660
C10B
50
9,660
C14C
59
10,946
C15
58
10,780
C16
63
10,582
Deere
244J
59
11,552
Gehl
AL20DX
20
2,050
AWS 280
39
7,055
AWS 480
59
9,921
AWS 480T
59
11,684
Ingersoll Rand
WL-350
60
11,240
Komatsu
WA30-5
29
6,040
WA50-3
37
8,200
WA65-5
54
10,780
WA70-5
60
11,816
WA80-5
60
12,434
Kubota
R420S
43
7,450
R520S
49
8,980
Mustang
ML28
39
7,055
ML48
59
9,921
ML48T
59
11,684
New Holland
LW50.B
55
10,038
Power-Trac1
PT-425
25
1,387
PT1430
30
2,560
PT-1445
45
3,920
PT-1460
60
5,620
Swinger
1200
32
1,200
200IND
65
2,000
TCM1
E804-2
28.6
6,380
E806-2
41.4
8,260
E820-2
59.2
11,600
Terex
SKL814
50
8,598
SKL824
50
9,050
SKL834
60
11,240
Volvo
L20B
56
9,945
L25B
60
10,650
Waldon
4100
52
6,529
5100
52
7,225
Yanmar
V3-5A
28.6
6,472
V4-5A
36.5
7,376
---