September 28, 2010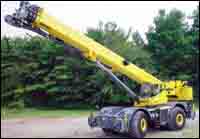 RT857E: Tallest under 90 Tons
Grove completed the E Series this year with the 75-ton RT857E. It's the smallest Grove with a hydraulic counterweight-handling system, which comes as standard equipment. The four-section Megaform boom can put its tip 138 feet in the air, and with an optional 35- to 56-foot jib and 40-foot insert, the RT875E reaches a jib tip height of 232 feet. That's 30 feet higher than the nearest 75-ton RT. Without counterweight it strips to 84,500 pounds.
Number of models: 7
New models: RT875E and RT890E
Product-line features: Grove abandoned the 100-ton category and introduced North America's only 90-ton RT, the RT890E. Maximum, extended tip height is 238 feet, and hydraulic counterweight removal is also standard equipment. Cabs on both recent additions to the E Series can tilt 20 degrees. Cummins diesels power the entire E Series. Grove is a division of Manitowoc.
Formed Boom Fits 60-Tonner
The 60-ton RTC-8060 Series II was introduced at Conexpo with a Link-Belt-designed rounded boom and Teflon wear pads that eliminate the need for greasing the boom. An optional 35- to 58-foot, folding, extension lifts the RTC-8060-II's tip height to 180 feet — higher than every 60-ton machine except the five-section-boom XXL version of Tadano's TR-600. The RTC-8060-II has a fully rigged weight of less than 90,000 pounds. The cab's front window curves to the ceiling, clearing the view at high boom angles.
Number of models: 8
New models: RTC-8060 Series II and RTC-8075
Product-line features: In December, Link-Belt upgraded its RTC-8070 RT crane from its position as the lone 70-ton machine on the market up to a 75-ton base rating and renamed it the RTC-8075. An upgrade kit will be available for existing RTC-8070 cranes. 
Proportional Controls Hit Market Gaps
Proportional, electronic-over-hydraulic joystick controls and a new modular cab mark the newest Terex rough-terrain cranes. They hit gaps in the market with the RT335-1 being the only machine rated at 35 tons and the RT555-1, the only 55-ton machine available. The RT665 competes head-to-head with only one other 65-ton crane.
Number of models: 7
New models: RT335-1, RT555-1, RT665, RT775
Product-line features: Terex makes a point of its cranes' low cost per ton of capacity. The company fields ratings from 20 to 100 tons, relying on box, embossed booms and gear-pump hydraulics.
Light Cranes Lift by Remote Control
Haulotte's Easy Crane merges technology from the company's aerial-work platforms with rough-terrain cranes to offer radio remote-controlled cranes with four ratings from 2,200 to 6,600 pounds. Three telescopic-boom models — the GH11-10, GH12-30, and GH13-12 — are rated 2,200, 2,640, and 6,600 pounds, and the articulated-boom GHA16-22 will lift 4,950 pounds. Lift charts are calculated for 360-degree swing radius.
Number of models: 4
New models: GH 11-10, GH 12-30, GH 13-12 and GHA 16-22
Product-line features: All of the Easy Cranes are four-wheel-drive units. Deutz or Hatz diesels power the French-built machines.
Five-Section Boom at 60 Tons
The five-section boom on Tadano's TR-600XXL-4 distinguishes it from the TR-600XL-4 and every other 60-ton RT on the market. Its 146-foot boom-tip height is 22 feet taller than any other 60-ton machine, and only the five-section booms on 80-ton and larger cranes surpass it. A two-stage lattice jib stretches tip height to 204 feet, which is rivaled only by Grove's RT700E with a 40-foot insert added to its jib. Tadano completed a fourth-generation lineup since entering North America in 1986 at Conexpo with the TR-300XL-4. It has the longest boom and highest jib-tip height of any machine less than 40 tons.
Number of models: 6
New models: TR-600XXL-4 and TR-300XL-4
Product-line features: Tadano's AML (Automatic Moment Limiter) automatically detects individual outrigger length as well as boom length, boom angle and actual load. The operator can extend the four outriggers to four different lengths, and the AML calculates the maximum allowable lift over each quadrant of the machine. If the operator picks a load safely and tries to swing over a side of the machine where the outriggers are not deployed to the same or greater length, or boom out or boom down, the AML slows the hydraulics and brings the load to a stop before it reaches a position where the crane would tip.
Buying File Feature Article: Rough Terrain Cranes: Bigger Cranes Built for Speed