September 28, 2010
Electronic-Control Choices Abound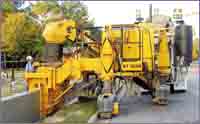 The GT-3600 with GOMACO's proprietary G21 digital operating system will slipform curb and gutter, barrier, parapet, sidewalk, and widths up to 10 feet; and it can pave 24-inch ribbon curb without having to manually adjust sensors. Software for the slope-transition system automatically corrects grade elevation and steering, and eliminates stringline adjustment. The operating system can also interface with stringless technology, 3-D control systems and laser technology. The design allows automatic adjustment of trajectory while multiple sensors and the strategically positioned mold place concrete accurately through a tight radius. A 98-hp Cummins diesel provides power. GOMACO uses Deere diesels on Commander III and other curb-and-gutter machines.
Number of models: 8
Weight range: 2,650 to 33,400 pounds
Bigger Curb Fox Pours 2-Foot Curves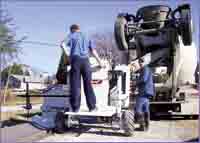 The new Curb Fox 5000 extends Messinger's curb-and-gutter line into the 5,000-pound range, adding the ability to place 24-inch-wide curb and cutter in the offset position. Molds mounted within the frame can place concrete up to 36 inches wide, and an optional tight-radius package allows the CF5000 to pour turns with 24-inch radii. A 28-hp Kubota diesel (which can be upgraded with an optional turbocharger) powers the three-wheeled machine. Hydrostatic all-wheel drive moves it down the stringline. Messinger says the CF5000 can be trailered easily behind a pickup truck.
Number of models: 3
Weight range: 2,000 to 5,000 pounds
New Mid-Range Competitor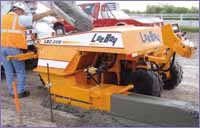 LeeBoy's 2004 entry to the curb-and-gutter-machine market is the LBC-24W, which pours curb and gutter or 4-foot-wide sidewalk, and can be guided by a stringline or Topcon System V electronic grade and steering control. It will pour a 24-inch-radius turn, and LeeBoy says its optional articulating mold is less likely to tear the curb in tight radius work. The gravity flow receiving hopper and a single Minnich vibrator (which can be upgraded with a second vibrator) are designed to deliver concrete to the mold without augers. A grading blade and material-displacing auger smooth the subgrade just ahead of the mold. The all-wheel-drive LBC-24W is powered by a 37.5-hp Kubota diesel, and a 46-hp turbo diesel is optional.
Number of models: 1
Weight: 7,000 pounds
More Power to the Curber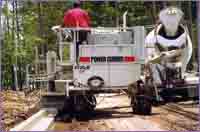 With a 133-hp Deutz diesel, Power Curbers boosted the power more than 50 percent to improve trimming and slipforming production on the 5700-Super-B. The operator's platform and console have been raised to increase visibility of the auger and chute man, and coolers were relocated so hot air blows away from the control platform. Torque is increased on the hydrostatic motor that drives the conveyor auger. Crawlers have a heavier frame and increased torque for easier loading, for pouring on inclines, and working in soft underfoot. New adjusters on the crawlers allow easier chain-tension adjustments. With the trimmer shifted under the machine, the 23,500-pound unit transports at a maximum width of 8½ feet.
Number of models: 3
Weight range: 735 to 23,500 pounds 
Primed to Replace Hand Forming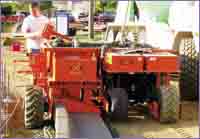 M-B-W's Slipform Pavers (the two-wheel-drive model C101 for curb only and three-wheel-drive CG200 for curb and gutter) package hydraulic controls to place concrete on grade at a price point intended to encourage replacing hand forming. There's a choice of manual or automatic height controls, grade adjustment and steering. M-B-W uses two or three Wyco vibrators, depending on hopper size, and says its quick-attach hopper allows the machines to be switched from offset to straddle paving in minutes. Both models are powered by a three-cylinder Briggs & Stratton Daihatsu diesel that produces 26.5 horsepower. The pavers break down to transport on a pick-up truck and utility trailer.
Number of models: 2
Weight range: 2,725 to 3,395 pounds
Auger Conveyor Is Standard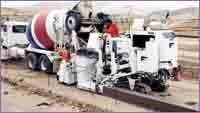 The 18,800-pound M-1000 can pour curb, curb and gutter, v-ditch, sidewalk, and cleans up easily with 75 gallons of water and a high-pressure pump on board. The trimmer is optional on this four-track machine and the 25,000-pound M-8100, the largest machine available on the market without a trimmer. The auger delivery system is a standard feature on Miller Formless curb-and-gutter pavers. Molds are available with hydraulic side forms, hydraulic catch/spill gutter sections, and hydraulic variable height curb configurations. A hydraulic-adjustment system maintains track tension. All three machines come with Deere power.
Number of models: 3
Weight range: 18,800 to 36,600 pounds
Offset Reach Stretches to 24 Inches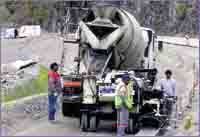 Miller Spreader increased the offset capability of its MC1050 to 24 inches. And while the mid-sized MC1050 has long been able to follow a string line, now laser units can also control grade and steering. With four available slide-mounted hoppers, the 4,800-pound machine straddles forms up to 4 feet wide or it can pave offset to the left or right. Miller says operators can change set-ups with the modular design and quick clamp vibrator mounts in less than one hour. Boom-mounted control panels at the front and rear of the machine allow operators to keep the controls at their fingertips from many working positions. A Kubota turbo diesel delivers 35 horsepower.
Number of models: 7
Weight range: 209 to 4,800 pounds
Smallest Available with Trimmer
Buyers who choose the optional trimmer on Huron's 9,900-pound 650B are buying the lightest curb-and-gutter machine available on the market with a trimmer. Huron's Easi-Pour sensing system incorporates five sensors—two steering sensors, two grade sensors and one cross-level control—which follow a single stringline to automatically adjust steering and grade. The standard Easi-Pour 880 pours a minimum radius of 9 feet, but the optional radius package cuts the minimum turn with L-shaped curb to 3 feet, with ribbon curb to 2 feet. The 880 is available on tires or tracks, and offers a choice of Detroit, Cummins or John Deere diesels. Deere power is used on Huron's other curb-and-gutter slipformers.
Number of models: 4
Weight range: 9,900 to 31,000 pounds
Buying File Feature: Grade Controls Mold Curb-and-Gutter Machines