September 28, 2010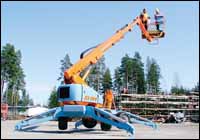 All-Hydraulic Controls
Two telescopic booms that have been sold under the Scanlift brand in North America — the 72-foot SL240 and 54-foot SL190 — have been redesigned with fully hydraulic platform controls and outriggers. Kubota diesels power both machines, and standard equipment includes four-wheel drive and four-wheel steer. Turntables allow continuous 360-degree rotation. Hydraulic outriggers level the machines automatically.
Number of models - Telescopic booms: 2
New models - Telescopic booms: SL190 and SL240
Product-line features: Finnish manufacturer Kesla marketed Scanlift platforms for 14 years. But the brand was not properly protected, so Kesla's two booms have been marketed in Europe as the XS Series under the Kesla name.
Trailer Booms with High-End Features
The trailer-mounted 5031A articulated boom comes with a telescoping upper section, hydraulic jib and hydraulic basket rotation. The platform extends 50 feet high, and maximum horizontal reach is 30 feet 6 inches. The turntable in the new 3632T trailer-mounted telescopic boom delivers 360 degrees of continuous rotation. Bil-Jax claims the 3632T's 32 feet of side reach is the greatest available among trailer-mounted booms.
Number of models - Articulated booms: 5; Telescopic booms: 3
New models - Articulated boom: 5031A; Telescopic boom: 3632T
Product-line features: Hydraulic outriggers automatically level the new booms on up to 12-percent grades with a push of one button. The 5031A and the 3632T both have hydraulic surge brakes and can be towed at up to 60 mph. 
Pivots Replace Telescoping Axles
Genie introduced the Z-135/70 articulated boom with its X-Chassis that eliminates telescoping axles. The X-Chassis axles extend by pivoting from a vertical mounting pin on each corner of the machine. The new Jib-eXtend stretches from 12 to 20 feet. The mast and ALC 1000 controls fully raise the platform from ground level in 100 seconds.
Number of models - Articulated booms: 13; Scissor lifts: 17; Telescopic booms: 10
New models - Articulated boom: Z-135/70; Scissor lift: GS-3390
Unique features: Genie's Z-80, Superbooms, and Z-135 are all equipped with four-wheel, four-mode steering. Genie rough-terrain scissors achieve gradeability of up to 50 percent and transport speeds in the stowed position up to 5 mph. 
Workstations for Homeowners and Pros
JLG introduced the Tow-Pro Series with two telescopic booms that are towable up to 65 mph. The 35-foot T350 has 20 feet of horizontal reach, and the 50-foot T500J includes a 4-foot jib with 130 degrees of vertical motion and 30 feet of horizontal reach. Turntables allow 370 degrees of rotation. Both models have air, water and 110-volt AC power supply in the platform.
Number of models - Articulated booms: 19; Scissor lifts: 12; Telescopic booms: 19
New models - Articulated boom: 1250AJP; Scissor lifts: 1930ES, 2030ES, 2630ES, 2646ES and 3246ES; Telescopic booms: T350 and T500J
Product-line features: JLG's 125-foot 1250AJP Ultra Boom comes with the JibPLUS, that rotates 130 degrees vertically and 125 degrees horizontally. Extendible axles are not necessary on the 80-foot 800S and the 86-foot 860SJ boom lifts. JLG fields the broadest range of workstations and aerial-work-platform accessories.
Tracks Tackle Rough Terrain
Independent suspension allows Niftylift's rough-terrain articulated boom platforms to tackle inclines and uneven terrain. Niftylift developed four new articulating booms mounted on tracks — the TD Series — to improve gradeablilty. Nifty Track Mounts can boom up from uneven terrain thanks to hydraulically operated outriggers.
Number of models - Articulated booms: 13
New models - Articulated booms: TM64, SP64, TD24 TD34T, TD34TN, TD50 and SD64
Product-line features: A new family of 63-foot articulated booms extends the Niftylift range. Design focus on improved horizontal reach puts the larger models among machines with the most outreach in their size classes.
Jibs in New Size Classes
Snorkel introduced three telescopic boom lifts with jibs and two electric slab scissor lifts last December. The two-wheel-drive booms expand Snorkel's jib-equipped offering to the 42-foot, 47-foot, and 85-foot size classes. Each model has 500 pounds of platform capacity.
Number of models - Articulated booms: 3; Scissor lifts: 7; Telescopic booms: 12
New models - Scissor lifts: S2646 and S3246; Telescopic booms: TB42J, TB47J and TB85J
Product-line features: The S2646 replaced the S2545 scissor and moved Snorkel into the fiercely competitive 26-foot class with a 1,000-pound-capacity machine.
Mid-Size Scissor Reaches 50 Feet
Skyjack introduced the 8243 and 8850 mid-sized scissor lifts early this year. The 8243 has an 82-inch-wide chassis with a 43-foot platform height, and the 8850 is 88 inches wide with a 50-foot platform height. Both can be driven — on firm, level surfaces — while extended to their full height. In rough-terrain mode, with platforms stored, they're rated to handle 30-percent grades. The 64½-×115½-inch deck has a 54-inch extension, stretching work area to 76 square feet.
Number of models - Scissor lifts: 16
New models - Scissor lifts: 4632, 8243 and 8850
Product-line features: The fuel-injected Nissan H15 1.5-liter gasoline engine is standard equipment on the 8243 and 8850. Kubota's D1105 is the diesel option.
Laptop-Less Service
The 2633ES has been added to the mid-size narrow lineup, and the 2047ES, 2647ES, and 3247ES in the mid-sized wide category are redesigned. Platforms on the 47-Series are 91 inches long and extend to 130½ inches, and MEC claims their entry heights are lowest in class. Five of MEC's seven slab scissors are brand new or redesigned this year, and more new models are promised before 2006.
Number of models - Scissor lifts: 7
New models - Scissor lifts: 1532ES, 1932ES, 2033ES, 2633ES, 2047ES, 2647ES and 3247ES
Product-line features: MEC's Platinum Operating System does not use microprocessors or relays to operate functions. Nonetheless, the company claims excellent positioning control with its high-torque power package. 
Artic Booms Ready for Rough Ride
Articulated-boom models HA46JRT and HA51JRT with zero tail swing have been redesigned. Larger wheels and tires stretch ground clearance to 16 inches. Like all Haulotte rough-terrain booms, they come with four-wheel drive and four-wheel steer. Hydraulic differential lock manages traction. The HA100JRT, with a platform height of 98 feet 5 inches, offers the same features, except ground clearance is 15 inches.
Number of models - Articulated booms: 7; Scissor lifts: 11; Telescopic booms: 7
New models - Articulated booms: HA46JRT II, HA51JRT II and HA100JRT; Scissor lifts: Star Series vertical masts and H2632E
Product-line features: All rough-terrain models are shipped standard with four-wheel drive and foam-filled tires. The Haulotte big-deck rough-terrain units all come with dual rollout decks.
Buying File: Aerial-Work Platforms How Access Use Grew Through Recession