By Walt Moore, Senior Editor | September 28, 2010
Hydrostatic Drive and Fuel Efficiency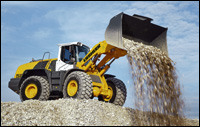 Liebherr's new Generation-6 wheel loaders, the L 566 2plus2 and the L 580 2plus2, use Liebherr engines that are Tier-3 compliant. They also feature an advanced cooling system that combines larger capacity with a hydraulically driven fan. Cabs for the new models are 28 percent larger than their predecessors, and feature more powerful air-conditioning systems.
Number of models: 2
New models: L566 2plus2, L580 2plus2
Product-line features: The L566 and L580 retain the hallmark feature of Liebherr's loader range, namely, the "2plus2" hydrostatic drive system, which employs two hydraulic drive motors that are used singly or in tandem as operating conditions dictate. According to the company, the design advantages afforded by the drive system can reduce fuel consumption up to 40 percent, compared to competitive models.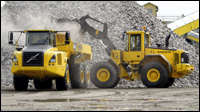 New Volvo Power And Transmissions
The new Tier-3-compliant D7E Volvo diesel engine powers the L110E and L120E wheel loaders, and the new D12D powers the L150E. Both new engines feature electronic control, charge-air cooling, and use hydraulically driven cooling fans that operate only on demand. These loaders employ the company's third-generation automatic powershift transmission, which allows selecting among four operating modes.
Number of models: 3
New models: L110E, L120E, L150E
Product-line features: Volvo wheel loaders are fitted with the company's Torque-Parallel (TP) loader linkage system and proprietary coupler. TP linkage, says Volvo, provides parallel lift and high breakout force throughout the entire lifting range. These machines also feature variable-displacement, load-sensing implement hydraulic systems, circulated-oil brake cooling and the Volvo Contronic system.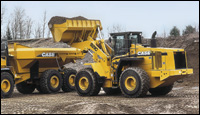 Electronic Transmission Control
The Cummins-powered Case 921C features electronic control of its torque-sensing "autoshift" transmission and uses hydraulically actuated, maintenance-free, multiple-wet-disc brakes (with an accumulator) at all four wheels.
Number of models: 1
New models: 921C
Product-line features: The 921C uses a tandem vane-type hydraulic pump that delivers 68 gpm at 2,850 psi to the loader implement hydraulic system. The open-center control valve can be equipped with up to four spools, including those for auxiliary functions. Electromagnetic detents are used in the float, raise and rollback circuits.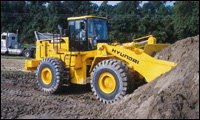 Electronic Communication and Auto Shift
Using a CAN (Controller Area Network) system, the three electronic control units (engine, transmission and machine) in the Hyundai HL760-7A and HL770-7 wheel loaders can communicate, says the company, to ensure optimal performance. These machines also use powershift transmissions that provide two automatic shift modes.
Number of models: 2
Product-line features: Transmissions feature proportional control valves that allow "precise control of the clutches" by monitoring operating parameters and selecting a specific shift curve accordingly.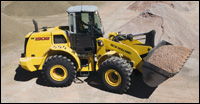 Tier-3 Compliant and Variable Pumps
The new W190B wheel loader from New Holland will be available in the fourth quarter of 2006. The new machine will feature a Tier-3-compliant New Holland engine and will use axial-piston, variable-displacement hydraulic pumps in its implement hydraulic system. Larger, more accommodating cabs will be an integral part of the overall package.
Number of models: 1
New models: W190B
Product-line features: The wheel loader line has seven models, including three tool-carrier models. Along with the launch of the 213-net-hp W190B, New Holland will also announce the new W170B.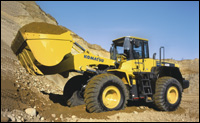 Multi-Mode Power and Shifting
Komatsu loaders in 200-to-300-hp category feature a two-mode engine-power feature, which provides "normal" mode for general loading and fuel-efficiency, and a "power" setting for hard digging or hill-climbing situations. In addition, the machines feature a four-mode transmission shifting system including a manual-control setting and three "auto" settings.
Number of models: 3
Product-line features: Loaders have a variable transmission cutoff feature that allows the operator to select the point at which the left pedal neutralizes the transmission. Also part of the design is a dual-speed hydraulic system, which generates extra hydraulic flow in lifting and loading situations, but diverts that power to tractive effort in hard digging.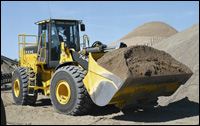 Smart-Shift Technology
J-Series wheel loaders have the "smart-shift" system, which continuously senses speeds and loads and adjusts clutch pressures accordingly. J-Series also provides three operator-selected clutch-cutoff settings to match the grade.
Number of models: 3
Product-line features: When designing the J-Series, Deere precisely counterweighted the machines to "provide optimum fore and aft stability and a low center of gravity," making these models "the only machines in their class that can accomplish a 40- degree articulation and still deliver exceptional tip-load stability," says the company.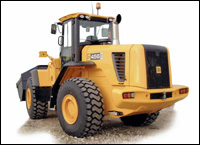 Stainless-Steel Exhaust
Among the 456ZX wheel loader's features is a stainless-steel exhaust system designed for long life. But beneath the beauty, says JCB, are such features as a load-sensing hydraulic system that uses twin, variable-displacement piston pumps and a fully automatic ZF "Smoothshift" transmission with modulated gear changes.
Number of models: 1
Product-line features: A number of attachments fit directly to the wheel-loader linkage or via the company's "quick-hitch" coupler. Attachments include pallet forks, crane jibs, high-dumping buckets and timber grapples.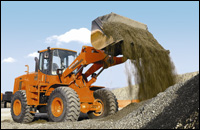 Refined Technology
The new Doosan/Daewoo wheel loaders, the DL300 and DL400, feature Tier-3 compliant diesel engines. The DL300 uses the Doosan DL08 engine and the DL400 uses the Cummins QSL9. Both six-cylinder engines feature electronic high-pressure common-rail fuel injection and charge-air cooling.
Number of models: 2
New models: DL300, DL400
Product-line features: The DL300 and DL400 use four-speed, powershift ZF transmissions that can be operated in an automatic mode. The implement hydraulic system for the DL300 employs a tandem vane pump with automatic wear compensation, and the system for the DL400 uses two load-sensing, variable-displacement axial-piston pumps. Both models incorporate hydraulically driven fans.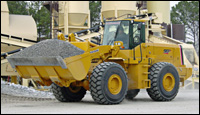 High-Efficiency Hydraulics
Kawasaki's hydraulic system uses a separate pump for steering and loader functions — a design, says the company, which maintains "light-touch" steering even at low engine speeds. When steering requirements are satisfied, the steering pump's excess flow is diverted to the loader circuit for faster response.
Number of models: 3
Product-line features: Loaders feature heavy-duty, torque-proportioning differentials, automatic transmissions, an adjustable transmission "declutch" feature, box-frame rear chassis and flat glass to facilitate replacement.
Long List of Standard Features
The Dressta 530E's Komatsu S6D114E-1 diesel engine drives into an electronically controlled four-speed powershift transmission that offers both manual or automatic gear changing. The loader's implement hydraulic system employs three vane pumps and operates at a relief pressure of 3,000 psi. A joystick controller is standard, as is air conditioning.
Number of models: 1
Product-line features: The wheel-loader line includes five models, from 120 to 415 horsepower. Dressta, the joint-venture of Komatsu America International and the Huta Stalowa Wola (HSW) manufacturing company in Poland, supports it products in North America through three subsidiary companies and an extensive network of independent dealers.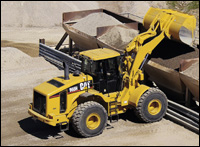 New Load-Sensing Hydraulic System
According to Caterpillar, the combination of its Tier-3 ACERT engine technology and the new load-sensing hydraulic system in its H-Series medium wheel loaders (announced last fall) results in a 4- to 7-percent "improved fuel benefit." This closed-loop system, says the company, also uses the M3PC Priority Pressure Compensated Valve, which can "set priority of one function over another to ensure no work stalls."
Number of models: 3
New models: 962H/IT962H, 966H, 972H
Product-line features: H-Series wheel loaders feature hydraulically driven cooling fans (part of new, "more balanced" cooling system); "electro-hydraulic" implement controls; and the optional Command Control steering system, allowing full machine articulation through only 70 degrees of steering-wheel movement. Sound levels for the operator and bystander also are significantly reduced.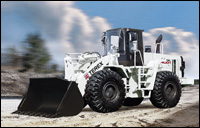 Exceptional View
Among the many features Terex promotes for its wheel loaders is the visibility afforded by their high-glass-area cabs, allowing good sight lines to the bucket corners and to the surrounding jobsite. Also on the list of features are Daewoo diesel engines, both charge-air cooled, four-speed powershift transmissions and hermetically sealed final drives.
Number of models: 2
Product-line features: According to Terex, the "high-torque-rise" fuel system used in these loaders delivers a controlled increase of fuel as the engine lugs back from rated speed, resulting in "horsepower greater than rated power and thereby improving response and providing greater rimpull, more lift force and faster cycle times."
Closed-Center Hydraulic System
According to Intensus, its WL50G wheel loader is equipped with a closed-center hydraulic system with pilot control, resulting in smooth, responsive operation. The WL50G uses a Cummins 6CT8.3-C diesel engine and a model ZF4WG200 powershift transmission and ZFAP axles.
Number of models: 1
Product-line features: The wheel loader range includes three models: the WL50G at 205 horsepower, and the WL40G and WL30G, rated at 170 and 125 horsepower, respectively. These machines are available with a high-lift boom and selection of buckets, including those for soil, snow and coal, plus a clamp-type and sidedump.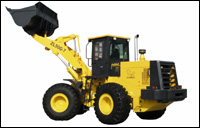 Cummins Power and Canadian Distribution
The Changlin wheel loader range includes nine models, which range in horsepower from 35 to 290. Changlin Canada imports five of these models, beginning with the ZL30H at 65 horsepower, through the ZL75H at 290 horsepower. Whether Changlin will opt to market in the United States is still an open question.
Number of models: 3
Product-line features: The wheel loaders in this Buying File category are powered by Cummins diesel engines and feature powershift transmissions based on ZF technology and Graziano or Volvo wet-type axles with DL multi-disc limited slip differentials. 
Buying File Feature: Wheel Loaders 200 - 300 HP No Bad Choices in This Lot