September 28, 2010
Items:
Kenco
Atlas Copco
Geith
BTI
Amulet
CEAttachments
Advanced
Huskie
Rotobec
Genesis
PSM
Stanley LaBounty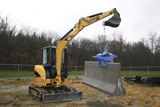 For use on the smallest excavators and up, Kenco's barrier lift attachment can be used to move any concrete structure, including median barriers, sound walls, curbing and piling. An automatic actuator allows for hands-free barrier movement, and the use of elastomer pads provides performance even in wet weather. All models are available with optional self-aligning guides that extend down from one set of the pads to allow the lifter to align itself with the barrier wall whenever the lifter is lowered into position. 

With a service weight of 200 pounds, the PB 110 Penta Series hydraulic breaker from Atlas Copco has a high power-to-weight ratio for mini-excavators ranging in size from 1.3 to 3 metric tons. The PB 110 accepts hydraulic flow of up to 9.2 gallons per minute at 1,885 pounds per square inch, delivering a maximum of 1,700 blows per minute. As with the 440-pound PB 210 featuring Krupp percussion technology, the PB 110 has the VibroSilenced damping system.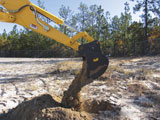 For mini-excavators of any size or make, Geith's new MX Series buckets feature a dual-radius design and tapered profile that collectively both require less resistance when penetrating the ground and allow debris to be cleared more effectively. The 400BHN steel side cutting edge provides a long-lasting smooth edge with effective abrasion resistance. Featuring larger cutters and additional gusseting across the top, extreme-duty bucket versions are also available. The new Geith buckets were initially available with the coupler, to be followed by thumb models.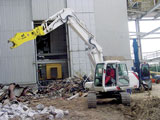 Cutting steel beams is not solely the work of full-sized excavators equipped with shears. Featuring large-bore hydraulic cylinders combined with speed/regeneration valves for enhanced cutting force and cycle time, BTI's SH Series of hydraulic shears includes models suited to compact excavators. The SH25R works as a second member on excavators that range 2 to 3 metric tons and as a third member on carriers ranging 4 to 5 metric tons. The SH50R fits excavators ranging from 3.5 to 6.5 metric tons.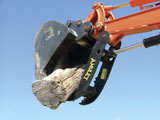 For mini-excavators as small as 2,800 pounds, Amulet's new low-cost ST rigid and hydraulic bucket thumbs feature a curved, multi-serrated profile that retains the grasping and handling ability sought after by demanding contractors. The ST model performs in rock wall building, land clearing and all aspects of material removal or placement. Built in the United States, Amulet's ST thumbs are available with or without cylinders.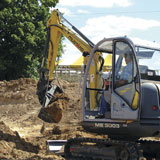 Eliminating the need for a separate tilting attachment, CEAttachments offers the Edge tilting/grading bucket for compact excavators. Tilting up to 45 degrees in either direction, the bucket is available in sizes ranging from 33 to 60 inches, depending on excavator model, for slope and ditch applications. The bucket does not include teeth, and a replaceable bolt-on cutting edge is optional. The tilting bucket can also be used with an Edge quick-attach coupler, also available from CEAttachments.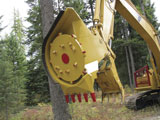 As many excavator manufacturers push the definition of their compacts beyond 6 metric tons, their carriers can take advantage of a high-performance mulching attachment that works without the need of expensive heavy power boosters. With five models for excavators from 7 metric tons and up, Advanced Forest Equipment's rotary disc mulchers use only the existing hydraulics of the carrier. The 800-pound RDM30EX model fits carriers weighing 7 to 10 metric tons; the RDM34EX fits 10- to 12-metric-ton machines.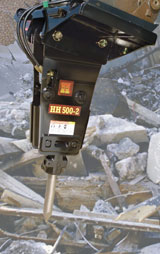 With 11 models ranging from the 100-foot-pound class up for construction and demolition applications, Huskie hydraulic hammers incorporate only two moving parts and, according to the company, fewer total parts than competitive models for easier field serviceability and reduced downtime. Huskie hammers use a 12-piece seal kit that, according to the company, can be installed in about two hours by the average mechanic.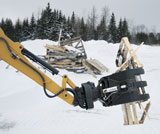 Whether handling debris, waste or stone, contractors in construction, recycling and forestry can increase the flexibility and productivity of their compact excavators with Rotobec's mini power attachment grapples. Four different rake jaw and three bucket jaw model sizes are available. An integrated selection valve allows for easy installation, requiring only a single hydraulic circuit to operate the grapple opening, closing and rotating functions. Protected against water and dust, sealed rotators ensure the attachments' effectiveness in various climatic conditions.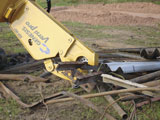 The large multi-jaw processing technology of Genesis Attachments can be put to use by compact equipment users, thanks to the Versi-Pro system. The GVP system offers a choice of grapple, shear and concrete cutting jaws for use on excavators in the 4.5- to 7-metric-ton range. Additional jaw sets are in the design stage. With Genesis Versi-Pro, jaws can be changed in as little as 10 minutes, and maintenance requires only a standard set of hand tools.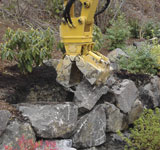 Shown here attached to a 6-metric-ton excavator working on residential rockeries and landscaping, the new DM05 "mini-clam" is the latest addition to the PSM line of rotating clamshells. Weighing 450 pounds with a 34.5-inch opening, 14-inch-wide jaws and 360-degree continuous rotation, the "steel hand" is available either in free hanging or articulating versions. A division of Cascade, PSM has a full line of capacity-matched clamshells and grapples for compact excavators.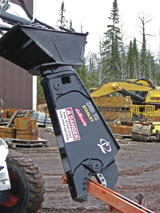 The harsh-duty characteristics of Stanley LaBounty's MSD Saber Series mobile shears extend down to the MSD 7R model, a 360-degree rotating shear sized for second-member use on 3-metric-ton excavators. MSD rotating shears feature a severe-duty turntable bearing and four-way indexing blades for maximum cutting strength and reach with minimal weight. Using a reversed cylinder/reduced shroud height design, the Saber Series includes standard and rotating versions of all models for use on carriers up to 125 metric tons, including the MSD 1000/1000R for carriers in the 9- to 10-metric-ton range.