September 28, 2010
Fully Hydraulic Outriggers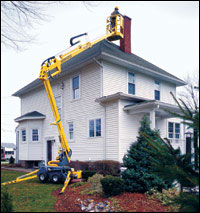 Falcon 125 has been updated with fully hydraulic outriggers with a footprint of 9 feet 10 inches by 10 feet 6 inches. Its platform reaches to a maximum height of 34 feet 5 inches, providing a maximum working height of 41 feet. Maximum outreach is 21 feet. The unit is 110-volt AC powered for indoor applications and has a 110-volt outlet at the platform for power tools. It also features upper and lower controls-enable switch.
Noteworthy features: Fully hydraulic outriggers, proportional controls, driveable in stowed position, hydraulic four-wheel drive.
Smooth, Precise Boom Control
Ultra Series 1350SJP telescopes to 135 feet with a load of 500 pounds and has a corresponding horizontal reach of 80 feet. Controlled arc system enables the lift to automatically maintain a smooth arc at the edges of the work envelope by controlling the boom extension through the lift function. For confined work areas, JobPlus provides precise control by allowing the operator to rotate the main boom within a safe distance, then side swing the 8-foot job to position the basket close to the work area. Platform measures 36 by 96 inches.
Noteworthy features: JibPlus feature, platform leveling, full-time four-wheel drive.
Rough-Terrain Scissor Lift
The SR4084 rough-terrain scissorlift has foam-filled tires and four-wheel drive. It offers gradeability of 32 percent and a travel speed of 2.4 mph with platform stowed. The 6×10-foot platform reaches 39 feet 10 inches high with a guardrail height of 43.5 inches. With platform stowed, the SR4084 measures 8 feet 10.75 inches high. Ground clearance is 6.75 inches, and it weighs 9,300 pounds.
Noteworthy features: Level sensor, 4-foot rollout extension, joystick control on removable console.
Stable Center Of Gravity
Updated S-65 telescopic boom lift incorporates a four-bar linkage system to change the machine's center of gravity based upon boom elevation. The entire lift structure is moved forward as it elevates, maintaining stability with less counterweight. With a working height of 71 feet 4 inches, the S-65 can carry a maximum load of 500 pounds. Its 5-foot jib boom provides 135-degree flexibility: 75 degrees above horizontal and 60 degrees below.
New models: Z-80/60, Z-60/34, S-60, S-65, GS-4390RT, GS-5390RT, TZ-34/20.
Noteworthy features: Standardized controls, ease of serviceability. 
Standard Four-Wheel Drive
Reintroduction of T40 telescopic straight boom lift provides a five-model series with platform heights from 40 to 86 feet. T40 has 60-hp dual-fuel or diesel power and standard four-wheel drive. Horizontal reach is 34 feet for 766 square feet of working range. The 36×94-inch platform has a swing gate, inside hand rails, and 180-degree platform rotator; capacity is 500 pounds.
Noteworthy features: Four-wheel drive, 60 hp.
Lift-A-Loft
Travels While Elevated
Self-propelled gas scissor lifts may be driven at any elevation for increased productivity, up to 0.7 mph. Travel mode in the lowered position is 2.6 mph. Model SPG24 is shown with the optional 7-foot Extenda-deck. Dual-wheel hydraulic drive and gradeability of 22 percent give this unit maneuverability in many applications. The platform can lift 750 pounds to 23 feet 10 inches high.
Noteworthy features: Custom designs, side-extending decks.
UpRight
Rigid Elevating Assemblies
UpRight emphasizes the rigid elevating assemblies such as that on the X32 Scissor Lift. Assemblies provide a solid and stable work platform and are put through a 100,000-plus cycle test. On the boom side, the company recently introduced new option packages for its SB and AB models, including a welders' kit, glazers' kit and hostile-environment kit.
Noteworthy features: Narrow chassis and tight turning circles, safety features, mechanical reliability and ease of maintenance.