By Dick Brannigan, CEM, 2008-2009 National President | September 28, 2010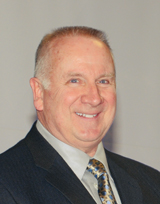 Dick Brannigan, CEM, 
2008-2009 National President
Ever have one of those days? I suppose all of us have them, but lately they seem to occur more frequently. Today was certainly one of them with the nonstop phone calls, phones stuck to both ears, somebody always waiting outside the door, the boss wanting answers to numerous pressing questions, and everyone basically wanting a piece of me. I guess it comes with the territory, so I'll stop my complaining long enough to try to make my point.
On these kind of days when I'm really struggling to keep up, what I need most (and no jokes here about employment outside the service industry) is quick and easy access to information. Our equipment-management world now revolves around our computers and the collection, storage, organization and management of data. Whether or not that data becomes useful information depends to a large degree on our IT departments and the "friendliness" (no jokes here either) of our fleet-management and report-writing software.
The success or failure of our fleet-management programs depends on using this data for timely decisions and actions throughout the unit's life cycle. Poorly organized or hard-to-retrieve information is as bad as too little information. Our preventive maintenance, life-cycle costing, budgeting and replacement-planning programs only work for us when correct information is available, timely, organized and able to provide us with understandable management reports.
The manufacturers, dealers, telematic providers and numerous vendors have done marvels for our industry in providing the data we need to keep our fleets running; from on-board diagnostics to service and parts information, we have seen great improvement in product support. Their websites allow us access to previously unimagined resources. Our current problem lies not in the volume or access to information but rather in the collection and integration of that information.
The wish lists of yesterday have evolved from "I wish I knew this or I wish I knew that" to "How I can collect, store, organize and manage all the data?" and finally into "How can I possibly integrate all these different systems and information streams?"
Your association is working hard to get answers to this key technology question. We have formed a "Technology Task Force" to explore possible solutions for ease of integration. Our goal is to use our "Equipment Triangle" approach and discuss the possibilities and common needs of the end-users, manufacturers and distributors. As with any journey of discovery we are not sure what lies ahead, but we are hopeful that ease of integration becomes the norm and not the exception.