September 28, 2010
Items: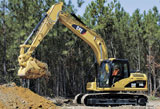 Each of the four Caterpillar excavators in the 20,000- to 40,000-pound range have been updated and upgraded, taking them from C- to D-Series designation. Generally, the product-line changes focus on new cabs providing greater comfort and intuitive feedback for the operators, greater lift capacity due to heavier counterweights, more engine power for greater productivity, and extended maintenance intervals. Versatility is extended with the Cat Tool Control System, which stores hydraulic flow and pressure for as many as 10 different work tools. Conventional-configuration 312D L and 315 D L models are joined by reduced-radius 311D LRR and compact-radius 314D LCR units.
Number of models: 4
New models: 311D LRR, 312D L, 314D LCR, 315D L
Product-line features: Available as an option on most models, the AccuGrade grade-control system helps operators at any skill level work faster and more accurately.
JOHN DEERE
Pinpoint Metering Capabilities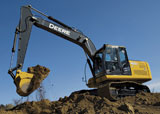 John Deere D-Series excavator introductions, including the 120D, 135D and 160D in the 20,000- to 40,000-pound range, incorporate the Powerwise III engine and hydraulic management system providing pinpoint metering and multi-function operation. A hydraulic recirculation system delivers more efficient flow to the boom and arm to also speed up cycle times. Standard on the Deere 160D LC model and optional on the likewise-conventional-configuration 120D is a hydraulically driven, cool-on-demand fan that runs only as needed. The 135D is a reduced-tail-swing excavator similar in engine output and arm breakout force to the lighter 120D, but with a short counterweight for digging close to obstructions.
Number of models: 3
New models: 120D, 135D, 160D LC
Product-line features: Redesigned cabs feature a new multi-function monitor with large, easy-to-read gauges, warning nights and icons that provide operating information at a glance.
CASE CONSTRUCTION EQUIPMENT
Longer-Carriage Unit Arrives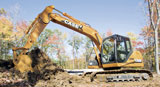 At World of Concrete in 2008, Case not only announced Tier-3 engine upgrades covering the CX130B conventional excavator and the CX 135 minimum-swing-radius machine, but also added a new model to the product offering in the 20,000- to 40,000-pound weight range. The longer-carriage CX130B LC offers an increase of 15 percent in lift capacity over the CX130B, thanks to nearly one foot of additional track length, stretching to 12 feet 4 inches. With an operating weight of 28,400 pounds, the longer-carriage unit offers a boom length of 15 feet 2 inches and a choice of arms maxing at 9 feet 11 inches, for a maximum dig depth of 19 feet 10 inches. Bucket digging force is 21,357 pounds. The CX160B model was among the larger upgraded Case excavators introduced at World of Concrete in 2007.
Number of models: 4
New models: CX130B LC
Product-line features: The CX130B LC features a "green plug" — an oil-pan plug with a built-in check valve that allows used engine oil to run through a tube and be easily reclaimed by a technician.
LBX
Load-Sensing Boost for X2 Models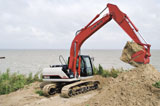 One year ago, LBX followed up the introduction a few months earlier of the updated 28,000-pound Link-Belt 130 X2 excavator model with a similar Tier-3-certified Isuzu engine upgrade to the Spin Ace minimum-swing-radius excavators, including the 135 model at 29,762 pounds. A blade option and rubber tracks are also new for the 135 Spin Ace. The conventional-configured X2 machines feature a load-sensing automatic power boost feature to muscle through tough digging conditions or pull off heavy lifting jobs. Speed Priority, Heavy, Applied Power and Attachment modes on the X2 machines are selected by simply dialing the engine throttle.
Number of models: 3
New models: 130 X2, 135 Spin Ace Tier III
Product-line features: An expanded right-hand, one-piece window provides X2 machine operators with better visibility to the jobsite. Ground-level access to remote-mounted filters and an engine-oil-drain "green plug" with a spring-loaded release and drain hose make for easier machine maintenance.
NEW HOLLAND
Strength Teams with Smoothness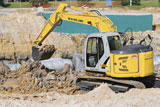 With proportional/progressive hydraulics, the improved Intelligent Total Control System featured on both the New Holland E135B and E175B excavators provides full operational control where and when needed. The system complements heavy digging force with progressive control for the smooth, even movement required for fine grading and leveling. While maintaining and even improving bucket, swing and drawbar forces, the control system features auto accel/decel, auto warm-up for both the engine and hydraulics, and four work modes as compared to three for the predecessor system. The E135B is available with a blade, marking the first time New Holland has offered this option on a large excavator.
Number of models: 2
New models: E135B, E175B
Product-line features: The patented Integrated Noise and Dust Reduction system, introduced on the E135B, reduces noise emissions by up to 7 percent or 5 decibels. Enhanced air filtration helps the excavator run cleaner with up to a 10 percent gain in fuel efficiency.
KOBELCO
Blade Runner Offers More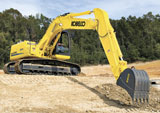 In addition to two models comparable to the sister New Holland offering in the 20,000- to 40,000-pound excavator size class, Kobelco further offers the ED150 Acera Blade Runner, described as two machines in one. Sharing the short-radius platform of the 32,040-pound Kobelco 140SR Acera model, the 35,720-pound Blade Runner has a standard, heavy-duty, six-way dozer blade with foldable, lockable blade wings that extend the clearing path beyond the width of the tracks. The 140SR and ED150 Blade Runner models feature the patented Integrated Noise and Dust Reduction System.
Number of models: 3
New models: 140SR Acera, ED150 Acera Blade Runner, SK170LC Acera Mark 8
Product-line features: The improved Intelligent Total Control System features proportional/progressive hydraulics, auto accel/decel, and auto warm-up for both the engine and hydraulics. Four work modes represent an increase by one over the predecessor system.
JCB
Diagnostics on Full Display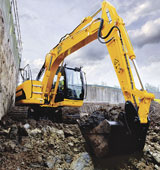 With engine upgrades to meet Tier 3 emissions compliance, JCB welcomed additional product gains to its 20,000- to 40,000-pound excavator offering, including enhanced cold-climate starting and a claimed 10-percent reduction in fuel consumption. With each of the conventional-configuration JS 145 and JS 160 models and the short-tail-swing JZ 140, engine self-diagnostics can be operated from inside the cab. As well, an engine oil indicator has been incorporated into the Advanced Management System, a JCB feature which enables rapid fault identification.
Number of models: 3
Product-line features: The JCB Plexus filter cleans hydraulic oil down to 1.5 microns, dramatically reducing dirt and condensation in the system. The hydraulic oil can run 5,000 hours between changes.
HITACHI
New Models Pack More Punch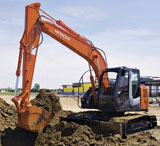 Regardless of their configurations, the new Hitachi ZX120-3, ZX135US-3 and ZX160LC-3 excavators incorporate features that were introduced with their larger predecessor Dash-3 models, including redesigned cabs, beefier undercarriages, faster hydraulics, and Tier-3-compliant engines with more power. The four-valve-per-cylinder, four-cylinder Isuzu engine achieves improved fuel efficiency and greater output primarily through a common-rail fuel-injection system and the cooled Exhaust Gas Recirculation system.
Number of models: 3
New models: ZX120-3, ZX135US-3, ZX160LC-3
Product-line features: As part of the redesigned cabs, short-throw levers combined with armrests mounted independently from the seat provide fingertip control with less effort. One work mode adds to the simple operation of the new Hitachi excavators.
VOLVO
Short on Swing, Not Features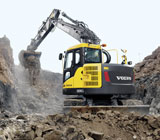 As part of Volvo's initial move into short-swing models for the full-sized excavator market, the 14-metric-ton ECR145C L model swings only about 9 inches outside its own track width, facilitating work close to fixed objects and reducing collision risks with other machines working nearby. The rounded shape of the cab is also designed to stay within the rear swing radius. Inside the cab, a new color LCD monitor features both a built-in service display and selectable hydraulic control options.
Number of models: 3
New model: ECR145C L
Product-line features: With approximately 80-percent commonality of components to conventional excavators such as the EC140C L and EC160C L, the Volvo short-swing excavator needs neither to cost more nor to wait longer for parts.
KOMATSU AMERICA
Options for Machine Configuration
A short-tail-swing excavator and a larger conventional-configuration model are offered by Komatsu in the 20,000- to 40,000-pound range. The 31,504-pound PC138USLC-8 was introduced in 2007 with lift capacity comparable to the since-departed PC120LC-6 conventional machine, but with tail-swing radius reduced by 27 percent for work in tight spaces. Also debuted in early 2007, the 36,640-pound PC160LC-7 is equipped with Komtrax, which uses wireless technology to send such machine operating information as hours, location, cautions and maintenance alerts to a secure website for efficient fleet management.
Number of models: 2
Product-line features: Model PC138USLC-8 is available with an optional blade for additional jobsite duties. Weighing less than 20 tons, the PC160LC-7 likewise requires only a two-axle trailer for transport.
GEHL
Taking 'Compact' to Bigger Jobs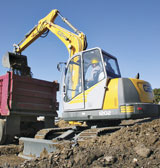 A manufacturer of compact construction equipment, Gehl Company does stretch into the 20,000-pound-plus excavator size range with its 1202 model. With an overall operating weight of 25,397 pounds, the Gehl 1202 incorporates a reduced-tail-swing design that, with 18 inches of overhang, puts the excavator to work in tight spots. Up front, an independent boom swing allows the operator to move the boom 80 degrees to the left and 50 degrees to the right without having to rotate the upper structure or move the tracks. Load- and pressure-sensing valves match hydraulic flow to application.
Number of models: 1
Product-line features: A wide dozer blade aids in the balance of the Gehl 1202 when the 98-horsepower excavator is digging, in addition to providing the machine with grading and dozing functions when required.
TEREX
Pattern-Change Control Available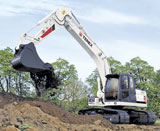 Redesigned LC-2 excavator models from Terex are equipped with a new pattern-change control, which allows operators to select and work with the operating pattern that best suits them. This extends the rental-yard appeal of compact excavators to the larger 30,864-pound TXC 140LC-2 and 38,933-pound TXC 180LC-2 models. A new Tier-3-compliant engine uses a common-rail fuel-injection system, combined with the e-EPOS electronic management system to boost productivity by 4 percent and fuel efficiency by 6 percent. A roomier, quieter cab features automatic climate control boasting 20 percent additional cooling capacity and 8 percent more airflow.
Number of models: 3
New models: TXC 140LC-2, TXC 180LC-2
Product-line features: With the new Terex excavators, oil-change intervals have doubled in length to 4,000 hours, air filter replacements are now every 2,000 hours as compared to 500 previously, and front pin lubrication intervals have gone from 50 to 250 hours.
DOOSAN INFRACORE
DX Machines Have 'Correct' Cabs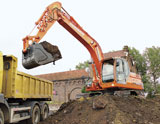 As part of the updated DX Series of excavators ranging right up to the 110,000-pound-plus DX520LC, Doosan displayed new 30,000-pound DX140LC and 39,000-pound DX180LC models at Conexpo-Con/Agg 2008. New DX Series machines boast an "ergonomically correct" cab design with automatic heating and air conditioning, a telescopic control stand, and a six-way-adjustable seat with lumbar support. A glass surface and transparent roof section enhance visibility for the operator, and a dual-walled exhaust silencer cuts noise levels. An electronics package allows communication between the engine and hydraulics for optimum machine performance and fuel economy.
Number of models: 2
New models: DX140LC, DX180LC
Product-line features: For easier maintenance, new DX Series excavators feature centralized grease points on the boom and arm; and convenient hose routing, wiring harness layout and filter placement.
TAKEUCHI
Cooling Upgrade for Largest Model
Another example of an equipment manufacturer renowned for compact excavators, but whose product offering creeps above the 20,000-pound level is Takeuchi. When updated with a Tier-3 turbocharged Isuzu engine monitored by an electronic system, the 31,878-pound TB1140 excavator received a new heavy-duty, side-by-side cooling module for the hydraulic oil, engine coolant and intercooler. Working from a sliding station equipped with a 10-way adjustable suspension seat, the TB1140's operator uses a three-button throttle control with three preset operating modes. The excavator also has an automatic fuel bleed system.
Number of models: 1
Product-line features: With the arm plumbed for primary and secondary, two-way, auxiliary hydraulics, the TB1140 is capable of simultaneous operation of cab swing and two digging functions with no reduction in working speed.
MUSTANG
An Easier Way to Trench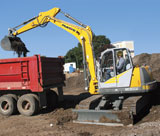 The Gehl-owned compact Mustang product line extends into the 20,000-pound-plus size class with a model "offering compact-excavator features with crawler-excavator performance," says Brian Rabe, Mustang product specialist. The 25,397-pound ME12002 comes with a standard dozer blade and boom swivel for quick work of trenching needs on crowded jobsites. Swiveling the boom to theleft and rotating the upper structure to the right allows the operator to dig a vertical trench right alongthe edge of a building or retaining wall.
Number of models: 1
Product-line features: The addition of rubber tracks, available as an option, adds to the versatility of the ME12002 to maneuver around on different surfaces.
YANMAR
Offset Tracks Boost Maneuverability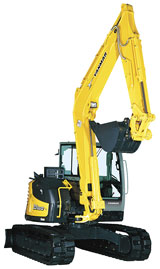 At just beyond 20,000 pounds, Yanmar's largest excavator extends a blend of performance and ultra tight maneuverability. The front and rear turning radius of the 74-horsepower SV 100 is so small that the boom bracket stays entirely within the width of the tracks. The stability of a conventional-style excavator is achieved by Yanmar's distinctive offset tracks, which provide a total machine width of 7 feet 7 inches. Yanmar's ViO Crawler Technology by Advanced Stability delivers an expanded track gauge for stability without adding undercarriage width. The ViO progressive three-pump system enhances power, speed and fuel efficiency.
Number of models: 1
Product-line features: The SV 100 has a tailor-made hydraulic quick coupler as standard, making attachment changes a one-person job. Short-pitch rubber track tread blocks offer enhanced operator comfort when in travel mode.
GRADALL
Matching Production with a Twist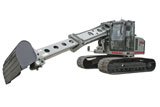 With a basic machine weight of 39,616 pounds, the new shorter-tailed Gradall XL 3200 III crawler boasts boom forces and cycle times comparable to conventional excavators, but with the famous Gradall telescoping and tilting boom. Powered by a new 172-horsepower Detroit Diesel engine, the unit has a rated boom force of 22,075 pounds and bucket breakout force of 19,300 pounds. Joysticks are built into the large seating module, where the operator controls the 220-degree boom tilt and the telescoping action of up to 27 feet 5 inches at ground line or 19 feet 2 inches of dig depth. Using a new in-cab switch, operators can quickly select the Gradall, Deere or SAE joystick pattern.
Number of models: 1
New models: XL 3200 III
Product-line features: Common to all Gradall Series 3 models, available attachments include trenching, excavating, ditching, pavement removal, dredging buckets and more.
HYUNDAI
Series Transitioning Ongoing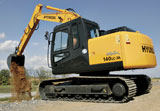 With 9 Series model introductions continuing late in 2008 and throughout 2009, Hyundai is among the more active of excavator manufacturers in all size classes at this time. Within the 20,000- to 40,000-pound range, the company will offer the R110LC-9 and R160LC-9 models, sandwiching the R140LC-7A. Transitioning to 7A from the previous 7 Series was based primarily on Tier-3 engine compliance. Effective December 2008, all new 7A Series and 9 Series excavators come with the new standard Total Coverage Warranty offering full machine warranty for two years or 2,000 hours, plus five years or 10,000 hours of structural warranty. Additionally, the first routine service is free.
Number of models: 3
Product-line features: Espousing performance and reliability at a value, Hyundai excavators feature large cabs with amenities such as heated suspension seats and CD players built into the base machine cost, along with such machine features as additional boom flood lights, swivel guard plates, air pre-cleaners and locking fuel caps.