September 28, 2010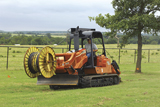 Ditch Witch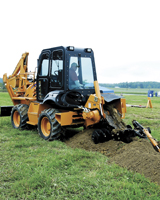 Astec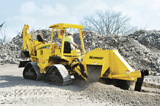 Vermeer

 
Tesmec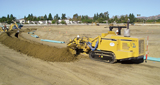 Guntert & Zimmerman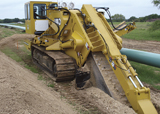 Trench-Tech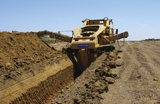 Trencor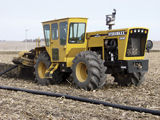 Port Industries
The Ditch Witch trencher product line continues to expand upward. Following the Tier-3 update last year to the 220-horsepower HT220, then the company's largest hydrostatic trencher offering, Ditch Witch is following up later this year with the 300-horsepower HT300. Pushing maximum digging depth 2 feet beyond the 8 feet of the HT220, the larger machine will likewise feature Ditch Witch's exclusive flywheel gearbox drive, designed to deliver high horsepower to the trencher attachment on demand while protecting the hydraulic system and other components from shock. Both units will have a standard cross conveyor.
Number of models: Soon-to-be 4
New models: HT220, HT300 (coming this year)
Product-line features: The HT220 was built to provide exceptional digging in both rock and dirt for large installations — 12 to 24 inches in width and 4 to 8 feet in depth. Operator wear and tear is minimized by standard trencher stabilizers that isolate machine vibration when digging in rock.
The flagship of the Astec utility trencher lineup, the four-wheel-drive RT1160 was introduced last year following feedback from customers, especially utility contractors, who called for ease of operation and operator comfort in a 115-horsepower, Hydra-Shift package. The ground drive, backfill blade and plow controls are located in the armrests of the full-suspension swivel seat. Front steer, rear steer and crab steer are standard and, combined with a 21.5-foot outside turning diameter, provide enhanced machine maneuverability. The hydrostatic trencher drive boasts a two-speed motor with variable chain speeds in either range. Beyond the Astec RT family of utility trenchers, parent company Astec Underground offers large track trenchers, mostly under the Trencor brand.
Number of models: 3
New model: RT1160
Product-line features: As with the RT960 at a shade under 100 horsepower, the RT1160 can be equipped to meet the specific needs of the customer. Options include a trencher, backfill blade, backhoe, reel carrier, cable plows, hydraborer units and rock saws. For added versatility, the RT1160 also offers an optional tilt frame.
With the addition of the 120-horsepower RTX1250 and XTS1250 quad-track models atop the ride-on trencher family, Vermeer connected the worlds of smaller ride-on trenchers and larger track trenchers. The 1250 models are the RT ride-on trencher family's 100-horsepower-plus entries, leading up to an 11-model track trencher family that begins with the 125-horsepower T455 and runs up to the 600-horsepower T1255 Commander 3. The newest changes are offered in the 540-horsepower T1155 Commander 3, which by utilizing a single 16-liter trencher motor allows the cab to be located between the cross conveyor and attachment for improved operator visibility to the trench. The motor was designed specifically by Rotary Power for this new Vermeer trencher model, introduced in 2007. The cab itself is 40-percent larger than those on earlier units of comparable size.
Number of models: 13
New models: RTX1250, XTS1250, T1155 Commander 3
Product-line features: The T1155 Commander 3 is pre-wired to accept telemetrics for the monitoring of engine hours and location, as well as most laser systems for grade control. An optional remote attachment control allows an operator or technician to start and stop the engine, raise and lower the boom, and rotate the chain while not in the cab.
As part of a product-line expansion, Tesmec has added two mechanically driven trencher models to complement its traditional hydrostatic offering, including the M5 unveiled at Conexpo/Con-Agg 2008. Powered by a 440-horsepower Cat C13 ACERT engine, the M5 utilizes a torque-converter-drive transmission with a deeper stall ratio, which allows higher digging chain pull force and lower digging chain speeds than industry norms. Coupled with a mechanical trencher load control system, this unit working in hard rock has, according to Tesmec, exceeded the production of competitive machines boasting 36-percent more engine power. A remote pendant control has also been added to the M5 to aid in changing digging teeth.
Number of models: 12
New models: TRS775, TRS975, TRS1375 Bucket Wheel, M3, M5
Product-line features: Ranging from 220 to 760 horsepower, the TRS hydrostatic trencher family was also updated at Conexpo-Con/Agg 2008, where the 300-horsepower TRS975 was unveiled with a flywheel gearbox, wider conveyor and variable speeds. A new double K-boom option, coupled with single and double boom offerings, provides a full range of trenching width options.
As an alternative to chain trenchers, Guntert & Zimmerman offers four base wheel trencher models, designated as the Eagle 4500, 5500, 6500 and 7500 with digging depths of 4, 5, 6 and 7 feet, respectively, and assorted digging width ranges from 14 to 30 inches. Additionally, side-shift models are available in the 4- and 6-foot width classes. At the top end, a trapezoidal trencher model expands the digging-width range of the 7-foot-class machine from 12 to 72 inches, as compared to 18 to 30 inches offered by the Eagle 7500 wheel trencher.
Number of models: 7
Product-line features: The wheel trencher's roll-up crumb shoe allows the starting of trenches close to existing structures and pipelines. Available as options from Guntert & Zimmerman, cross slope control helps keep the trench plumb when operating on a side slope and automatic grade control helps operators keep a constant uniform depth.
Powered entirely by Caterpillar engines, the updated six-model Trench-Tech large trencher family ranges in operating weight from 75,000 pounds to as much as 340,000 pounds, topping off with the TT-2950 model designed especially for large-diameter pipeline work. Stretching in engine output from 350 to 950 horsepower, the TT-2000 Series machines today have substantially in-creased maximum cutting widths, up to 78 inches on the largest model. Maximum depths have likewise been increased, from 24 to 30 feet. According to Trench-Tech, the company's mechanically driven trenchers offer significant fuel savings, and the cost of replacing teeth can be cut by as much as 65 percent.
Number of models: 6
New models:TT-2350, TT-2450, TT-2550, TT-2650, TT-2850, TT-2950
Product-line features: Now available as an option on designated Trench-Tech models, the trench safety vision system additionally provides machine operators with views from up to three cameras mounted around the machine. Images are displayed in the cab on a 7-inch color LCD screen.
A wheel trencher version of the T1360 is the newest addition to the Trencor by Astec product family. With the ability to dig up to 9 feet deep and 66 inches wide, the T1360W incorporates history and design from the Trencor 930 and 850 Capitol wheel trenchers with the newly styled Trencor T1360 mechanical-drive chain trencher. The Tier-3 Caterpillar C13 engine transmits its 440 horsepower via a proven four-speed power-shift transmission. The chain case housing is designed as part of the support structure for the wheel, which allows all driveline parts — drive shafts, chains and bearings — to be accessible for service without requiring the removal of attachments.
Number of base models: 7
New model: T1360W
Product-line features: A Windows-based load control system rapidly regulates the digging and track speeds of Trencor trenchers to maintain performance and reduce engine stalls and machine wear. While at 200 gallons, the high-volume hydraulic system only operates the tracks, conveyor and wheel lift to keep the pumps and motors cooler. Optional equipment includes automatic laser control for grade and steering.
Port Industries offers not only the 39,000-pound, 425-horsepower Hydramaxx 2500 ag chain trencher, but also the 2400 and 2600 ag bucket wheel trencher models, the 2450 pipeline bucket wheel trencher, and the 3300 ag self-contained plow. The 2500 model features an updated dirt auger to increase bearing life, while the 2400, 2450 and 2600 incorporate a new conveyor design that allows excavated material to be placed a greater distance away from the trench. The 3300 has been enhanced with hydraulics and undercarriage upgrades. Each of the 2400, 2450, 2500 and 2600 have redesigned engine and main frame covers for easier maintenance and visibility.
Number of models: 5
Product-line features: Espousing high mobility, the Hydramaxx dirt-trenching machines offer digging depths of up to 7 feet (on grade) and digging widths ranging from 10 to 34 inches.