By Tom Berg | December 21, 2011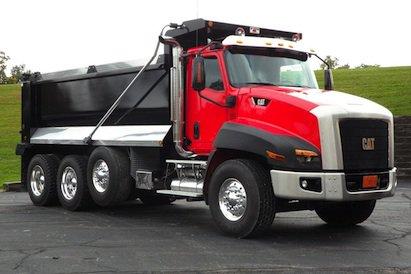 Premium is the word for the new CT660 vocational truck, Caterpillar's much-anticipated on/off-road vehicle, for its styling and interior refinement will surely make a driver feel he's operating something special. Some already are, as the trucks went into production last summer and since then Cat has reported brisk sales to customers, many of whom operate Cat machinery and like the idea of adding road-going equipment to their fleets.
The Cat Truck needs to be premium because it's competing primarily against well-regarded vocational models from Mack, Kenworth, Peterbilt and Western Star, executives said in briefings last fall at the company's demonstration center near Peoria, Ill. The CT's list price is every bit as much as theirs, and Cat dealers are grappling with the idea of discounted selling prices, something they're not accustomed to, one exec commented during a break. 
Executives were candid in explaining the CT660's genesis: It's based on the International PayStar 5000 and is built alongside that model at Navistar's vocational truck plant in Garland, Texas. (They didn't say so, but the PayStar is also a competitor.) The Cat Truck's engines are private-branded 10.5- and 12.4-liter diesels, also from Navistar, with a new 15-liter engine due in the next month or two.
But the execs displayed enthusiasm as they told how the Cat Truck stands out with the massive hood and chrome nose, and many details of cab construction, along with some drivetrain details. One is the optional CX31 automatic transmission, which is based on a rugged powershift unit used in an off-road articulated truck. Understandably, Allison automatics are not available.
Cat's Product Link telematics capability will wirelessly tie the truck and its operating data to owners and to Cat dealers, who can then efficiently manage its maintenance. Productivity gains might also be possible by linking a truck with the machines it's supporting, one exec suggested. 
It all sounded as good as it did during the introduction at Conexpo last March. So we trade press reporters were anxious to see how the words compared to the products. If our reactions were more subdued, it's because our experience with a quartet of dump trucks was limited to an off-road course on the premises. This was enough to judge how the trucks performed on dirt and gravel trails, which was pretty nicely, but not on public roads where such trucks spend a lot of their time.
Cat CT660 features
Impressive were the attractively designed dashboard, controls, instruments—particularly the combined speedometer and tachometer—and the apparent solidness of the cab structure. The doors slammed with a nice thunk! and the power windows rolled up and down smoothly. The interior trim uses the inevitable plastic panels, but they look handsome and substantial. Driver seats fit my body nicely and were easily adjusted so my feet reached the pedals.
Visibility over that big hood was good because it slopes downward, the big cowl-mounted mirrors don't blur because they're isolated from vibration, and all windows are large enough to show what's happening in the passing world. But those mirrors limit how far the doors can be opened, and the shiny dual exhaust stacks further restrict the passageway into the cab. Other makes of trucks impose the same restrictions on big, burly guys; I'd ease this by deleting the driver's side stack. 
Two of the demonstration trucks were painted bright red and had Eaton Fuller "8LL" manual gearboxes. The others were Cat yellow, and each had the CX31 autotranny. The self-shifting CX31s eliminated much of the driving work and let me concentrate on where the trucks were, an attribute infinitely more valuable in heavy traffic and uneven terrain, but I appreciated this even on the sparsely populated and well-graded trail. Gear changes are more readily felt than with an Allison, and both CXs occasionally downshifted with a thump. A prototype I drove about a decade ago did that, too, but more roughly, so there's been progress.
The red trucks with their 8LL manuals were more of a handful. In each, I immediately noticed that the gearshift lever was mounted several inches farther back than in other truck makes. A driver would adjust to this, and would have to because on the floor the lever is about as close to the doghouse as it can be. And even if it could be moved up, its top would collide with the massive right-side panel of the dashboard.
Although the two trucks were identically spec'd, I could shift one 8LL better than the other. Even with double-clutching I got a lot of crunching while up- or downshifting one, but was nonetheless able to upshift it after starting out in Low on a 5- or 6-percent upgrade. The other tranny crunched less in normal shifting, but I could not get it to upshift on the slope and had to crawl up in Low. To be fair, each truck had barely 1,500 miles on its odometer, so some break-in time will probably benefit both gearboxes and whoever ends up operating them.
Power was ample in all the trucks because each had a 475-horsepower, 1,700 lb.-ft. 12.4-liter diesel. Navistars they are, but all engines are painted yellow and have CT designations. And all ratings are governed at 2,100 rpm because, Cat people said, any proper vocational engine needs the revs for flexibility on jobsites and to grab a gear while climbing a hill. Of course I used those revs while upshifting, or trying to, on that slope. The engine brakes were especially strong in lower gears at slow trail speeds.
Ride quality was excellent on smooth portions of a gravel trail. But the front end of each truck bounced as we started out in the demo building, where the dirt was slightly rippled. In the manual tranny trucks, this caused my foot to rapidly goose the accelerator and the engines to surge, whereupon I'd hit the clutch pedal to quit the disconcerting motion. In the past I have jumped into other brand-new trucks and found them easy to shift, so let's see what future drives of the CT660 bring.
We were supposed to hold our trail speed to 25 mph, but I got a couple of trucks going to 40 mph and more. They had good brakes, and the escort drivers relaxed when they saw that I seemed to know what I was doing. And, there were no Cat-yellow cop cars on the course, so I came away with a clean driving record.
Cat CT660 Heavy Truck Specifications
Truck: Caterpillar CT660, conventional-cab, 6X4, BBC 116 in.
Engine: Navistar-Cat CT13, 12.4 liters (758 cubic inches), 475 hp @ 2,100 rpm, 1,700 lb.-ft. @ 1,000 rpm
Transmissions: Cat CX31, lock-up torque converter-equipped power shift automatic 6-speed (yellow truck); Eaton Fuller RTO(F) 16908LL 10-speed manual (red truck), w/ Eaton Fuller Easy Petal Advantage clutch
Front axle: 20,000-lb. Meritor on multileaf springs
Rear axles: 46,000-lb. Meritor RT-46-145 on 46,000-lb. Hendrickson HMX walking beam suspension
Lift axle: 20,000-lb. Hendrickson steerable
Wheelbase: 222 in.
Tires & wheels: 425/65R22.5 Continental front, 11R24.5 Goodyear G177 rear, on Alcoa Durabright polished aluminum
Fuel capacity: 80 gallons
Body: Ox Stampede 18-ft, 21-23 yard, 54-in-high side walls with ¼-in Hardox AR450 steel