Staff | September 28, 2010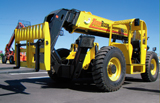 Breslau, Ontario-based CareLift Equipment Ltd. is owned by one of the largest masonry companies in North America, and the ZoomBoom product line owes its existence to its owner's desire to build a machine required to withstand the brutal Canadian winters. The ZB10056's entire frame is cut from heavy 1½-inch plate steel, and virtually everything on the machine is made of steel. Needless to say, its robustness is quite apparent.
The ZoomBoom ZB10056 model was first introduced in 1998 as the ZB10055 and later updated in early 2003. Those updates included, but were not limited to, repositioning the engine closer to the center of the frame and lowering the cab slightly. The reach height also was stretched an extra foot. One objective of the redesign was to improve rearward visibility. Since this change was made, the view through the boom-supported uprights has opened up very nicely. Under the "deep-seated" frame, all components are recessed up and out of harm's way.
Entering the high-sitting Safety Cab-supplied operator cabin requires little effort, and its elevated location in the fully adjustable suspension seat provides extra visibility.
The cab's interior features a spacious work area, and all controls are easy to identify. A Murphy PV (Power View) 100 LCD readout in the cab displays oil pressure, water temperature, and alternator output, to name a few. One simple yet notable feature on all ZoomBoom telehandlers is the adjustable joystick control pedestal, which allows the multifunction joystick controller's position to be customized, providing an ideal angle and height for individual operators.
The ZB10056 features a mid-mounted, in-frame drive train and a 110-hp Cummins turbocharged engine. Although this particular unit was equipped with a Dana T16000 Series four-speed power-shift transmission, look for an upgrade to the T20000 Series made in April.
Power flows to the Dana-supplied drive axles, while the 41-gallon diesel and hydraulic oil tanks are fixed on the side opposite the cab. Although these tanks are located next to each other, they are clearly tagged. Additionally, a wrench is required to access the hydraulic oil, and the fuel filler is pad lockable, which should eliminate any chance of unintentional cross contamination.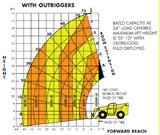 One unique safety feature is the "Mine Code" back-up system, which is optional on this unit. The system consists of a 5-gallon accumulator and an additional valve that maintains the steering reserve pressure in the event of a line pressure drop or the total loss of power. Mine Code is not separate from the normal steering system.
The ZB10056's wet disc service brakes are split into two separate circuits: one for the front and one for the rear axles. Two accumulators provide dead engine braking in the event of pressure loss.