September 28, 2010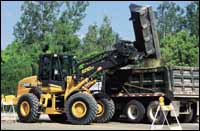 Good Visibility to Work Tools
The newest machine in Case's three-model tool-carrier line is the 721D/XT, a 170-hp (net) machine that weighs 31,500 pounds. With the 721D/XT, says Case, came redesigned linkage, improved visibility, increased material retention and improved stability — features subsequently incorporated into the two other Case tool carriers, the 521D/XT and 621D/XT.
Number of models: 3
Product-line features: The latest versions of Case tool carriers feature a bucket rollback of 58 degrees at ground level, plus low-profile routing of hydraulic hoses and redesigned lower linkage to enhance lines of sight to work tools. These machines also incorporate the Case wheel-loader mid-mounted cooling system.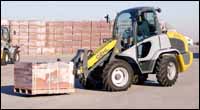 Modified Z-Bar Linkage
The smallest model in Gehl's All-Wheel-Steer line, the 280, and the telescopic-boom model, the 480T, provide parallel lift via "short-link" Z-bar configuration. Models 480 and 680 use conventional parallel-lift linkage. The machines are equipped with a "four-pin" wheel-loader-style coupler, but can be fitted with an optional universal coupler.
Number of models: 4
New models: 280, 480, 680, 480T
Product-line features: These non-articulating loaders feature a hydrostatic drive system that automatically adjusts ground speed and tractive effort to match the operating situation.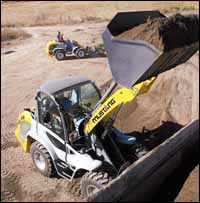 Accepts Universal Coupler
Mustang's all-wheel-steer (AWS) loaders, the ML28, ML48, ML48T and ML68, feature parallel-lift linkage, but not all of the same design. For example, the ML28 (with a single, centrally mounted boom arm) and the telescopic-boom ML48T, use a "modified Z-bar" linkage. The AWS models are fitted with a wheel-loader-type coupler, which can also accept a universal-type coupler.
Number of models: 4
New models: ML28, ML48, ML48T, ML68
Product-line features: Mustang's Ecospeed system, available in all models except the ML28, is "an infinitely variable high-speed gear, enabling the operator to increase the drive speed up to 25 mph." The AWS models have a one-piece chassis and use four-wheel, 40-degree steering.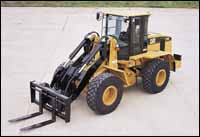 Two Types of Parallel-Lift Linkage
The official Caterpillar wheel-loader line includes the IT14G, IT38GII, IT62GII, which use more conventional multi-bar linkage, and the 924G and 930G, which employ the company's VersaLink system. Other models in the Cat wheel-loader line that provide parallel-lift and attachment-handling capability are the 906 and 908 compact loaders. The two systems, says Cat, are designed to match specific operating applications encountered by different machine sizes.
Number of models: 7
New models: 930G
Product-line features: Caterpillar tool carriers feature the company's own couplers, which are available in both a horizontal- and vertical-locking-pin configuration. According to Cat, the design of its VersaLink system combines the best features of both parallel-lift and Z-bar linkages.
Load-Sensing Hydraulics
JCB's lineup of tool-carrier models numbers five, from the 92-hp (Perkins) 411HT, to the 216-hp (Cummins) 456HT. JCB says all of these machines feature its "four-cylinder geometry," which delivers high torque for versatile performance in all applications.
Number of models: 5
Product-line features: The company's wheel loaders feature a "load-sensed" hydraulic system, which, says JCB, reduces wear and minimizes fuel consumption by delivering only the oil flow that is actually demanded by the task at hand. These units also employ multi-plate, oil-immersed disc brakes that are inboard mounted.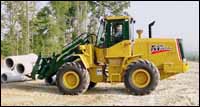 Cummins Power and Cool Air
The 26,000-pound Kawasaki 65TMV TaskMaster tool carrier uses "parallelogram" lift-arm linkage and provides optional hydraulics for handling a range of work tools, including its standard 2.8-cubic-yard general-purpose bucket. This tool carrier has a hinge-pin height of slightly more than 13 feet.
Number of models: 1
Product-line features: The 65TMV features a Cummins 6BTAA5.9 diesel engine that delivers 134 horsepower. The machine is fitted with four-wheel, sealed, wet-disc brakes and incorporates a new ROPS cab that is available with a 27,000 Btu air-conditioning system.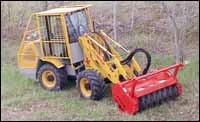 Good Visibility and Universal Coupler
The VersaDyne Model 3K loader, says Linco Equipment, is equipped with "high-visibility parallel-lift linkage" and a universal-type "MaxAttach Tool Carrier." The machine is powered by an 85-hp Cummins diesel engine.
Number of models: 1
Product-line features: This 11,000-pound articulated loader has a two-speed hydrostatic drive system and a VariStat auxiliary hydraulic system for powering attachments.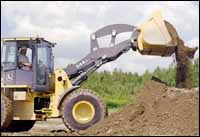 Patented Linkage for John Deere
The most distinctive feature of the tool-carrier versions of Deere's three new mid-size J-Series wheel loaders, the 444J, 544J and 624J, is the company's patented Powerllel linkage, which can be used with a coupler or with pin-on buckets. Deere says the innovative design of the linkage allows load forces to work with — not against — the boom for increased breakout forces in tough digging.
Number of models: 3
New models: 444J Powerllel, 544J Powerllel and 624 Powerllel
Product-line features: According to Deere, refined torque curves in the new J-Series tool carriers deliver torque reserves of 37, 41 and 54 percent, respectively. The powershift/torque-converter transmission used in these models employs "smart-shift technology," which continuously evaluates speed and load parameters and adjusts clutch engagement accordingly.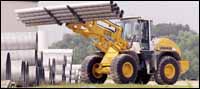 Transverse Engine Mounting
Liebherr's L 524P and L 538P tool carriers ("P" for "parallelogram attachment geometry") have horsepower ratings of 110 and 136, and operating weights of 22,000 and 27,000 pounds, respectively.
Number of models: 2
Product-line features: Liebherr's tool carriers feature the company's hydrostatic drive system and its own diesel engines, which are transversely mounted. The engine position, says Liebherr, has the effect of a natural counterweight, allowing increased tipping load without increased operating weight.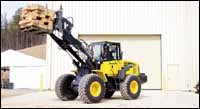 Hydrostatic Drive and New Linkage
According to Komatsu, its Dash-3 tool carriers used an "8-bar" linkage, but with the release of the Dash-5 models, a new "six-segment, parallelogram-style" linkage is used, which has simplified the overall design by requiring only one bucket cylinder. Komatsu partners with JRB for couplers and attachments.
Number of models: 3
New models: WA320PT-5
Product-line features: Komatsu's tool carriers feature the company's new electronically controlled hydrostatic drive system that provides both variable shift control and a traction-control feature. Larger cabs and extended service intervals are also part of the Dash-5 package.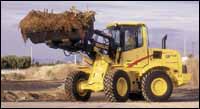 Variable-Displacement Hydraulics
To ensure high operating efficiency, says New Holland, its engineers worked closely with coupler and attachment manufacturers when designing the linkage system and coupler for its tool carriers. New Holland's three tool-carrier models, the LW110.B, LW130.B and LW170.B, have net horsepower ratings of 110, 136 and 170, respectively.
Number of models: 3
Product-line features: New Holland's tool carriers feature a closed-center, pressure-compensating hydraulic system with a variable-displacement piston pump. A newly designed transmission has a programmable shifting feature and the choice of automatic or manual operation. Standard limited-slip axles and a mid-mounted cooling system allows optimal placement of the engine, according to the company.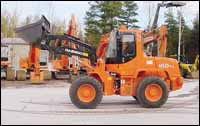 Operator Comfort a Plus
Daewoo's single tool-carrier model, the MEGA 160, is a 20,000-pound machine that rides on 17.5×25-12PR (L2) tires and provides a hinge-pin height of 12 feet 1 inch. The MEGA 160 delivers a maximum travel speed of 23.7 mph.
Number of models: 1
Product-line features: Like its wheel-loader counterpart, the MEGA 160 features a standard air-conditioning system, adjustable steering column, viscous mounting of the cab, and a central monitoring panel. Daewoo machines are now manufactured by Doosan Infracore America.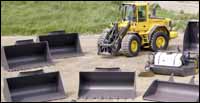 Best of Both Linkage Types
Volvo is a pioneer of the tool-carrier concept and equips all of its full-size (and select compact) wheel loaders with its proprietary Torque-Parallel linkage system and with its own attachment coupler. Torque-Parallel linkage, says Volvo, is designed to combine the parallel-lift feature of tool-carrier linkage with the breakout power of conventional Z-bar designs.
Number of models: 12 (with Torque-Parallel)
Product-line features: Volvo's full-size wheel loaders, from the 101-hp L50E through the 502-hp L330E, use the company's own engines and are designed with a load-sensing hydraulic system, which, says the company, "improves fuel efficiency and productivity." Also featured in these machines (except the L50E) is an automatic powershift transmission.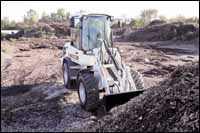 Wide Range of Models
The five models of Terex wheel loaders that fit the tool-carrier criteria are the SKL814, SKL824, SKL834, SKL844 and SKL854. These machines are equipped with "four-bar" parallel-lift linkage and an integrated "quick-attach" system. The SKL824 also is available with an optional universal coupler. These machines range in net horsepower from 50 to 84, and in operating weight from 8,600 to 15,700 pounds.
Number of models: 5
New models: SLK814, SKL854
Product-line features: Terex tool carriers use a closed-circuit, two-speed hydrostatic drive system that provides automatic adjustment of drawbar pull and speed. Except for the SKL814, these machines can be equipped with an available four-speed drive system that provides a top speed of 22 mph. The SKL854 uses a Perkins 1104C-44 diesel engine, and the four other models use a Deutz FAM 2011. 
Tool Carriers with Intelligence
The three models in Hyundai's tool-carrier range, the HL730TM-7, HL740TM-7 and HL757TM-7, feature Cummins power and proportional control of transmission clutches, which result in automatic adjustment of shift pressures to exactly meet the operating load.
Number of models: 3
Product-line features: Hyundai calls attention to the electronic intelligence of these machines, noting that the transmission and machine control units, the TCU and MCU, respectively, promote optimum performance through a mutual CAN communications link.
Buying File: Tool Carriers Tool Carriers and Couplers Promote Utility