September 28, 2010
Lost Two Liters, Gained a Ton of Payload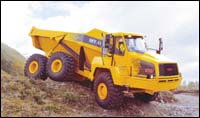 The MT41 introduced at Conexpo-Con/Agg carries 2,000 pounds more payload than the truck it replaced, the MT40B II, and it's Moxy's first use of wet disc brakes. A drop in engine displacement, from Scania's DI14 diesel to its 12-liter DC12, is masked by the fact that the turbocharged and intercooled DC12 carries the same horsepower and torque ratings (429 horsepower and 1,367 ft.-lbs.) as the 14-liter predecessor. The MT41 outweighs the MT40B II by about 3,000 pounds.
Number of models: 4
New models: MT41
Product-line features: All of the Moxy ADTs route Scania diesel power through ZF drive trains. The MT36 II is the most powerful per ton of gross vehicle weight in the 35-ton class, and the other Moxies rank among the two or three most powerful in their size classes. Moxy claims its unique articulation joint distributes weight to the front wheels in all situations, including sharp turns. The ring that allows front and rear frames to oscillate side to side is in ahead of the swing point. And Moxy says sloping its rear chassis down to the joint also improves weight distribution to each wheel for added stability.
Different by Design
Komatsu is the most recent entry in the competition for articulated-dump-truck sales with a single-source power train. Komatsu ADTs diverge from the only makes that build their own engines, transmissions and drivelines (Cat and Volvo) with the Komatsu K-ATOMiCS countershaft transmission. Cat and Volvo use planetary-type transmissions. Komatsu breaks from all ADTs by speccing hydro-pneumatic struts in its rear suspension — a technology borrowed from its rigid-framed trucks.
Number of models: 3
Product-line features: All models have sealed wet-disc brakes, making the HM300-1 the only 30-ton truck in the world with them (Cat's 735 is the only other 35-ton truck with wet discs). Komatsu relies on the wet-disc brakes as a secondary retarder after the exhaust brake, but a transmission retarder is optional. 
Light Trucks Move Loads Fast
With one exception, John Deere's trucks are the lightest in each size class — Moxy's MT36II weighs about 500 pounds less than the 350D. Deere uses its own 8.1-liter PowerTech engines in the 250D and 300D, and ZF's Ecomat planetary transmissions. The 35- and 40-ton ADTs are powered by an 11.95-liter Mercedes V-6 diesel, through Allison planetaries. With good power-to-weight ratios, the Deere trucks are nimble even when loaded. Product manager Tim Averkamp says they deliver "haul cycle times in the range of 5 to 10 percent better than the competition."
Number of models: 4
Product-line features: John Deere is working to move production of articulated dump trucks — under license from Bell, which currently builds the trucks in South Africa — to an existing Deere factory in Davenport, Iowa. All four trucks are expected to be built there by year's end, for distribution throughout the Americas.
Big Torque Gains from Smaller Diesel
Volvo traded the 9.6-liter Volvo D10 diesel for the 9.4-liter D9 used in the A25D and A30D. Horsepower dropped slightly in the 25-ton truck and increased slightly in the 30-tonner, but the big change is the torque increase. Net torque in the A25D jumped 25 percent, and the A30D saw a 20 percent increase. Volvo says their average fuel efficiency (measured in cubic yards moved per gallon of fuel) improved 5 to 7 percent.
Number of models: 5
Product-line features: The A35D and A40D are now being produced with Volvo's D12D V-ACT engine, which recirculates a portion of the exhaust to the combustion chamber internally. There's no exhaust aftertreatment. The Tier-3-compliant engines will handle high-sulfur diesel fuel. Volvo builds its entire driveline — engines, planetary transmissions, and axles with locking dog-clutch differentials.
30-Ton Ejector Truck
At Conexpo-Con/Agg, Caterpillar announced the 730 Ejector Truck, a dump-body alternative that Cat applied three years ago to its 40-ton truck. Rather than tipping the load from the cargo box, the ejector's hydraulic ram pushes a moldboard rearward to shove material out. Recent changes across Cat's ADT line include a cab redesign with new instrument cluster and vehicle monitor. Cat also redesigned the elastomer suspension blocks mounted at the rear bogey, claiming they will last more than twice as long as the previous blocks.
Number of models: 6
New models: 730 Ejector
Product-line features: Cat applies its wet-clutch power-transmission technology not only in the planetary transmissions, but also in the ADT's differentials. Interaxle differentials, which divide torque between the front and rear drives, use wet-plate, multi-disc clutches to transfer torque to the slowest turning member or provide 100-percent lockup on demand. Differentials in each axle also use wet clutches, allowing them to be locked on the go as well.
Boosted Engine and Braking Power
Engine changes in the TA25, TA27 and TA30 to meet Tier 3 emissions regulations upgraded each model's Cummins horsepower (16 percent more power in the TA30). Terex also boosted braking power by choosing dual-caliper dry disc brakes for these trucks, and making an engine-exhaust retarder standard equipment. The TA40 has been upgraded with wet-disc brakes all around.
Number of models: 5
New models: TA25, TA27 and TA30
Product-line features: Terex chooses Detroit Diesel Series 60 engines for the TA35 and TA40. All Terex trucks deliver power through ZF powershift transmissions, a lockable interaxle differential, and limited-slip differentials on each axle.
Powerful New Contender at 40 Tons
Case doubled its ADT lineup in January, adding 35- and 40-ton models to its 25- and 30-ton offerings. The 335 and 340 are powered by a Case-branded Iveco Cursor diesel with variable geometry turbocharger, and ZF countershaft transmissions and limited-slip differentials. The new front driveline has a limited-slip differential mounted on the transmission, which transfers power directly to each front wheel end via a pair of transaxles. This front drive system adds 4 inches of suspension travel. The 340 is Case's only ADT with wet-disc brakes.
Number of models: 4
New models: 335 and 340
Product-line features: Case ADTs, manufactured in the CNH joint venture with Astra in Italy, have the lightest payload ratings in each of their size classes. For example, the 340's 79,366-pound capacity is 4,400 pounds less than the highest-rated 40-ton hauler. But with fairly brawny engines, the Case trucks deliver high power-to-weight ratios. The 340 leads 40-tonners in terms of net horsepower per ton.
22-Ton 6×6 Is Largest in the Line
Last year JCB introduced its largest ADT and first 6×6 model, the 22-ton 722, with a 5.9-liter JCB diesel engine. Dump angle is increased to 74 degrees to clear cargo faster. The 722 uses a variable displacement piston pump to manage the hydraulic effort, reserving power for the drive train.
Number of models: 3
New models: 722
Product-line features: Like the two 4×4 JCB trucks, the 722 uses ZF's Smoothshift automatic transmission and Super Max Trac limited-slip differentials. With capacities of 14, 18, and 22 tons, JCB has no ADT competitors in North America.
Buying File Feature Article: Articulated Dump Trucks: No More Copy-Cat Articulated Haulers