By Staff | September 28, 2010
Models Call On Company's Crawler Experience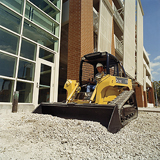 Entering the market in 2005, John Deere offers the CT322 and CT332 compact track loaders at 66 and 82 horsepower respectively. The undercarriage features all steel rollers, idlers and sprockets, and the rubber track is steel-imbedded for durability. Deere's extensive experience with crawlers results in the use of dozer roller seal and bearing technology on the compact loaders, as well as complete track cleaning with the use of only a shovel. Double flange rollers and idlers result in a smooth ride.
Number of models: 2
Product-line features: Deere now offers the new cool-on-demand, variable-speed fan that rotates at full speed only when necessary. As well as providing more efficient cooling, this clutch fan is substantially quieter, resulting in operator comfort, fuel economy and enhanced jobsite communications.
Two Models Offer Lift Choice
The Komatsu CK30 and CK35 are the first two compact track loader models designed and manufactured by Komatsu America at the production facility in Newberry, South Carolina. Shipments of the 84-horsepower track loaders began one year ago. The CK30 is a radial-lift model with an operating capacity of 2,485 pounds as rated at 35 percent of tipping capacity, while the vertical-lift SK35 offers a rated operating capacity of 2,755 pounds.
Number of models: 2
New models: CK30, CK35
Product-line features: Utilizing two-speed control, Komatsu compact track loaders come equipped with pilot proportional joystick controls, two-way auxiliary hydraulics, a bucket self-leveling system and automatic power control system. Contributing to track retention are the upper track guide system, three flange front idler system and common mount of the idler and number one roller.
Large High-Flow Option Now Available
With three standard models ranging from 66 to 97 horsepower, Gehl most recently introduced a high-flow option for the largest model, the CTL80. Providing nearly 40 gallons per minute of high flow, this option allows the high-horsepower, high-capacity CTL80 to perform optimally with high-flow attachments. For the CTL60, CTL70 and CTL80 models, the published rated operating load, at 50 percent of tipping capacity, ranges from 2,315 to 3,528 pounds.
Number of models: 3
New model: CTL 80 High Flow
Product-line features: Gehl compact track loaders utilize a pilot joystick control system with push-button auxiliary hydraulics and float positioning. Other standard features include two-speed drive, a hydraulic self-leveling lift system, an engine auto shutdown system, multi-readout instrumentation and a deluxe, multi-adjustment, high-back suspension seat.
New Series Debuts This Year
With the May introduction of the larger C-Series machines, Caterpillar has increased the size of its "multi terrain" or compact track loader offering. With an operating capacity of 4,233 pounds, as rated at 50 percent of tipping load, the 297C is the largest-capacity machine of its type that Caterpillar has ever produced. As a vertical-lift machine designed for enhanced truck loading capabilities, the 297C is joined by the 287C. The smallest of the new C-Series models offered, the 277C has radial lift linkage.
Number of models: 6
New models: 277C, 287C, 297C
Product-line features: Caterpillar enhances machine control with the C-Series offering of electronic torque management, as well as electro-hydraulic joystick control of the hydrostatic drive system. Available as an option of each model, High Flow XPS hydraulics enable customers to equip C-Series machines specifically for the work they do.
Enhancements To Cooling, Undercarriage
With the addition of the newest T320 model in May, Bobcat's K-Series compact track loader line ranges from the T140 up to the T320, ranging 1,400 to 3,200 pounds in rated operating capacity. The T140, T180 and T250 offer radius lift, while the T190, T300 and T320 feature vertical lift. Available on all K-Series models is a new SmartFAN cooling system, featuring a variable-speed, hydraulically-driven fan that senses machine operating temperature, then self-regulates to rotate only as fast as needed. The addition of another roller to the track undercarriage on the T180 and up not only provides a smoother ride, but improves roller life and overall track life. Already available on larger models, selectable joystick controls are now available on the T140.
Number of models: 6
New model: T320
Product-line features: The Bobcat speed management feature, activated from inside the cab, provides more consistent loader and attachment performance while minimizing the strain on operators. With speed management, operators can simply "dial in" their required travel speed in increments up to 7 miles per hour, while maintaining driveline torque and full hydraulic power. Rather than having to continually hold the joystick in the same exact position to maintain constant travel speed, operators can achieve desired speed while having full joystick movement.
Machines Built From Ground Up
Approaching the compact track loader product as anything but a modified skid-steer loader, ASV designs its machines from the ground up to run on a suspended rubber track undercarriage, providing traction and smooth ride. In 2006, ASV expanded its full product line with the introduction of the 80.5-horsepower SR-80, which features an exclusive, independent, multi-level suspension undercarriage. The 71-horsepower SR-70 has many of the same features as the SR-80, such as a choice of cab interiors, a high-performance hydraulic system, 15 inches of ground clearance and a precision-balanced chassis. The SR-70 runs on a new, rugged suspended undercarriage with 15-inch-wide rubber tracks.
Number of models: 11
New models: SR-80, SR-70
Product-line features: ASV undercarriages feature two types of suspension. On single-level versions, the entire undercarriage is suspended from the chassis of the machine by torsion axles. On most models, these torsion axles are independent, so there are four suspension points connecting the chassis to the undercarriage, providing a smooth ride. With ASV's dual-level suspended undercarriage, as on the SR-80 model, torsion axles are used in addition to a second level of suspension that allows the bogie wheels to flex for exceptional comfort and traction.
Flotation To Go, Traction To Work
By utilizing a high-sprocket, double-reduction, planetary final drive system as a durable method of speed control and torque amplification, the Takeuchi TL130, TL140 and TL150 compact track loaders capitalize on superior traction and digging force. A planetary drive system eliminates drive chains, chain cases, axles and hubs. The final drive is kept out of dirt and debris, minimizing the possibility of contamination, while the self-cleaning frame allows for less debris in the track.
Number of models: 3
Product-line features: Takeuchi's rubber tracks combine the capabilities of a track loader with the ability to operate on improved surfaces. Pilot-operated joystick controls provide the operator with precise, fingertip control of loader and travel functions. For maintenance, the tilt-back operator's compartment offers quick access to the engine and hydraulic system.
Product Line Receives Update
With the entire line updated this year, JCB offers three compact track loaders ranging in operating weight from 8,113 to 10,934 pounds, and in gross engine output from 60 to 92 horsepower. Series II improvements include a choice of three control patterns — JCB Servo, hand and foot, and dual foot — as well as increased hydraulic flow and pressure, increased breakout forces and the use of Dieselmax engines on the larger 190T and 1110T models.
Number of models: 3
New models: 180T, 190T, 1110T
Product-line features: JCB's famed single arm design provides side entry and exit for operators, particularly beneficial when employing a large hydraulic attachment, such as a tree spade or trencher. The single arm is slung low to provide the best visibility possible for operators to work quickly and safely on confined jobsites.
Ready To Handle More Attachments
With the addition of a high-flow model version, Mustang Manufacturing Co. is trumpeting the ability to power high-flow, high-performance attachments with its largest of three compact track loaders. The high-flow output is nearly 40 gallons per minute. Another new feature option added to the full product line is a foot throttle. Now, the operator has the advantage of operating the engine throttle by foot, hand or a combination, per personal preference.
Number of models: 3
New model: MTL 25 High Flow
Product-line features: All three Mustang compact track loaders feature full pilot joystick controls as standard, allowing for easy fingertip control. Each model also features two speed drive, an automatic engine shutdown system, and a hydraulic self-leveling, high-back, six-way suspension seat.
Going Where No Operator Needs To
As part of its Microtraxx line of equipment for confined spaces, Rohmac, Inc. offers two compact track loaders controlled by a seven-function radio remote control, suiting them for safe access to such hazardous areas as box culverts. With basic unit weights of 4,200 and 4,850 pounds respectively, the MT 3234 and SL 436 models offer lift capacities of 1,500 and 1,650 pounds.
Number of models: 2
Product-line features: Along with a quick disconnect system to accommodate attachments other than a loader bucket, Rohmac's Microtraxx SL 436 model offers a 360-degree swing capacity as part of its remote operation.
Pilot Controls Comes With Choice
Pilot controls are offered as standard on the larger Case 440CT and 450CT compact track loaders, either of which can be ordered from the factory with H or ISO patterns. With the H pattern, familiar to experienced Case operators, the operator uses the left-hand control to operate the left drive motor as well as to raise and lower the loader arms. The right-hand controller is used to operate the right drive motor and the bucket curl and dump. With the ISO pattern, the drive functions are in the left controller and the loader arm/bucket functions are in the right controller.
Number of models: 4
New models: 420CT, 440CT
Product-line features: Case compact track loaders incorporate a unitized, welded-steel, tub-style chassis designed specifically for heavy workloads. Inline loader linkage and straddle-mounted pins place the loader arms, lift cylinders and tilt cylinders on a single vertical plane, increasing both operator visibility and loader integrity. 
Newest Model Ideal For Tight Spots
With the larger C185 and C190 models established, New Holland recently introduced the C175 to meet the needs of landscapers, utility contractors and others who require the features of a smaller size compact track loader. Boasting a published rated operating capacity of 2,200 pounds and an operating weight of 7,535 pounds, the C175 can get into hard-to-reach areas and fit on most standard trailers with its overall width of 71.1 inches, length of 129.5 inches and ground pressure of 5.3 psi.
Number of models: 3
New model: C175
Product-line features: Along with a new deluxe cab design, each of New Holland's compact track models features the superior lift capacity and reach of the Super Boom vertical lift linkage, which delivers more forward reach at maximum lift height for precise load placement. The wide stance, low center of gravity and superior stability combine with a standard suspension seat to provide a smooth ride.