September 28, 2010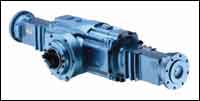 ZF Industries recently relocated the manufacturing of off-highway axles to its facility in Gainesville, Ga. Axles previously were produced at the company's facility in Vernon Hills, Ill. The consolidation, says Herman Beck, vice president of ZF's A-Construction Machinery Systems, enhances ZF's ability to respond quickly to market and customer needs.
With this move, ZF now has North American off-highway axle and transmission manufacturing under one roof. Expected capacities in 2004 are 7,500 axles and 9,500 transmissions (shuttle-shift and powershift).
Local content for off-highway products built in Gainesville exceeds 60 percent, says ZF, assuring readily available, reliable sources of quality components at competitive costs.