Staff | September 28, 2010
Introduced by Xtreme Manufacturing, Las Vegas, in January 2006, the XRM1254 was the newest product participating in the Showcase. At 12,000 pounds, this telehandler has 1,000 pounds more capacity than other machines at the event. But because the XRM1254 is Xtreme's closest machine to the class under review and it fit our maximum lift height requirements, we felt it would be appropriate to include this up-and-comer.
Xtreme's design is driven by three key philosophies: visibility, durability, and accessibility.
On the durability front, the XRM1254's hydraulic oil runs through a three-stage filtration system, which includes a suction strainer, followed by a 10-micron high-pressure filter and, lastly, a 10-micron low-pressure filter on its return to the all-steel hydraulic tank. The heavy duty, three-section boom rides on durable melonited rollers, which incorporate sealed bearings that ride on melonited shafts. All pivot points are sealed and use melonited pins and either spherical ball bearings or high-compression bronze bushings. The dash and all safety decals are made from self-adhesive Lexan. The labels are printed on the back side for total protection.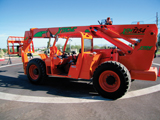 The XRM1254 utilizes an innovative aluminum radiator with three replaceable sections, and engine water, transmission oil, and engine charge air are all cooled by the radiator. The engine is mounted directly to a Carraro TLB2 power-shift transmission and fueled by a 72-gallon all-steel fuel tank. The hydraulic flow is provided by a proven Kawasaki model K3BL80 variable-displacement piston pump.
Accessing the XRM1254's service points is easy, as most are mounted on the same side of the engine. An electric fuel pump will self-prime the injectors if the unit runs dry. The engine and all hydraulic components are in-frame and shielded by Kevlar reinforced fiberglass covers. Hydraulic test ports are located so the test gauges can be viewed while operating each function.
The service brake system has individual circuits for the front and rear brakes. Each has its own brake accumulator to keep the system properly charged at all times. Should brake pressure ever drop below specification, a dash-mounted light illuminates to notify the operator.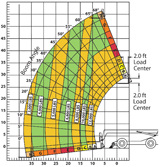 Direct, dual-control mechanical joysticks are connected right to the HAWE Hydraulic control valves to command the main boom and frame-sway functions. Fork tilt is controlled by a proportional electric thumb switch on the forward stick, which is intended to provide reliability, as well as precise positive control. The stick that controls the frame-sway features a Y-shaped handle that cradles the operators forearm and allows for one-handed, simultaneous control of all functions. These controls are mounted to a steel sub-assembly that can be adjusted fore and aft to fit the operator's personal preference.