By Tom Berg, Truck Editor | March 20, 2017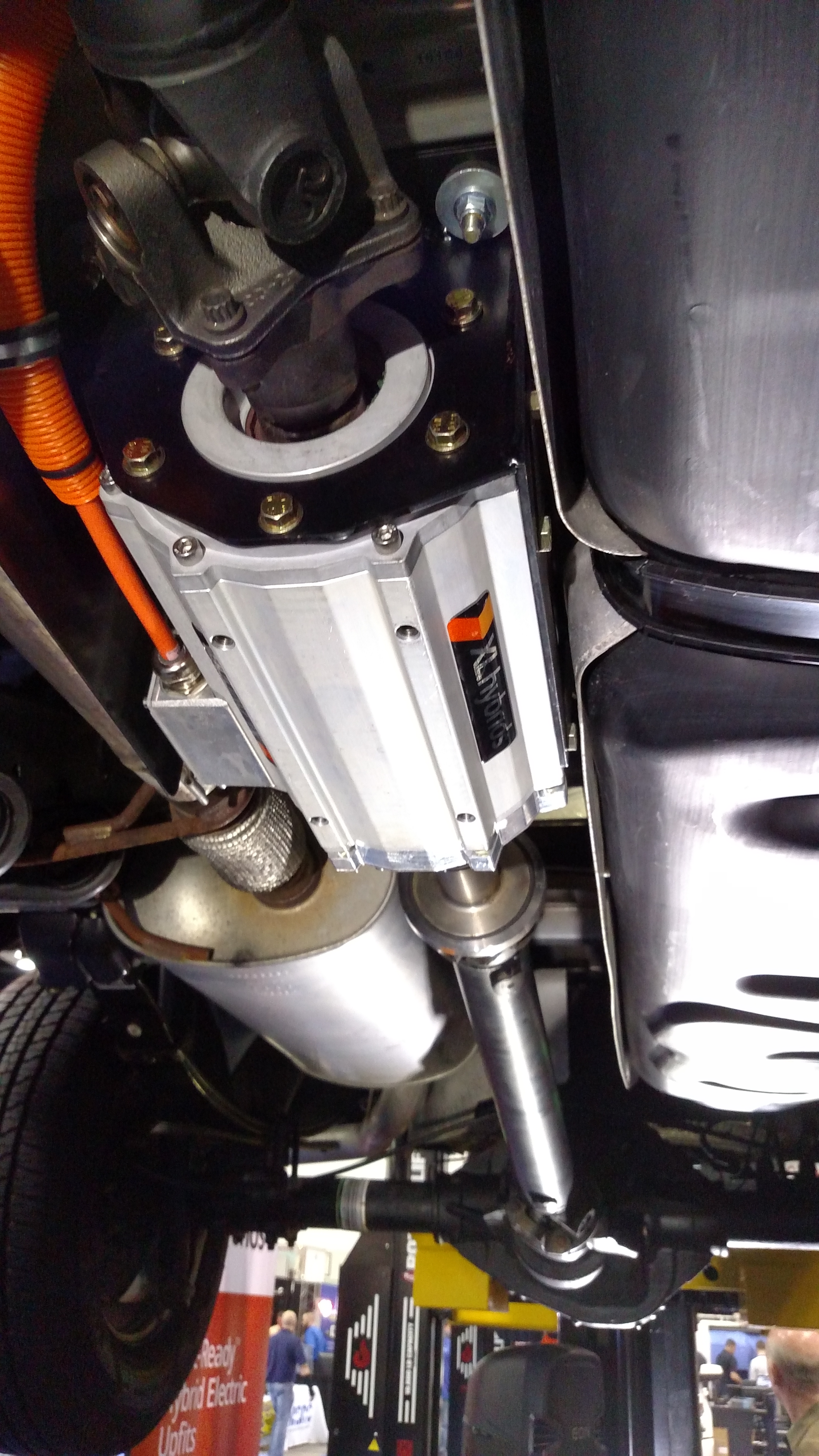 XL Hybrids, maker of add-on electric-drive systems for several commercial vans, now has a version for Ford's popular F-150 pickup.
Called XLP, the plug-in system consists of a traction motor that mounts in the driveshaft, lithium-ion batteries stored in a box in the bed, and XL's electronic controls that work with Ford's engine controls, said Clay Siegert, XL's founder and CEO.
Above: An XL traction motor and two-piece drive shafts replace a stock F-150's driveshaft. Batteries are in a box in the bed, behind the cab. Plug-in port is on the rear bumper; batteries can be recharged via Level 1 or 2 chargers to extend electric-assist operation, and the traction motor provides electric assist and generates electricity during braking.
"Gas is cheap, but fleets are taking a long-term view," Siegert said of customers, which include public utility companies and others that want "green" trucks. "Gas won't always be cheap, and they keep their trucks 10 to 15 years," so gasoline savings will increase as time goes on.
XL supplies kits that can be installed "in just hours," he said. A kits includes the motor, driveshafts and bearings that replace the original driveline, the controls, and the battery box, he said. In operation, the motor boosts the truck's launch so its engine doesn't work as hard, which saves fuel. During braking, the motor also acts as a generator to charge the battery pack.
XL's controls work with those of the engine, which react normally to loading and the driver's call for power, Siegert said.  The XL controls do not change the engine's behavior, so it continues to run during stops or, if the engine controls have a stop-start function, it shuts down and restarts as though the XL system were not there.
When plugged in, the XLP's batteries can be charged at home base to extend a truck's electric-only range. Recharging takes two to 10 hours. XL is a Ford EQVM company, meaning Ford inspects and approves XL's manufacturing, products and upfitting processes, he said. So Ford's basic warranties remain in force after installation of an XL system. 
An XLP system for 2017 and '18 F-150s adds about 700 pounds, and can be taken off an older truck and installed on a new one, Siegert said. It is list-priced at $24,990, with a payback from fuel savings coming at 80,000 to 125,000 miles, depending on the operation and fuel prices.