June 13, 2018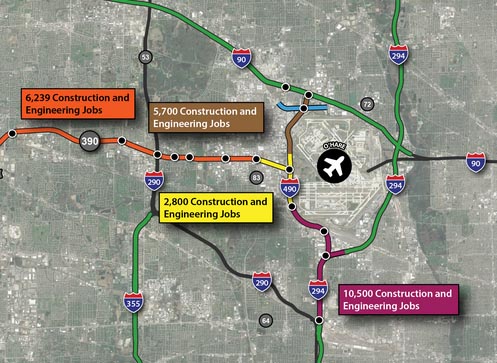 The dream of driving to O'Hare Airport from the western Chicago suburbs - a route that is currently nothing less than a nightmare - is reported to be thisclose to coming true, according to Crain's Chicago Business.
The Illinois Tollway and Canadian Pacific Railway have taken a significant step toward making western access to and from O'Hare International Airport a reality, and a significant step toward resolving issues related to the routing of the I-490 Tollway through CP's Bensenville Yard, by agreeing to a letter of intent Thursday. The letter of intent creates a framework for a final agreement that both parties are hopeful will be executed in the near future. Currently, O'Hare has just one access point on the east side of the airport
The tollway is seeking to build bridges for a ring road on the west side of O'Hare over CP tracks near one of the railroad's busiest yards. The tollroad dubbed I-490 would connect to the Tri-State Tollway in Franklin Park and Jane Addams Tollway in Des Plaines. In the middle it would connect with Illinois Route 390, previously known as the Elgin-O'Hare Expressway, (which currently goes to neither Elgin or O'Hare) which is being extended into the airport.
CP has been resisting the build, saying the construction project would interfere with its operations. Wednesday's meeting signals some resolution has been found.
Crain's says the cost for the project hasn't been revealed yet but construction could begin next year assuming land acquisitions run smoothly.