September 28, 2010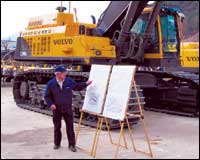 Having introduced its 70-ton excavator last March during Conexpo/Con-Agg, Volvo Construction Equipment is ready to deliver the machine into North American markets.
Production of the machine began in October 2005, with field follow around the world, where Volvo logged thousands of hours on the test machines. This is Volvo's largest excavator to date, and the company is marketing it to mass excavation and quarry operations.
We visited Volvo's manufacturing facility in Pusan, South Korea, in December where we operated one of the company's EC700B LC excavators. The machine takes big bites, armed with a 5-cubic-yard bucket, and exhibited good power at full-boom extension. Cycle times were quick, and the cab is roomy and comfortable.