By Tom Berg, Truck Editor | September 28, 2010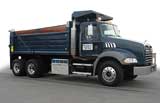 Air Force-blue Granite hybrid 10-wheeler looks unremarkable except forits chrome bumper and big chromed box, which houses 270 ultracapacitors to store electricity generated during braking. Another box on the left side houses electronic controls and the radiator for the motor-generator. The truck weighed about 50,000 pounds during the demo.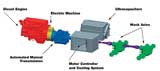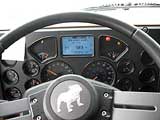 What's this — a flying dump truck? Sort of. The U.S. Air Force operates thousands of trucks to support the missions of its high-performance aircraft, and the one pictured here is among several with advanced diesel-electric hybrid systems that soon will go on active duty, thanks to work by Volvo Powertrain North America and Mack Trucks.
Volvo Group, their Swedish parent, earlier this year hosted a briefing on its hybrid vehicles projects. And Mack, which is building six heavy hybrid trucks for the Air Force, showed off two of them, both Granite dumpers. An RD-based heavy tanker used for refueling aircraft is now undergoing evaluation, while another Granite dump truck and two LE trash-collection trucks are planned.
The briefing and demonstration were in Washington, D.C., to underscore the importance of government participation and funding at this point in development. Contracts worth $6.8 million are paying for this project, which required extensive engineering. Volvo thinks the technology will be mature enough by 2009 for it to offer the systems in commercial trucks, and believes their advantages, such as fuel savings of up to 35 percent, will offset the hybrid components' extra costs.
Hybrid systems' ability to reduce fuel consumption is key to western countries achieving energy independence from oil-rich but politically troubled regions, said Leif Johansson, Volvo Group's president and CEO.
Sten-Ake Aronsson, who heads Volvo Powertrain North America at the former Mack engine and gearbox facility in Hagerstown, Md., said the parallel hybrid system uses an 11-liter MP7 diesel, an automatic clutch, a liquid-cooled electric motor that doubles as a generator, an automated mechanical transmission, and highly specialized electronic control systems. The truck starts out using electric energy only, diesel only, or both; but the diesel is needed for much of the acceleration work and for cruising, which is why the system is called "mild." The hybrid parts were installed after the truck came off the assembly line; driveline and tandem rear axles are standard Mack components.
In operation, the motor helps launch the truck from a standstill; then, during braking, becomes a generator to convert the truck's inertia to alternating current. This is inverted to direct current and stored temporarily in a bank of ultracapacitors; when the truck moves out from a stop, the DC electricity is inverted back to AC to spin the motor.
The truck launches smartly, and the driver hardly knows it's getting an electric boost. That was my impression from behind the wheel during the demo, on part of the parking lot surrounding RFK Stadium. It operated so easily that a GI driver might not be aware of how special a vehicle this is. Then again, it's got a decidedly non-military chromed bumper and two big chromed boxes hung from the frame behind the cab; and the smooth, self-shifting transmission does not behave quite like the Allison automatics common on military trucks.
The transmission is an adaptation of Volvo's new-to-America I-Shift. Mack people like Guy Rini, director of advanced propulsion, call it simply an automated mechanical transmission, partly because Volvo Trucks is a rival, even if it is a sister company. Also, this tranny has some mechanical differences: Its clutch is remotely mounted on the engine, ahead of the motor-generator, and its top gear is a 1:1 direct-drive for vocational use, whereas I-Shift has an overdrive top gear for use in Volvo highway tractors.
There is no clutch pedal because the clutch engages and disengages automatically. All I did is start the engine, release the parking brake, move the shift selector from Neutral to Drive, and step on the accelerator. The truck moved out and the engine began roaring almost immediately, causing me to wonder if the diesel was doing all the work. It would have if the ultracapacitors were discharged, but the voltmeter on the instrument panel varied between 580 and 610, indicating there was a lot of juice available.
The average operating voltage is 600, said Tim Jacobson, a Volvo Powertrain engineer who's been working on this project for several years. The engine began working so soon because the transmission was programmed to start out in 1st or 2nd, he explained. As road speed matches the engine's 700-rpm idling speed in the start-out gear, it revs up and begins assisting. This was at about 3 mph in 2nd.
He showed me how to get the electric motor to do more: Put the selector in Manual and thumb a rocker switch on the selector until the readout on the dash says "6," the new start-out gear. Then step on the accelerator, and the truck moves out on motor alone until it reaches about 6 mph, the road speed it would be moving at 700-rpm idle; at that point, the engine began revving and doing more of the acceleration work.
Pretty soon I preferred this because it's quieter and, of course, we were using more of the stored electric energy. The 160-hp motor is strong, developing as much as 590 lbs.-ft. — one of the things that makes this system so pleasing to drivers, Volvo Group's Johansson had said.
The start-out gear can be programmed to suit the operation, Jacobson said. Now it's set up for a trash-collection truck, whose stops and starts are much more frequent than a dump truck's. These Air Force dumpers will haul dirt, gravel and other materials in support of "civil engineering" activities on Air Force bases, pick up exploded ordnance on bombing ranges, and other utility tasks, said Capt. Jim Muldoon, one of the service's project managers.
The prototype hybrid dump trucks, and the others in the program, will of course save fuel, but more importantly, they'll allow mechanics and operators "to get experience with this technology," he said. Maintenance should be simpler because the motor-generator is also the starter and alternator. The third dump truck will also have electric-driven power steering, air conditioning and other accessories, further reducing parasitic loads on the engine and, everyone hopes, also be more reliable.
Other types of Air Force trucks would have greater use for the power generation aspect of the hybrid system. This service and the Army, which is indirectly involved in the project, has weapons transporters which need 24 steady volts and up to 400 amperes to power their equipment, Muldoon said. Right now separate engine-driven generators supply this power, "but why use a generator when you've got a perfectly good one under the hood?"
Electricity in the hybrid dump trucks is used strictly for propulsion. The diesel powers the hydraulic pump and hoist for the Galion-Godwin dump body through a rear-engine power take-off, Mack's Rini explained. And while a hybrid trash truck might get away with a smaller diesel because it stops often to generate electric juice for launching, the dump truck would need a standard-size diesel because it doesn't stop as often.
But the engine can be derated somewhat because of the electric launch assist. The 11-liter MP7's normal ratings begin at 325 horsepower, but in these hybrids, it's set for 315. Add in the motor's 160 horses and there's 475 on tap. That won't make the truck fly, but it does take off with authority, and that gives this hybrid a real role in the Air Force's "wild blue yonder."