September 28, 2010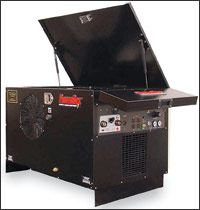 Two new models of the PowerBox welder/generator/compressor feature a 12-hp air-cooled Kohler engine, 13 cfm of air at 100 psi, 5-gallon air storage tank, and high-strength powder-coated shell. The 175MP offers 7,500 watts of power; the 240MP offers 5,500 watts of power and 175 amps of welding. Fuel capacity allows the self-contained, self-driven units to run up to nine hours. Clean electrical power extends tool life and low noise output creates a safer environment, says the manufacturer.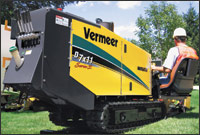 For short-distance boring, the D7x11 Series II Navigator HDD features 1,300 foot-pounds of rotational torque and 9,000 pounds of thrust/pullback for efficient product installation. Dual hydrostatic pumps provide dedicated hydraulics to power specific functions. Powered by a turbocharged Tier II, 47-hp Kubota engine, the machine delivers a carriage speed of 105 feet per minute, providing efficiency for faster cycle times. A small footprint and width of 35.5 inches allow access to confined areas.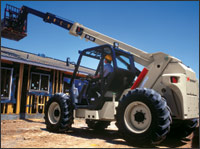 The VR-638 telescopic tool carrier features compact design, tight turning radius, and three-section boom. Turbocharged Tier II, 100-hp Perkins engine and hydrostatic transmission allow for smooth operation and speeds up to 20 mph. Three steer modes include two-wheel, four-wheel coordinated, and crab-steer. High-mounted operator station, low-mounted boom, and mirrors on both sides boost visibility. Using a hydraulic or mechanical quick-attach system, the handler quickly converts from a forklift carriage to other attachments.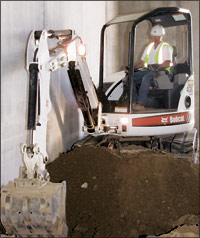 In addition to displaying S220 skid-steers, T140 and T300 compact track loaders, and various attachments, this exhibitor will demonstrate the A300, which switches from skid-steer to all-wheel-steer mode. Also on display will be MT52 and MT55 mini track loaders for limited-access areas; 430 and 435 compact excavators featuring zero house swing (ZHS); Toolcat 5600 utility work machine; B250 backhoe-loader; and VersaHandler V518 telescopic tool carrier with 5,000-pound lift capacity and 18-foot lift height.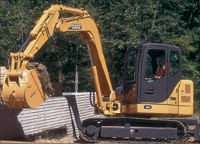 The CX80 combines the power of a full-size excavator with the flexibility of a compact unit. The center-swing boom can be positioned anywhere within a 130-degree arc, allowing the operator to work along a foundation or next to walls. With two available arm lengths, the excavator offers arm-digging forces of up to 8,610 pounds and bucket-digging forces of 12,792 pounds. Standard backfill blade enables the machine to dig a trench along a foundation, position a pipe, and backfill.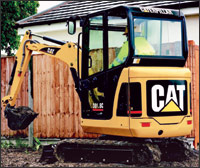 C-Series 301.6 and 301.8 mini hydraulic excavators offer expanded capabilities, including 22 percent more bucket digging force and at least 10 percent more stick digging force than previous models. In addition, the 18.1-hp machines provide greater lift capacities and increased hydraulic flow and pressure. Choice of stick lengths, Cat Work Tools, and dozer float function add versatility, says the manufacturer. Spacious operator compartments feature suspension seats and ergonomic controls.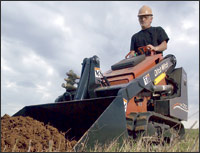 Combining the compact size of the SK300 with the power and versatility of the larger SK500, the SK350 mini skid steer features an easily accessible, 7.5-gallon fuel tank that provides five hours of operation without refueling. The 12-gpm auxiliary circuit flow enables the unit to run more than 70 compact utility attachments at full power. The unit is powered by a 20-hp Kohler engine, which comes standard with a heavy-duty air filter.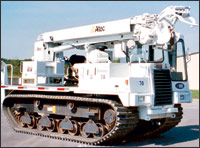 The crawler carrier line includes four models in machine weights ranging from 4,620 to 29,000 pounds, with maximum payloads from 5,500 to 22,000 pounds and average ground pressures from 3.7 to 5.6 psi. The crawler carriers feature two-speed travel of 3.75 to 7.5 mph, a water-cooled, self-bleeding diesel engine, and two-range hydrostatic transmission. A variety of attachments includes insulated man lifts, digger derricks, winches, and hydraulic swivel dump buckets.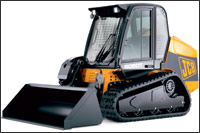 Making its debut in the North American market is the Robot 180T skid-steer with an 1,800-pound operating capacity and a turbocharged Tier II, 60-hp engine. The track system uses a 3-roller undercarriage design with few moving parts, which simplifies cleaning and protects hydraulic components. Servo controls govern the loader and transmission. Optional high-flow pump delivers 30.4 gallons per minute at 2,973 psi. Narrow 66-inch width across the tracks and 81-inch turning radius accommodate tight sites.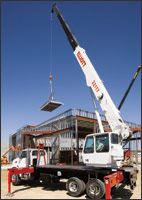 The 32117, a new 32-ton-capacity boom truck, features a 117-foot-long, four-section boom and the largest swing cab in its class, according to the manufacturer. "Thumb-throttle" engine speed control allows the operator to keep both feet on the platform and control the load speed. Other benefits include electric over hydraulic controls for enhanced load control, high mounting of boom pivot pin for additional lifting power, and Load Moment Indicator (LMI) system for safe operation.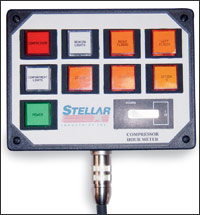 A new control system for telescopic and articulating crane lines can be mounted in one location, left loose, or attached by magnet for flexible or temporary mounting. An optional second control box can be added. All functions are color-coded and keyed to prevent incorrect plug-ins, thus reducing installation time by two hours, according to the manufacturer. Fuses and relays are centrally located and clearly labeled. Pre-wired switches up to 20-amp capabilities allow for easy switch-outs.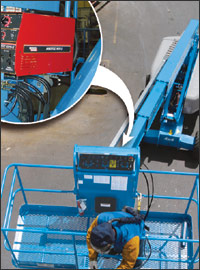 Developed in partnership with Genie Industries, the ArcPro 275 industrial boom welding system provides 12,500 continuous watts of AC power to run tools and lighting equipment. The design enables operators to perform extended welding from the platform. Available on Genie telescopic booms, the system comes standard with an Invertec welding unit that provides 275 amps at a 35 percent duty cycle and both stick and TIG welding. The welder package is located outside the basket for added workspace.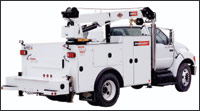 Two service vehicle models will be exhibited at ICUEE. Dominator I features a 3820 telescopic crane with 7,500-pound lift capacity and 20-foot horizontal hydraulic reach, and is equipped with a 35-cfm reciprocating compressor. Dominator II features a 6025 telescopic crane with 10,500-pound lift capacity and 25-foot horizontal hydraulic reach, and is equipped with a rotary screw compressor designed to provide instant air on demand by producing continuous flow from 35 to 60 cfm at 150 psi.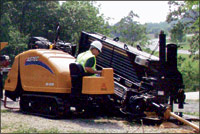 Astec EarthPro horizontal directional drills range in power from 12,000 to 32,000 pounds of thrust/pullback force and feature dual rack-and-pinion carriage drive. The ergonomic operator station includes an adjustable seat and a microprocessor-controlled electronic readout for all function gauges. A backlit LCD screen offers function key operation for quick view of critical drill functions, and a multi-function joystick controls drill functions. Patented Es!Lok system is integrated into the drill controls, and a strike alert system with voltage sensor provides additional safety.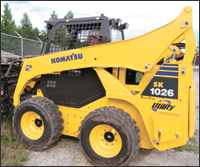 The 4-ton SK1026-5 skid-steer loader offers high-performance HydrauMind hydraulics, automatic power control, standard two-speed travel, and one of the longest wheelbases in its class, according to the manufacturer. Vertical lift loader arm is designed to keep the load steady through the lifting cycle and allow maximum bucket reach at full dump height. The bucket remains close to the machine and moves in a vertical path, maintaining stability for truck loading and handling palletized materials.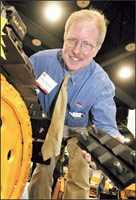 The Poly Bolt-On track pad, a two-piece polyurethane track pad that bolts directly to a steel triple grouser, is offered for use with milling machines, asphalt or concrete pavers, or other track vehicles. Simple replacement of the polyurethane track pad can save up to 50 percent in labor costs, according to the manufacturer. The steel grouser is a one-time-only purchase. Also available are Bridgestone continuous rubber tracks for compact equipment.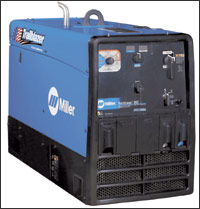 The Trailblazer 302 CC/CV engine-driven welding generator features four preset DIG settings: soft arc and smooth 7018 performance, medium-soft driving arc, medium-stiff driving arc, and driving arc for applications such as pipe welding. Adaptive Hot Start for stick welding automatically sets starting amperage. Lift-Arc/Scratch Start TIG with Auto-Stop helps prevent weld contamination and allows stopping the arc without losing shielding gas coverage. Digital meters display preset amperage/voltage when not welding and actual amperage/voltage during welding.