May 14, 2018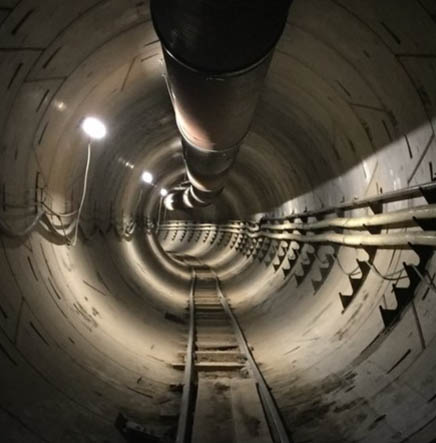 The 2.7-mile tunnel under West Los Angeles being built by futurist Elon Musk is getting closer to reality, according to Musk's recent Instagram video. (video link here)
Mid April, Los Angeles City Council's public works committee unanimously approved an environmental review exemption for the Boring Company's tunnel so the company's engineers can sharpen their tunnel boring techniques and test their proposed transportation technology.
When finished, the tunnel will be 30 to 70 feet underground. Riders will enter the transportation tube at street level station via a platform that lowers like an elevator to the tunnel below. From there, Musk envisions passengers either boarding a 16-person capsule or drivers parking their car on a 'skate'. Capsules and skates would then whisk through the tunnel, thus avoiding what Musk calls soul-destroying street level traffic.
The video on Instagram is from a section of the Boring Company tunnel in Hawthorne, CA, not the proposed 2.7 mile test stretch. Eventually, Musk envisions a network of connecting tunnels that would run from Long Beach Airport to Dodger Stadium to the east and Sherman Oaks to the north by way of Santa Monica.