By Mike Anderson, Senior Editor | September 28, 2010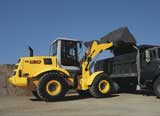 Customers will continue to expand the use of their machines as much as possible, but let there be no hiding that wheel loaders remain primarily loading vehicles, according to some OEMs.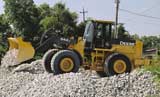 Situated at the very top of the 100- to 200-hp wheel-loader offering, Deere's 644J model is representative of a trend in the "core" wheel-loader market, says Deere's David O'Keeffe. Models have crept up in horsepower and size, prompting some customers to look long and hard at which machines best fit their needs.
At 168 horsepower and 28,000 pounds, the L70F represents the middle of three model sizes offered by Volvo in the 100- to 200-hp range. For 2007, these Volvo loaders boast a new D6E Tier 3-compliant engine and a new smoother-shifting, quicker transmission.
---
---
Buying File Gallery:
Case
Hyundai
John Deere
Caterpillar
Liebherr
Komatsu
New Holland
Intensus
Terex
Kawasaki
Doosan
JCB
Volvo
Dressta North America
Changlin
Coyote
---
In this story:
---
Tables:
With 16 brands active in the North American marketplace, there's no shortage of choice for equipment customers in need of a "utility" wheel loader. From the world's largest OEM to the newest kid on the block, just about anyone who makes a wheeled loading vehicle is a player in the 100- to 200-hp game.
"From an industry standpoint, it's the constant," says Doug Laufenberg, a product marketing manager with John Deere Construction & Forestry.
Many OEMs have expanded above and below the 100- to 200-hp range, and perhaps none more so than Deere, but the roughly 2- to 4-cubic-yard range remains "the core" of the wheel-loader market.
"Things are growing on either side," says Deere colleague David O'Keeffe, who pointed to his own company's introduction of the smaller 244 and larger 844 models, "but this is still the heart of the line."
The core, the heart or, as Case Construction Equipment marketing manager David Wolf terms it, "the mainstay" is not dwindling away.
But this does not mean the offering in the utility market is stagnant. Far from it, says O'Keeffe, Deere's product marketing manager for 4WD loaders.
While the actual model designations have often remained the same over the years, machine horsepower and size have naturally crept up. Today's Caterpillar 924 or Deere 444 is going to be bigger than the one bought years earlier, and customers are starting to make adjustments, according to representatives of some OEMs.
"Customers have bought on the number a lot of times in the past," says O'Keefe. "And the machine has actually grown up on them and now they're kind of looking around saying, 'Hey, things are not getting any cheaper, and I'm not sure if I really need this size of machine or not.'"
Case's Wolf agrees that models have adjusted upwards, but not to the degree of a complete shift.
"We have seen a natural increase in horsepower, and probably a little bit of an increase in bucket size," says Wolf, "but I don't think it's to the point where you're taking a customer from a 621 and downsizing him to a 521. You still have to take a look at your lift capacity, your breakout forces; it's not just horsepower."
The continued development of machines does add weight, added Michael Stec, wheel loader and articulated hauler sales engineer with Volvo Construction Equipment North America, but he warns that any comparison of a new model to a previous generation's larger-sized model is not an "apples-to-apples" comparison.
"With any manufacturer of heavy equipment, it is a challenge to improve our machines through technology, longevity and innovation," says Stec. "Many times, this can add weight to a machine, but ultimately it will improve many buying criteria that customers drive and demand, such as productivity, reliability, lower operating and owning costs, operator comfort, etc.
"Firstly, our customers help drive the demand for a prospective higher horsepower and/or heavier wheel loader. Secondly, our competitors drive the demand — we keep one another honest. We all strive for designing strong and reliable machines without pushing ourselves out of one size class and into another, and possibly be weak."
Deere's O'Keeffe senses that "customers are getting not as dependent on the size, the 'number' they've always bought, but more so on, 'What's the operation I need to fit my machine around and what's the one that delivers the best to my bottom line?'"
Dave Hardwick of JCB has seen that trend, too.
"Today's wheel loader has grown from previous models," says Hardwick, "and will likely continue to do so as Tier 3 and then Tier 4 emissions legislation come into force."
In the case of JCB, the 426 and 436 models now includes as standard the formerly optional extra-duty counterweight, as well as more powerful engines, giving the customer "more machine" than before.
"A good site survey is more important than ever when specifying replacement loaders," says Hardwick, JCB's heavy-line product manager. "Just because an older 436 loaderis being replaced doesn't mean that this isautomatically the model that should replaceit. A 426 may now be capable of doing thistask due to the increased lift capacity and power, or a new 436 may allow for increase in output of the operation, assuming there iscapacity available."
The municipal sector is one where this adjustment is evident, says Deere's O'Keeffe. Towns and city works department officials are discovering their needs today are adequately met by a machine formerly considered too small, he says. This is a reflection of both the "creeping up" of machine sizes and the overall product enhancements made throughout various OEMs' product lines.
"Personally, I don't see that," says Wolf, "not in the Case lineup anyway."
As the "mainstay" of the wheel-loader market, the varied products of the 100- to 200-hp range remain primarily loading tools, says Case's Wolf.
"We now see the demolition contractors using wheel loaders, we've seen some on the ag side with dairy farms," he says, "but the applications I don't think have changed all that much.
"They're loading vehicles basically — that's your main number-one thing with these — or backfilling trenches for residential."
Deere's O'Keeffe sees variances in the use of these machines.
"You've got to be able to service a lot of different customers," he says, "and the needs may be a little bit different. Some customers may use it on underground or pipe jobs, where they backfill some trenches and also use it to move some piping, but they also may only use it three or four hours a day. Whereas, there may be a guy who works in a cement plant who might use it all day long."
While attachments are used by these vehicles, this is mostly limited to "third-function" tools, says Laufenberg, Deere's product marketing manager for attachments and compact wheel loaders. Hydraulic attachments requiring one circuit, such as a side dump bucket, pick-up brooms or snow blades, are most commonly put to work.
"Couplers are becoming more common, probably over the past four to five years, so being able to have various buckets and other attachments just allows even more versatility with these machines," says O'Keeffe.
Volvo's Stec, whose company recently rolled out three new F-Series models, has advice for customers sourcing wheel loaders.
Instead of checking spec sheets for machine horsepower, "they should concentrate on the loss between gross power and net or working power." A small loss, he explains, will result in lower fuel consumption and a maximizing of the entire power train.
100–200-HP Wheel Loaders
Core Models*
Net Engine Horsepower
Operating Weight (lb.)
Bucket Range (cu. yd.)
* Many brands offer additional model variances, including tool carrier and waste-handler configurations.
Source: Spec-Check Xpanded Specs
Case
 
 
 
521D
110
22,193
2.0 – 2.5
621D
136
26,242
2.5 – 3.0
721E
172
30,910
3.0 – 3.5
Caterpillar
 
 
 
924Gz
129
24,029
2.3 – 2.7
928Gz
143
27,245
2.5 – 3.0
930G
149
28,718
2.6 – 6.5
938G II
160
29,500
3.0 – 3.92
950H
197
40,435
3.25 – 6.75
Changlin
 
 
 
ZL30H
117
22,487
2.22
ZL40H
169
29,101
3.0
Coyote
 
 
 
C17-4
100
15,600
1.5+
C20-4
115
16,530
1.63+
C28
101
17,600
2.0+
C29
130
18,300
2.0+
Doosan
 
 
 
DL200
137
24,912
2.35 – 2.62
DL250
153
30,864
3.1 – 3.5
Dressta
 
 
 
515G
120
20,040
1.75 – 2.0
520G
142
23,181
2.0 – 3.0
530E
195
36,508
3.7 – 5.9
Hyundai
 
 
 
HL730-7
119
21,400
2.4
HL740-7
133
25,350
2.3 – 2.7
HL757-7
164
30,420
3.5
Intensus
 
 
 
WL30G
114
23,150
2.2
JCB
 
 
 
416 HT
116
20,823
1.8 – 2.2
426 ZX
142
29,167
2.0 – 2.8
436 ZX
165
31,972
3.0 – 3.5
446 ZX
176
39,286
3.7 – 4.3
John Deere
 
 
 
444J
115
22,645
2.0 – 2.5
544J
145
27,489
2.5 – 3.0
624J
165
31,691
3.0 – 3.5
644J
185
38,876
4.25 – 4.5
Kawasaki
 
 
 
60ZV
119
20,010
2.1 – 2.5
65ZV
134
23,610
2.6 – 2.8
70ZV-2
174
31,437
3.25 – 4.0
80ZV-2
198
39,308
4.0 – 4.75
Komatsu
 
 
 
WA200-5
120
21,870
2.2 – 3.1
WA250-5
134
24,846
2.5 – 3.5
WA320-5
166
30,600
3.0 – 4.2
WA380-6
191
38,760
3.8 – 5.2
Liebherr
 
 
 
L 524 2plus1
117
22,825
2.6
L 528 2plus1
117
23,775
2.9
L 542 2plus1
143
28,750
3.5
L 550 2plus2
177
36,450
4.2
New Holland
 
 
 
W110
110
22,915
2.0
W130
136
25,725
2.56
W170B
183
30,707
3.0 – 3.5
Terex
 
 
 
TXL 200-2
143
25,673
2.5
TXL 250-2
170
30,865
3.25
Volvo
 
 
 
L60F
154
24,250
2.2+
L70F
168
28,000
2.6+
L90F
172
33,070
3.0+