Staff | September 28, 2010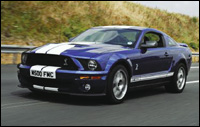 Get your chance to win a Shelby Mustang at ARA.
To celebrate its revival in the United States, UpRight is throwing a VIP bash at the ARA Show in Atlanta next month, and all invited guests will have the opportunity to win a brand new Ford Shelby Cobra GT500 Mustang.
The Tanfield Group, a UK-based company, bought the aerial-lift division of UpRight in June 2006. Since then, UpRight restarted assembling machines at its California plant. The company promises to open a major U.S. production facility in 2007, which will produce a full line of scissor lifts and big booms.
Darren Kell, CEO of UpRight, said, "UpRight is a legend reborn in the aerial-lift industry, just as the Shelby Cobra marks the return of an automotive legend.''
The UpRight party will be on Friday, Feb. 9, 2007, 5 to 7 p.m. Entry to the drawing for the one-off Shelby Cobra in UpRight colors will be limited to party guests, and you can get an invitation at the company's ARA exhibit. UpRight will be in area B1, Stand 343.