February 15, 2018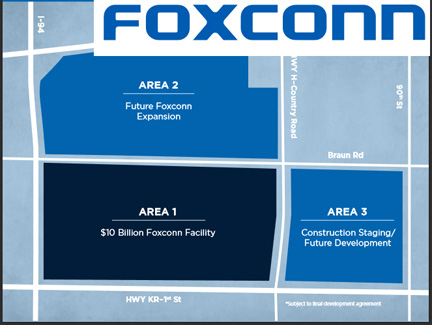 The anticipated 13,000 construction workers and construction companies it will take to build Foxconn's new facility in Racine County have two new opportunities to stay informed on projects, jobs, and updates.
Governor Scott Walker has announced the first resource fair for construction workers on March 29 at Festival Hall in Racine.
Individuals interested in construction work for Foxconn or the surrounding infrastructure development will get information to understand the opportunities and qualifications associated with the project in addition to connecting with additional resources to assist with becoming fully qualified when opportunities become available. 
In addition, the Wisconsin Economic Development Corporation (WEDC), in partnership with the state's regional economic development organizations, will host informational sessions for construction contractors around the state that will provide potential subcontractors, suppliers, and vendors with details on how they may be able to support the Foxconn construction project.
Wisconsin has also launched a new dedicated website for all things Foxconn at www.wisconnvalley.wi.gov that will provide residents, workers, and business the latest information about Foxconn's $10 billion manufacturing campus construction project.
"We will soon break ground on Foxconn's $10 billion advanced manufacturing campus in Racine County, and we're starting to see a flurry of activity surrounding this once-in-a-generation project," said Governor Walker.
"We want businesses and residents of Wisconsin to have access to information when it comes time to get involved with Foxconn whether it's for a new a job or involving their small business. This new website and upcoming informational meetings will help ensure that Wisconsinites receive the most up-to-date and accurate information possible about the project, which will create up to 13,000 jobs directly, 22,000 indirectly and have a positive economic impact throughout the state."
The new website includes:
An overview of the Foxconn project, including details of the project and answers to some frequently asked questions;
Details on the Wisconsin Supply Chain Marketplace, which enables companies seeking to do business with Foxconn to register to get connected to the company;
Sign up to be notified of bidding opportunities as the project progresses under the public construction info signup page; and 
Construction updates on the project itself, as well as nearby roads and highways.
The upcoming informational sessions for construction contractors will provide the latest details on the timetable for construction on both the Foxconn facility and the public infrastructure related to the project. The information provided at those meetings will be most relevant to businesses that could possibly support construction, including contractors and subcontractors, and companies providing related services and materials.
The meetings will be held in Appleton, Eagle River, Eau Claire, Janesville, La Crosse, Madison, Milwaukee, Racine, Platteville, Superior and Wausau.  Details on the meetings will be announced in the coming weeks.
Last week, Wisconsin got a Foxconn Bonus when the company announced plans to purchase Northwestern Mutual's downtown office building and make it their home in Wisconsin."
Foxconn plans to build a 1,200-acre manufacturing campus in Mount Pleasant that will create up to 13,000 jobs once fully operational and will have an estimated annual economic impact of $7 billion. The company estimates it will spend about $1.4 billion annually on goods and services from Wisconsin companies.