By Tom Berg, Truck Editor | September 28, 2010
Springtime is usually a busy time for truck-product introductions, all held at functions across the country. March alone saw three events: the National Truck Equipment Association convention in Atlanta, the ATA Technology & Maintenance Council annual meeting in Ft. Lauderdale, and the Mid-America Trucking Show in Louisville. Scores of new products were displayed at these shows, joining others announced by mail.
We've picked out various products designed for construction trucks and present them here in place of our monthly Hands-On Trucking feature. We'll be covering additional new products that were on display at those truck shows in upcoming issues.
Sterling Adds Crew Cab, All-Wheel Drive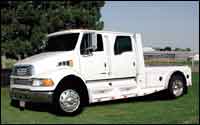 Sterling Truck's Acterra can be ordered with a four-door crew cab and a front-driving axle, enhancing the versatility of its Class 5 through 8 vehicles. Both options are available on work trucks, and the crew cab is available on work and SportChassis vehicles. The crew cab is fabricated in Sterling's plant with major parts of two regular steel cabs, the company said. It includes four composite-structure doors and sills, with the rear doors the same as the fronts to cut costs. The cab is 113 inches long—about 15 inches longer than any competitor's crew cab—so offers extensive room for legs and personal gear. The standard setup includes a rear bench seat for three people and two forward seats for the driver and a passenger; other seating arrangements are available.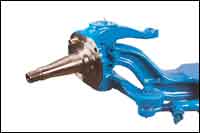 Updates to the Dana Spicer Integral Arm Steer Axles include a kingpin retention system using two drawkeys and a spring washer for easier alignment, and a more robust beam forging. A "power rib" beam weighs less than before, while offering greater stiffness for less caster change, and therefore better handling, during braking.
Patented compressible kingpin inserts, which were offered as part of an LMS package option, for lube intervals of 100,000 miles, are now included as standard on all models.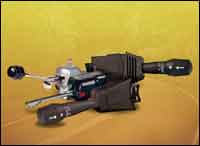 Truck-Lite has upgraded its Signal-Stat line with a fully featured turn-signal switch for medium- and heavy-duty trucks. The switches, manufactured in the United States, are already optional on a major OE truck manufacturer and steering column manufacturer.
Truck-Lite says the new switch combines multiple functions, eliminating the need for other controls on the dashboard. The basic switch includes left and right turn signals for up to eight lamps per side and four-way hazard flashing for up to 16 lamps. Lift-to-Dim and Flash-to-Pass, day or night options are available.
Advanced models are also offered, with windshield washer/wiper options. The multifunction stalk has a push cap to activate washer spray, and a two-speed (hi/low) or a seven-speed (hi/low plus five intermittent speeds) wiper control. All switches have an optional self-canceling feature for straight trucks. These switches eliminate the need for separate washer and wiper controls, freeing valuable dashboard real estate.
All-Composite Live-Floor Trailer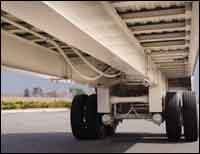 Martin Marietta Composites, a maker of bridge floors and other specialty products, is entering the commercial semitrailer market with a live-floor, trash-transfer trailer, which will enter production this fall. Flatbeds and dump trailers are planned for later.
Except for kingpin, running gear and landing gear, the trailer is made of 100 percent glass-fiber reinforced polymer, which the company believes constitutes the future of semitrailer design. Composite "pultrusions" and "transonite" panels produced on special machinery form the structural members and walls. The composite materials weigh about 20 percent less than metal and, because of high strength and corrosion resistance, a trailer will last 30 to 50 percent longer than a conventional trailer, the company said.
The first live-floor trailer will be a 50-footer weighing 12,800 pounds with a capacity of 132 cubic yards and a GVWR of 68,000 pounds. The company plans a flatbed for late this year and an end-dump by early 2005.
Meritor's new Reverse Detection Module (RDM) is designed to interface with standard trailer power harness connections to activate back-up warnings and other devices. The module detects vehicle direction utilizing a Hall-effect sensor mounted at the wheel end. The sensor output can activate an audible alarm, back-up lights, lift axle or lock-out steer axle solenoid.
Eaton Announces 'Two-Pedal' 10-Speed UltraShift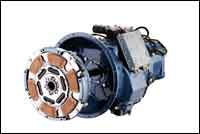 Eaton has expanded its line of Fuller automated mechanical transmissions with the UltraShift 10-speed, a "two-pedal" unit with an automatic clutch. It follows the introduction in 2001 of a two-pedal medium-duty 6-speed model, which is now also called UltraShift.
The heavy-duty 10-speed is based on the proven Fuller 10-speed B ratio transmission and is offered in four torque capacities from 1,050 to 1,650 pounds-feet. It is in limited production with 1,000 to be built in the next year; full production begins in spring 2004.
UltraShift's automatic clutch allows easy starts and stops with no clutch pedal to manipulate. Up- and downshifting is also automatic, with electronic controls working with the engine to select the proper gear for all conditions. "Skip-shifting" is provided as operating and load conditions allow, and the clutch remains engaged during all gears.
A patented automated mechanical "DM AutoClutch" uses a 15.5-inch, two-plate design with industry-standard ceramic facing material. A high-capacity inertia brake speeds up-shifts without need of an engine brake, as is used in Eaton's three-pedal AutoShift. The inertia brake also serves as a clutch brake.
UltraShift can be driven in full automatic mode or with manual intervention. A Manual mode holds the current gear and allows driver-selected up- or down-shifts. The Low mode feature can be used in any gear to prevent the transmission from up-shifting, and initiates downshifts to optimize engine braking. Low mode can also be used to select first gear at a standstill, and will hold in low until drive mode is selected.
Eaton Diagnostic Service Tools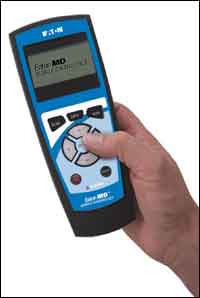 Eaton has jumped into the market for diagnostic service tools with a handheld device and PC adapter. The tool will allow dealer and fleet technicians to diagnose ills in components in all kinds of trucks using J1587 and J1939 data links.
Called MD-200 (MD for Eaton's Mobile Diagnostics operations and the medical doctor connotation), it was developed with AutoXray, a major supplier of aftermarket auto diagnostic tools. It is an "all-in-one" tool with its own diagnostic software that is upgradeable via Internet dial-up connections. A typical upgrade will take a minute or two, Eaton said.
The tool acts in four ways: as a scanner, automatically looking for fault codes in all electronic control modules on a vehicle, and can record up to 30 seconds of snapshot data for analysis; a comm box between the truck and a PC, and for J1587 and J1939 communications; link tester, isolating data link problems and monitoring communications; and a data logger, recording up to one hour of link data. The latter two functions will be available this summer. Basic price for an MD-200 with scanner is $699, or about half the cost of current hand-held diagnostic tools. Each of the other three can be added for $599 each, or a tool with all four.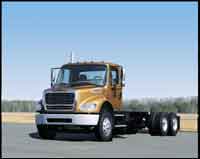 A new vocational truck, the Class 8 Business Class M2-112, features a longer nose and tougher chassis than the M2-106 that was introduced early last year. Another new variant, the M2-100, is a short-nose Class 5 and 6 model. Like the 106, the new M2s can be ordered with a regular-length aluminum cab or with optional 26-inch extended or 48-inch crew cabs.
The M2-112 has a 112-inch-BBC; its longer hood will accommodate midrange and heavy-duty diesels, and its chassis specs take its GVWR up to 66,000 pounds. Freightliner says it will replace the Business Class FL112, which will be phased out as the new model goes into production later this year.
The components list includes the Mercedes-Benz MBE4000 and Caterpillar ACERT C9, C11 and C13, with output as high as 470 horsepower; and a wide variety of transmissions, axles and suspensions are available. It's intended for use as a dumper, mixer, roll-off and other construction and trash-hauling work, and can also be outfitted as a tractor.
The M2-100 has a 100-inch BBC and can serve as a lighter-duty flatbed or dump truck, plus pickup and delivery and other markets. Its short hood and 55-degree wheel cut aid visibility and maneuverability in urban quarters. It's powered by four- and six-cylinder MBE900 diesels mated to Mercedes-Benz or Eaton Fuller six- and seven-speed transmissions. GVWRs range from 16,000 to 26,000 pounds. 
Dana's LMS Wheel-End Assemblies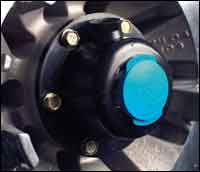 An improved hubcap extends the life and further reduces needed work on Dana's Low Maintenance System (LMS) wheel-end assemblies. The hubcap's new features prevent build-up of lube pressure while keeping contaminants from entering the hub. A patent-pending venting system relieves pressure at under 5 psi without a continuously open port or restrictive filter membrane that could clog.
A contaminant exclusion system prevents water from entering the wheel-end assembly due to high-pressure washer spray or when wheels are submerged in water. A magnetized side-fill plug traps metallic wear particles. The lightweight, corrosion-resistant hub material is 1- to 1.5-pounds lighter and is said to be significantly stronger than aluminum hubcaps.
Crysteel 'Deuce' Two-Way Dumper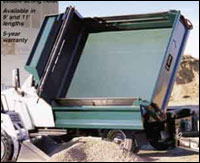 The "Deuce" dump body has mounts and a hydraulic hoist that allows tipping to the rear or one side, as needed. The side-dumping capability—new to North America but common in Europe and Asia—is handy for dropping material down slopes, into ditches or along curbs, and also allows dumping a load without unhitching a trailer.
The side-dump gate is on the driver's side, but can be placed on either side, the company said. The other side can be equipped with a fold-down easy access side. The rear gate works conventionally. An auto-tarping mechanism is optional. The Deuce is available on 2- to 5-yard dump bodies.
Simplex Fifth Wheel Refinements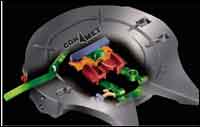 Consolidated Metco has introduced a series of refinements to be added to its Simplex fifth wheels this July. Simplex (formerly Simplex Lite) and Simplex II models have a J-shaped operating rod handle that allows drivers to use an extension rod for quicker, easier and cleaner access in releasing the jaw when uncoupling. The operating rod also now works on a straight-pull release mechanism.
Top plates have a larger, more continuous surface area, maximizing the connection between tractor and trailer while providing additional strength, improved service life and better handling. The top plate eccentric pin has also been redesigned to offer more precise slack adjustment in the jaw. A re-engineered jaw improves durability, while a visible pivot pin retainer creates easier accessibility for maintenance.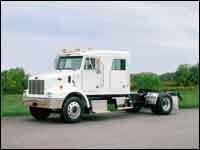 Peterbilt's medium-duty model 330 truck can now be converted to a four-door crew cab by Bentz Transport Products in Ft. Wayne, Ind. The conversion is aimed at construction, utility, fire and rescue, and other vocational applications.
The integrated crew cab seats five and measures 52 inches long and 84 inches wide at the rear wall, for a 160-inch BBC. The roofline is increased by 3 inches, creating a 61-inch interior height throughout the entire cab.
Bentz uses original Peterbilt parts, such as rear door assemblies, rear corner panels, rear window, interior lighting and grab handles. This preserves styling and ensures construction integrity and quality. Customers take delivery of their 330s at their dealers.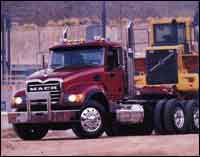 Mack Trucks has introduced the PowerLeash engine brake, which responds fast and develops high retarding power. It is integrated with the engine block, saving 50 pounds over add-on brakes. It is now available on all of Mack's Application Specific Engine Technology (ASET) engines.
PowerLeash claims strong performance throughout the engine operating range, reaching 420 braking horsepower at 2,100 rpm. Response is nearly instantaneous, which enhances the upshifting performance of automated manual transmissions.
The brake's reliability is ensured with precision-machined internal components. The adjusting screw and actuator pin are designed as separate, solid pieces to resist wear. An internal screen strains out contaminant particles in the oil, while electrical components are on the cold side of the engine, away from heat sources. Engine injectors can be serviced without removing the brake's rocker shaft, and valve lash is easy to set.