April 15, 2015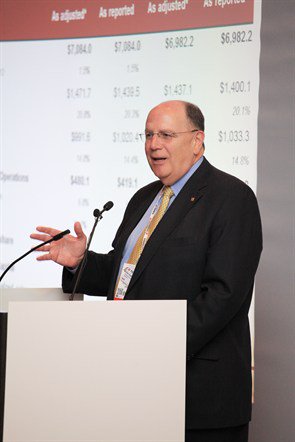 American Road & Transportation Builders Association (ARTBA) selected Ron DeFeo, chairman and CEO of Terex Corp., to receive the 2014 "ARTBA Award." 
Established in 1960, the "ARTBA Award" recognizes individuals for contributions that have advanced the goals of the association. 
DeFeo was recognized for his nearly 25 years of service and success at Terex, and his volunteer industry leadership as a member of the ARTBA Executive Committee, a past chair (2003-04) of the Association of Equipment Manufacturers (AEM) and past chair (1998) of the Construction Industry Manufacturers Association (CIMA). 
DeFeo's was involved in planning and executing the 2002 merger of two construction equipment manufacturing associations (CIMA and the Equipment Manufacturers Institute).
 
His financial support of ARTBA's "Transportation Makes America Work" advocacy communications and grassroots program has supported the association's ability to continue pressing for congressional action on a permanent Highway Trust Fund fix and multi-year transportation bill.