Staff | September 28, 2010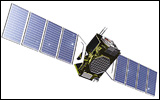 The European Union's Galileo constellation will include 30 satellites when completed.
The Tennessee Department of Transportation soon will begin using a new Global Navigation Satellite System (GNSS) that is designed to harness signals from the current GPS and GLONASS satellite-positioning systems, as well as from the planned Galileo system.
At present, this means that the state will have access to more than 40 positioning satellites, but that number will expand to nearly 80 when all the Galileo satellites are in service and when upgrades and additions to the two present constellations are completed. Tennessee's new system will incorporate Topcon Net-G3 GNSS reference-station receivers with G3-A1 GNSS antennas.
The Tennessee Department of Transportation is not only planning to maximize productivity on projects in the short term, says Ray O'Connor, Topcon's president and CEO, but also is planning ahead by opting for a GNSS network with the potential to use every available satellite on future jobsites.