By Tom Berg, Truck Editor | September 28, 2010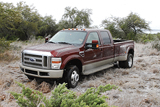 Thick ice coats the foliage in Texas Hill Country, and as ice melted, it made mud that tested the traction of this and other SuperDuty pickups. They passed handily. Bolder exterior styling, nicer interiors, and reworked Power Stroke diesel are among the 2008s' features.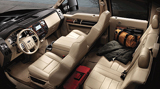 Crew Cab with Lariat trim includes limo-like seating and attractive (but mostly numberless) gauges. This truck has the optional, nagging navigation system and irksome automatic climate control.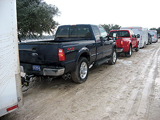 Heavy trailers were hitched to F-250, 350 and 450 trucks that waited, all warmed up, for writers' attentions. The SuperDuties pulled well, even in gooey mud.
Super Cab's rear-hinged back doors still open only about 90 degrees, half what those on some competitors' now do.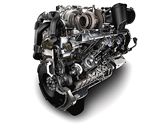 New 6.4-liter Power Stroke diesel uses high-pressure fuel injection, double turbocharging, and exhaust aftertreatment, which removes most pollutants and leaves no odor.
---
Only once every 10 years, according to people around San Antonio, does the area get an ice storm like the one that hit in mid-January. It crippled travel and commerce, closed schools, and forced folks to stay home. Road departments here don't store salt for such rare eventualities, so everyone just waits a day or two or three until temperatures rise above freezing and the ice goes away.
Meantime, many travelers were caught in the storm and its aftermath, and they included more than a hundred newspaper and magazine writers invited in by Ford Motor Co. to drive its redesigned SuperDuty pickups. Ford's extensive and expensive logistical plans for the event were disrupted, and many reporters did very little driving because roads were too slick. Those of us in the third of three "waves" missed the worst of the storm and got most of the planned experiences.
We drove the SuperDuties on freeways and two-lane roads, then waded through a muddy off-road course set up in the Hill Country northwest of San Antonio. In our group there were about 40 writers sharing 15 or so trucks, and time in each was rather limited. Still, I came away with a good feel for the F-250s, 350s and 450s, and what Ford engineers and designers have done to keep them competitive.
The 2008 SuperDuties have bolder exterior styling, nicer interiors, and a completely reworked diesel engine. The EPA '07-spec Power Stroke V-8 now displaces 6.4 liters (versus 6 liters for the previous version), inhales with help from two turbochargers (a commercial version used by International, which builds the diesel, uses one turbo), and exhales through an oxidation catalyst and particulate filter. It burns very clean, has absolutely no exhaust odor, and makes 350 horsepower and 650 pounds-feet of torque. Less costly 5.4-liter V-8 or 6.8-literV-10 Triton gasoline engines are also available in the Fords, and each gets a TorqShift 5-speed automatic or a 6-speed manual transmission.
Our group started out in Corpus Christi, where Ford's corporate jetliner (a DC-9-size Fokker 70) headed after ice-caused delays at Dallas-Fort Worth. From there, the airplane carried off the event's previous wave of writers, who had escaped from the storm farther north and then had huddled most of the day in the terminal. We offered them our sympathies, then jumped into a small fleet of freshly washed SuperDuties and motored up to San Antonio, our originally planned destination.
The trip was an easy 160 or so miles via now-dry freeways and streets. Two of us had a roomy four-door Crew Cab F-250; its bed was empty, yet the truck rode comfortably, confirming what Ford people called a "car-like ride." There was a hint of firmness that you'd expect in a 3/4-ton pickup, but improved suspensions did their work of filtering out what little harshness there was on Interstate 37 between the two cities.
This truck had the top-of-the-line King Ranch interior, with plush, thick leather coverings on seats, steering wheel and arm rests. It was as nice as a limousine. Among its equipment was an automatic dual-mode climate control, which allows driver and front-seat passenger to set individual temperatures. But there's only one fan switch, and a microchip seems to decide how air is distributed; we couldn't find any way to direct fresh air to our faces except to open a window. Thankfully, a mostly manual HVAC system with good ol' rotary switches is available in most trim levels.
Also in this truck was an optional combination stereo audio and navigation system, with a big, bright color screen and a bunch of puzzling (to me) buttons. The nav system's female British voice gave us accurate directions, even if we sometimes ignored them (whereupon "she" would say, "Recomputing," then devise new ones).
Two-door Regular and four-door Super Cabs are also available. SuperDuty trim packages for '08 are XL, XLT, XLT Sport, FX4 and Lariat. With those, you get either painted or chromed noses and increasingly higher levels of trim and equipment. There was nary a base-level XL to be seen at the event, and only a few of the new F-450 pickups. I did drive one that was hitched to a heavy trailer, and it felt entirely up to the task.
Trailer towing came early the next morning, at a dude ranch about an hour northwest of San Antonio. Two types of trailers — box-type utilities weighing about 10,000 pounds each and house-type RVs weighing 20,000 — were hooked to about a dozen SuperDuties. Engines in all the trucks were idling, all warmed up and ready to go. With three times as many drivers as trucks, we had to take turns at the wheel. We pulled the trailers up and down a short stretch of highway outside the ranch, which was enough to get a feel for how the trucks and their Power Stroke V-8 diesels behaved.
The chassis were sure and steady, but we could definitely feel the drag of the trailers. The diesels ably yanked the heavy vehicles around, but had to get busy to do it. While accelerating and on almost any sort of upgrade, rpm climbed to 3,000 or more as the auto-trannies downshifted early and often. Combustion sounds were audible and somewhat pleasing to the ear, but the sheer amount of revving surprised me.
None of the mechanical music came from the two turbos, which neither whistled nor whined. But during each climb, the boost gauges in two of the trucks registered about 32 psi, and in a third truck the needle said 38, or just 2 psi short of the maximum of 40. If the gauges were right, the turbos were really pumping air. By the way, this and the tachometer and speedometer were the only instruments in the Fords that had numbers; all others said only C to H or L to H, with long arcs of "normal" ranges in between. Ford has done its gauges this way for many years (so have some others) and the trucks run just fine, but a few more details on what the engine and alternator are doing would be nice.
Back on the ranch, the 4x4 SuperDuties pulled the trailers through stretches of slick mud with little or no wheel spin. Traction was even more impressive at a nearby off-road course. Melting ice and sleet had soaked the ground, and numerous passes by previous vehicles had dug deep ruts in places. Sometimes the thick, gooey mud would grab the tires and force a truck off to the side, like deep snow pulling a car into a ditch; when that happened, all one needed to do was stop, back up, re-aim the front wheels and get on the gas again.
I say "gas" because the truck I drove off road had the Triton gasoline V-10, a smooth and fairly quiet engine even under these conditions. I wanted to try a V-10 on the highway, but never did find one available in the time I had. Ford was obviously promoting the diesel (in spite of its legal dispute with International), and all the other SuperDuties I drove had them. One truck did get stuck in a deep pool of murky water when its driver apparently failed to apply enough power (whether from a gas or diesel engine was impossible to know because its identifying badges and much of its sheet metal and side windows were slopped with mud). A crew was preparing to tow it out and I bypassed the scene.
For me the fun stopped at 9:45 a.m. when I had to catch a ride to the airport. I left with an appreciation for the vehicles and the Ford folks' logistic efforts under trying conditions brought on by the storm. The fun should be continuous for customers who buy any of these smooth and comfortable SuperDuty pickups, and they'll probably be impressed with the trucks' appetite for work, too.