By Jim Haughey, Director of Economics | September 28, 2010
Construction spending was unchanged in June after declining for 4 months from the January spending surge. Spending growth has been near 0.0% for 18 months, ignoring timing distortions caused by wars and weather. Sustained but slow expansion is expected, driven by the summer revival of the nonresidential market and then improvement in the heavy market later this year. Residential spending growth has stalled with no significant gains expected for a year.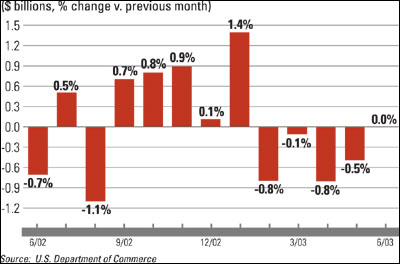 Highway construction spending has been stuck at a $60-billion annual pace for a year and a half. Contractors are waiting for states to raise taxes and resume long-term spending plans and for Congress to enact a renewal of the federal highway funding law. There has been recent progress with restoring both funding sources, but significant new money is not expected for almost a year. There is enough money now, however, to quickly reverse the 5% spring spending drop.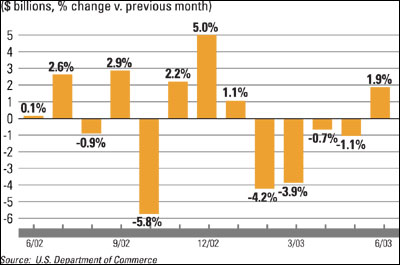 Consumers have discarded their pre-war spending caution, which has given the index a small boost, but it is still very low this far into a business recovery. Consumers are nervous about rising unemployment and the difficulty of finding a new job. They rate current economic conditions at recession level but expect improvement to be below average within six months. Nonetheless, current spending plans remain above average because purchasing power is growing strongly.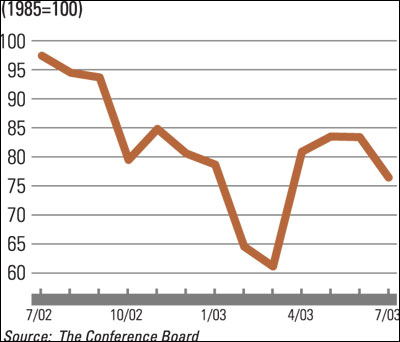 Manufacturing is the most depressed construction sector. This parallels the relative decline of manufacturing in the U.S. economy over the past 5 years. Current spending has declined below replacement level. Usable capacity is shrinking. But the steep spending slide has slowed and may end this summer. The restarted recovery and a cheaper dollar will boost factory production about 6% by the end of next year, setting off a surge in renovation spending.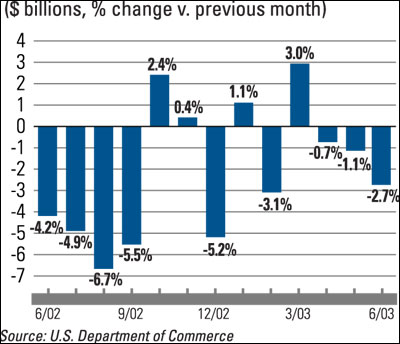 Current prices are 1.2% higher than a year ago. The rise is due to higher energy prices, either directly in asphalt prices or indirectly through higher manufacturing costs for steel, plastics, cement and other materials. Prices rose at nearly a 3% pace in the past six months after falling at a 1% annual rate in the previous six months. Inflation should remain in the 1.5% to 2.0% range into early next year as post-war energy prices have remained stubbornly high.