By Jim Haughey, Director of Economics | September 28, 2010
This is the 10th consecutive year of higher public construction spending. But just barely. Growth will rebound later this year and through next year to between 3.5% and 4.0%. This sector will not catch up to the overall economy until well into 2005—two fiscal years ahead—when public general fund balances have been restored by a period of rising tax collections.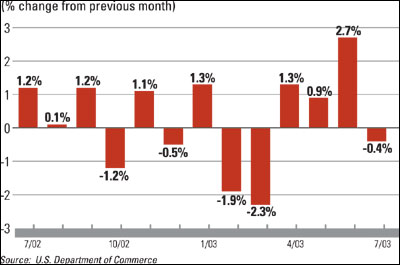 Building and specialty-trade contractors have hired 84,000 workers this year through August. Construction employment should be steady to slightly up for the rest of the year and then expand by about 100,000 in 2004 when both the heavy and nonresidential sectors, as well as residential remodeling, are growing steadily. Yet, contractors will still be hiring in a weak labor market into 2005.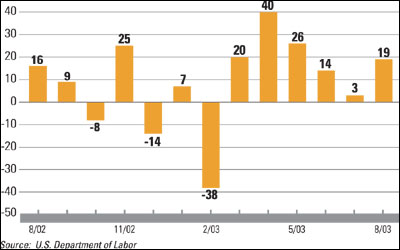 Construction equipment shipments are back on a 10% annual growth track after the brief war-related interruption. Shipments are forecast to rise 8.8% in 2004. U.S. purchases are expanding faster than the shipments data suggest: Equipment imports have soared 40% since December, while exports are only 11% higher. A surge of imports recently arrived from Sweden, Japan and the United Kingdon, while the key U.S. export markets in Latin American and Canada have been restrained.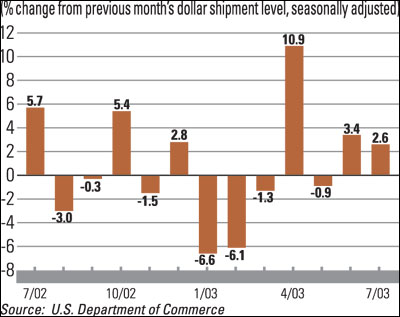 The eight-year boom is over now that mortgage rates are rising; late summer activity was likely the peak for this housing cycle. But only a 2% to 3% decline is expected by mid-2004, when gathering strength in the overall economy begins to edge residential construction spending slightly higher. Don't expect homebuilders to let loose skilled tradesmen and equipment. Resources not needed for new homes will mostly move quickly into the still expanding residential remodeling market.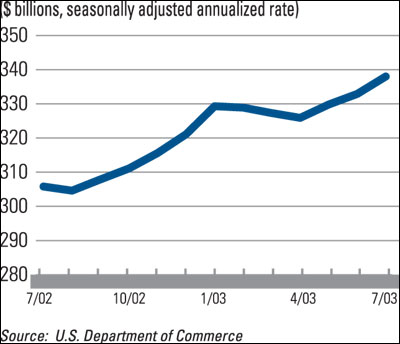 Private construction spending slipped 0.4% lower in the past six months as the notoriously erratic residential remodeling sector declines offset new residential increases. The private spending total will probably be revised later to no change or a small gain. Ahead, spending is forecast to rise at a 3% annual pace, more inflation than square feet, through next spring and then accelerate to a 6% into 2005, when all parts of the nonresidential building market are recovering.