Staff | September 28, 2010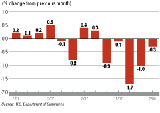 Total construction spending fell 0.3 percent in February, which marks the fifth consecutive decline and overall is 8.5 percent below the peak level in March 2006. Construction volume, after subtracting project cost increases, declined about 15 percent over the same period. Total construction spending is expected to resume rising by the end of the spring due to an end to the housing decline and continued growth, although slowing in nonresidential markets. Spending will decline 0.7 percent in 2008 compared to 2007, and then rise 9.3 percent in 2009.
For more analysis, visit Economic Outlook at ConstructionEquipment.com.