By Jim Haughey, Director of Economics | September 28, 2010

Contractors cut 1.4 percent of their workforce in the last year, and the net job reductions are expected to continue well into 2008. The cutback is the net of layoffs in home building, partially offset by small job gains by heavy/engineering contractors and aggressive hiring by nonresidential contractors. The construction labor market is not homogeneous. Contractors have added jobs in 32 states in the last year, especially in the Rocky Mountain, Plains and Southeast, as well as Texas.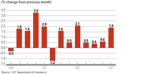 Public construction spending is now past the peak growth in this building cycle. Growth will slip from 12 percent in 2007 to 8.4 percent in 2008 and 7.2 percent in 2009. The turnaround comes with the usual year-plus delay after the peak growth in state tax collections and the peak in budget reserves. Catch-up on delayed funding means slightly faster expansion in 2008 for highways and water/sewer projects, but growth will slow in all other sectors.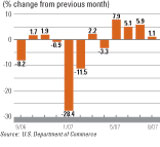 Equipment shipments are now inching higher after the abrupt one-third drop in the winter when equipment rental companies reduced purchases sharply. The improvement in equipment orders received by U.S. manufacturers has been larger, including a nearly 60-percent surge in July. Shipments have been weak for small residential and paving equipment, and will weaken further yet this year. Shipments remain very strong for lifting, earthmoving and export equipment.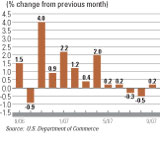 Commercial construction spending is currently 10 percent higher than a year ago, but the growth pace will slip to the 5- to 6-percent range for most of 2008 and 2009. The vacancy rate is now rising slightly, and the rental rate growth is ebbing. Consumer spending is being restrained by a slowdown in job and income growth as well as weakened confidence. Growth remains faster for destination stores, large malls and big-box discounters than for neighborhood strip malls.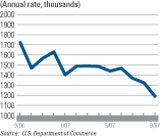 Housing starts fell under 1.2 million in September and are expected to stay near this level for a few months before a slow recovery begins. Only 40 percent of the 2006/07 collapse in housing starts will be recovered by the end of 2009. Starts are being depressed by a surplus of two million existing homes for sale, expectations of further home price cuts, and the unavailability of low monthly payment mortgages. Nonetheless, some local markets continue to expand.