By Jim Haughey, Director of Economics | September 28, 2010
Spending on public projects is peaking this quarter at a $223 billion annual pace as projects approved when public budgets were not as constrained are completed. Ahead, spending will stay at this level for the next year until the taxes due on the higher income, consumption and profits in late 2003 and early 2004 are collected and flow through the appropriation process to construction contracts.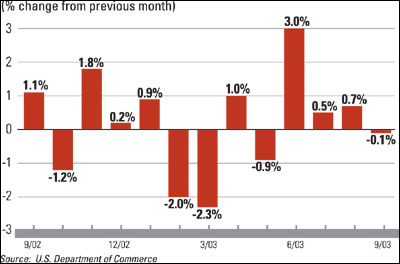 Contractors, almost entirely homebuilders and their subs, hired 147,000 people since February. But heavy contractor employment has been stuck at around 915,000 for more than a year. Now the trends are reversing with a small decline in residential employment expected that will be more than offset by a return to hiring by nonresidential and heavy contractors. Hiring will lag the rest of the economy in 2004.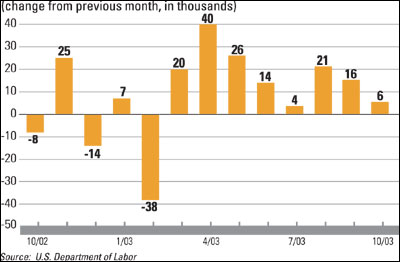 Shipments have rebounded 13 percent from the extremely weak winter quarter but are still 9 percent below the peak reached at the top of the last business cycle. Shipments are expected to continue rising for several years at a 5- to 6-percent annual pace. The higher demand for equipment will be driven by slightly faster growth in total construction spending and by the shift in the mix of projects from residential to nonresidential buildings and later next year to heavy construction.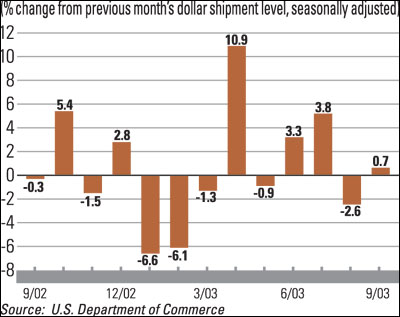 Starts peaked at 1.87 million in the third quarter, and now the completion of these houses will keep new residential spending expanding slowly into the winter. But monthly starts are expected to subside to nearly 1.7 million by next spring. The first signs of this slowing are already here. From the summer peak, mortgage applications to purchase new homes have declined 20 percent, mortgage rates have risen 0.5%, and the Realtors' affordability index has slipped nine points to 136.4.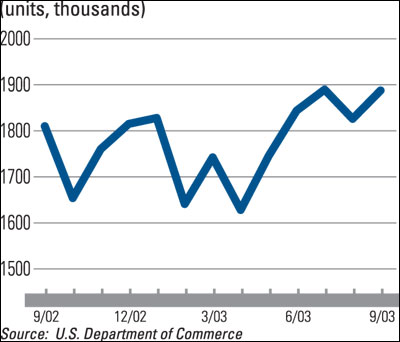 Retail is the first nonresidential market to end the three-year construction recession and resume expanding; spending is already 13 percent above the worst month of the recession for all commercial that includes retail, warehouse and parking. Retail space was built quickly to serve the new neighborhoods created during the recent housing boom. Growth is expected at an 8-percent pace into 2005.