By Jim Haughey, Director of Economics | September 28, 2010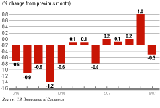 After four consecutive increases, spending fell 0.3 percent in June due to a weak month for the still-booming nonresidential building market and more funding problems for heavy construction. Little change is expected in the next few months. Inflation-adjusted spending is projected to decline further until the end of this year. Total spending will drop 0.6 percent in 2007 and then rise 8.3 percent next year when a recovering housing market offsets slower growth in nonresidential markets.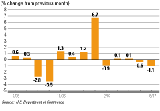 Spending is down 2.3 percent since a yearend surge, but that's a 5-percent drop when we account for project-cost increases. A growth pace of 10 to 11 percent is still projected through 2008. This will be supported by the 9-percent rise in highway construction starts compared to a year ago, as reported by Reed Construction Data. Bridge work continues to expand faster than pavement, and spending will grow after the bridge failure in Minneapolis last month.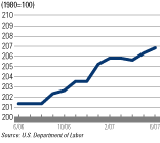 The inflation trend for construction equipment was more than halved to less than 3 percent when equipment shipments fell more than 30 percent at the beginning of the year. Although orders and shipments have recovered slightly, it is still a buyers' market except for the largest equipment and for lifting equipment. International factors will keep inflation from dropping much lower. World steel demand remains strong and theU.S. dollar continues to depreciate.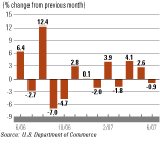 Spending has been stalled at a high level for the past year after nearly doubling in the previous three years. But a jump in starts earlier this year ensures resumed expansion later this year and in 2008. Chemicals, including petroleum and nonmetallic minerals, much of it construction supplies, have been the strong sectors recently. Spending on production facilities for the technology industries has dropped 40 percent in the past year and investment by the motor vehicle industry remains depressed.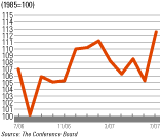 Confidence was the highest in six years in July in response to lower gasoline prices and a surge in the Dow Jones Industrial index to a record high. Yet the turmoil in financial markets to dump mortgage-related investments and the accompanying 5-percent drop in equities prices has again weakened confidence according to preliminary reports from parallel confidence indexes. The indexis expected to stay in the recent rangeof 115 to 130 for the rest of the year.