By Jim Haughey, Director of Economics | September 28, 2010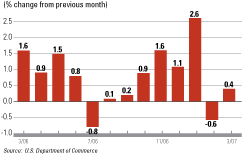 Spending for civil projects and institutional buildings is 9 percent higher than a year ago. The growth pace is expected to slip to around 8 percent by year end and about 5 percent by the end of 2008, which is a little short of projected project cost increases. This follows a similar decline in the new project starts trend. Water, sewer, bridges and colleges are the strongest markets. Pavement is weak due to the precarious state of the highway trust fund.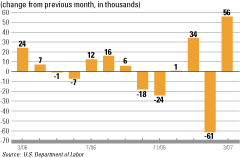 Construction employment is unchanged over the last nine months with layoffs in new home construction offset by hiring in other construction sectors. Total jobs will average near the current level through 2008. Homebuilder layoffs will accelerate this spring for a decline of between 30,000 and 50,000 jobs, but it will return late next year when homebuilders are again building their inventory. Nonetheless, construction wage rates will keep rising as workers catch up with the recent spurt of inflation.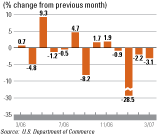 In the first quarter, equipment shipments from U.S. factories dropped a third below the sales pace that persisted throughout 2006. Equipment imports also fell substantially. Many fleets have now upgraded and expanded to the desired level. Overall construction spending is essentially unchanged over the last nine months, partly due to concern about economic growth prospects. Those concerns have now past, so shipments are projected to average from 6 to 10 percent higher than recent months through 2008.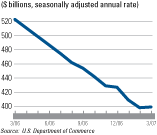 New residential construction spending fell 24 percent since March 2006, is forecast to dip slightly further this spring, and set to increase about 7 percent by the end of next year. Multifamily is unchanged from a year ago. The entire decline is in single-family, mostly for resort and retirement properties at the top of the market and entry-level homes at the bottom. Large homebuilders initially slowed building in existing developments, but are now postponing and canceling new developments.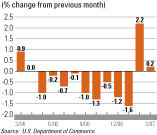 Spending is down 5.2 percent since the peak level reached a year earlier. The decline is near 10 percent after accounting for project-cost inflation. The entire drop is due to single-family housing, concentrated in the southeast and southwest. Spending for residential remodeling is 19 percent higher; spending for commercial buildings is 22 percent higher. Private construction spending is expected to resume expanding this spring with a turnabout in housing starts and increase about 15 percent by the end of 2008.