By Jim Haughey, Director of Economics | September 28, 2010
Spending increased 0.7 percent in January, on track with the 8-percent rise expected for 2007. Highway projects accounted for most of the increase. The near-term outlook is sour for projects that rely on federal funding because of the budget impasse in Congress. But the near-term outlook is brighter for projects funded by state and local governments that have high budget reserves, although reserves will be lower later this year due to slower growth in tax receipts.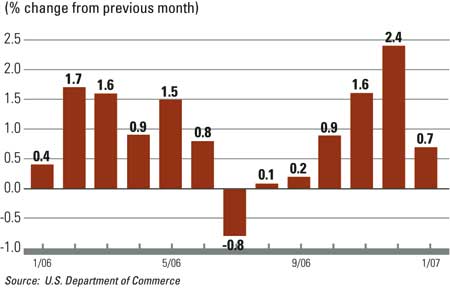 Contractors hired 32,000 people during the warm Dec.–Jan. timeframe, but this is certain to be reversed as seasonal weather returns. The expected hiring trend is flat to slightly down well into 2007 with modest hiring expected late in 2007 and 2008. Wage pressures and spot shortages of skilled workers will persist for nonresidential building and heavy engineering contractors. All contractors should expect "catch-up" wage requests after the burst of energy-driven inflation.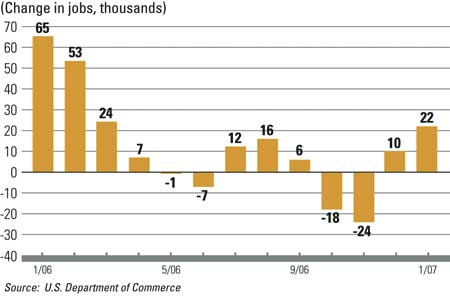 Orders and shipments at U.S. factories plunged by one-third in January from the steady level of the previous 13 months. The sudden drop was likely caused partly by measurement error, partly by export problems, partly by the current nervousness about capital spending,and partly by the reaction to declining construction spending since last summer. Monthly shipments this year are expected to average well above the depressed January level.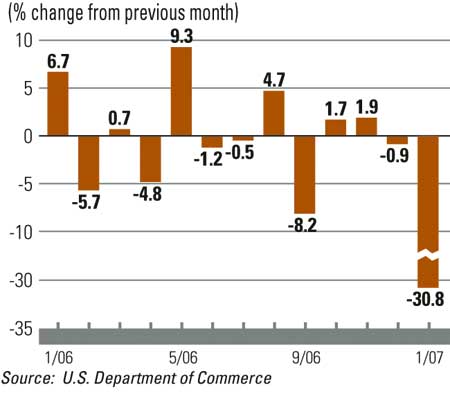 Starts dropped sharply to 1.408 million units in January. This is below the current, depressed level of new home demand. Starts will stay below demand into the spring as the surplus inventory of approximately 175,000 new homes is absorbed. Then starts will rise to 1.6 million-plus by year end and expand slightly more in 2008. Condos, resorts and second homes, and entry-level-price homes experienced the steepest drops. Apartment construction has picked up and will continue to expand.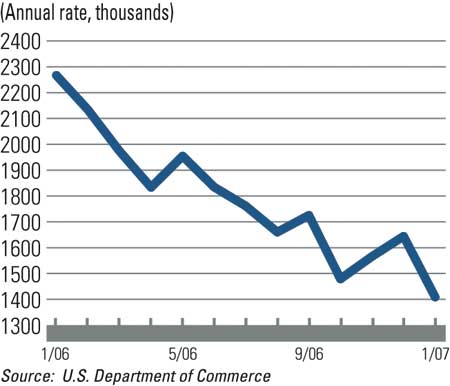 Spending for retail, parking and warehouses dipped slightly in January, but is expected to rise between 7 and 8 percent during 2007. Project starts are at the peak for this building cycle. Commercial developers have soured on retail and moved on to offices. Jobsite construction spending will expand faster than project costs only through mid-year and then ebb slowly. Large shopping malls continue to be the fastest-growing commercial market.