By Jim Haughey, Director of Economics | September 28, 2010
Spending declined 3 percent since the peak level in April 2006, with the slow decline likely to continue into the opening months of 2007. Construction spending in spring 2007 will be unchanged from spring 2006. Jobsite activity should begin rising again when the housing starts slump ends, but the increase for the full year will be less than 3 percent, below project cost inflation. Nonetheless, double-digit spending gains are forecast for both nonresidential buildings and non-building projects in 2007.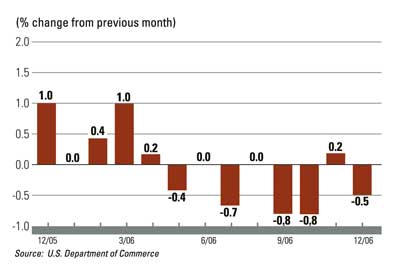 Spending surged to a peak in May 2006, then declined 5 percent, including cost increases, through December. This was the result of budget problems from large cost increases and the continuing delay in the scheduled boost in federal funds for FY 2007. Current spending is 10 percent above a year ago, and this growth trend is expected to continue through 2008. Pavement spending is only 2 percent higher than a year ago, but bridge spending is up 32 percent.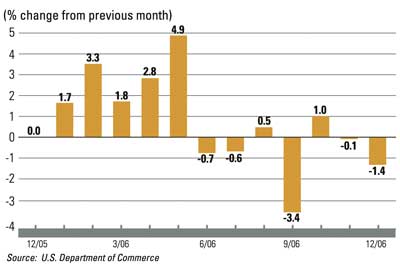 Factory production has been restrained by cutbacks in residential construction materials and motor vehicles and has increased at only a 1.5-percent annual pace since April. Inventories are still modestly excessive in many industries, so production growth will be negligible for the next few months and then recover to about the same pace as the overall economy when inventories are back in balance. Factory capacity is currently stressed in the primary metal, electrical, food, oil, plastics and mining industries.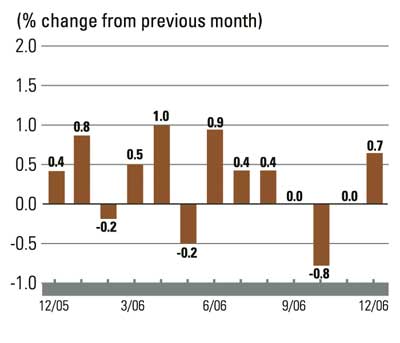 The index was unchanged during the last three months of 2006, reducing the year-over-year inflation rate to 3.4 percent. The recent pause in price increases is temporary. A 3-percent rise in the price index is expected in 2007. Although sales have been steady for about a year, manufacturers still have a 15-week order backlog. Rising orders from foreign buyers and from equipment suppliers to nonresidential building sites offset lower orders from residential contractors and rental services.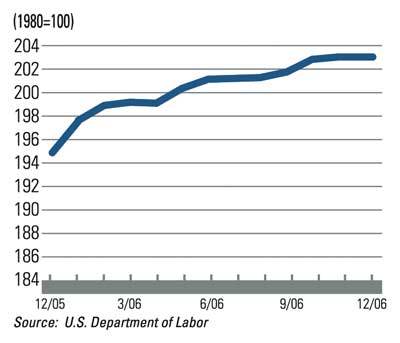 Growth surged to 3.5 percent in the final quarter of last year. This was a temporary burst of spending after two very sluggish quarters. Consumers went back to the mall when oil prices fell. GDP growth is expected to average in the 2.5-to-3.0-percent range well into 2008. This subpar growth will permit a slight easing of inflation, but is still enough to keep credit costs steady and support continued above-average expansion in nonresidential construction.