By Jim Haughey, Director of Economics | September 28, 2010
Total spending declined 3 percent in the six months ending in October as declines in single-family construction more than offset rising spending in all other construction sectors. The residential decline is slowing, but no significant rise in overall jobsite spending is expected until spring. Only a 3.3-percent rise, less than inflation, is forecast in 2007, but a rebound to 7.4-percent growth is expected in 2008 when marginal increases in homebuilding resume.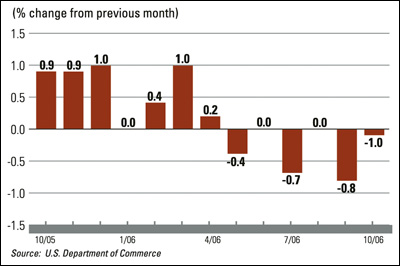 Highway spending was 16 percent higher in October than a year earlier, but it has been declining slowly since May due to sharply higher costs, especially for asphalt, contractor-capacity constraints, and the budget deadlock in Congress. Federal highway funds are being disbursed on a continuing resolution set at last years' appropriation level. The budget restraint will be lifted in the winter or spring, but the other restraints will keep spending growth to 8 percent in 2007 and 2008.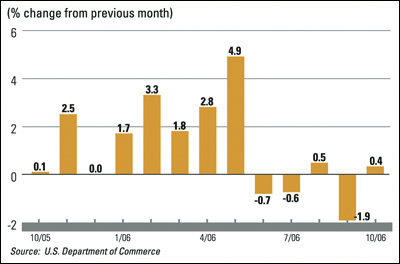 Spending is double four years earlier, but it has been approximately steady since May and is not expected to increase in 2007–08. Both factory production and factory capacity utilization stopped rising in the spring when the diversion of purchasing power to the gas pump caused a rise in goods inventories. But the end of the inventory surplus early in 2007 will not prompt an expansion in factory construction because of the slowing of GDP growth to less than 3 percent.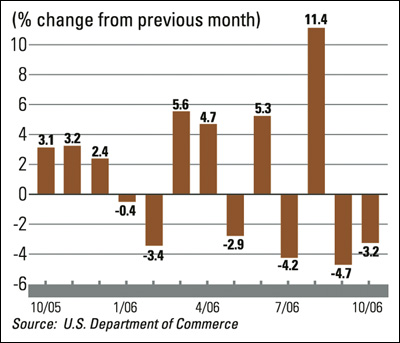 Price gains have been halved in the last six months to a 3-percent annual pace and are expected to remain at or slightly below that level through 2008. Equipment production capacity is still strained by rising demand from nonresidential contractors and foreign buyers. Used-equipment prices remain firm, even rising slightly, according to Rouse Asset Services. As a result, significantly weaker pricing is not expected soon even with much slower growth in construction spending forecast.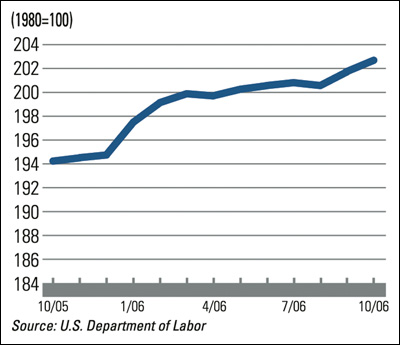 The Index slipped to 102.9 in November, remaining stuck for the past year in the 100-110 range, a little above average. This is high enough to accommodate modest growth in consumer spending, but not high enough for consumer spending to prevent economic growth from slipping below its 3-percent-plus long-term average. Two-dollar-plus gasoline prices and slower job growth are the major restraints on confidence. The index is expected to average only slightly higher in 2007–08.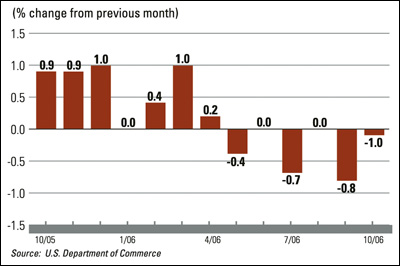 For more Construction Economic Information, please visit BuildingTeamForecast.com or email ReedForecast@ReedBusiness.com