By Jim Haughey, Director of Economics | September 28, 2010
Total construction spending rose 0.9% in October, the fifth consecutive monthly gain. The increase was all in residential; both heavy and nonresidential markets fell slightly. Spending is expected to remain near this through the spring with nonresidential gains offsetting residential declines. Then the residential market stabilizes, nonresidential growth picks up, and the heavy market begins to expand again.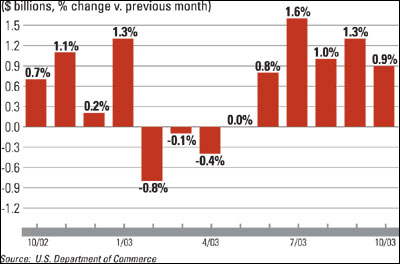 October highway spending dipped slightly from September, but the past two months averaged 13 percent higher than the May 2003 low point. A 5- to 6-percent growth pace returns with a new federal transportation funding plan. New contracts let soared in October, especially for bridge and tunnel work, but the best news is that tax receipts running well above budgets should allow FY 2005 budgets to be more generous.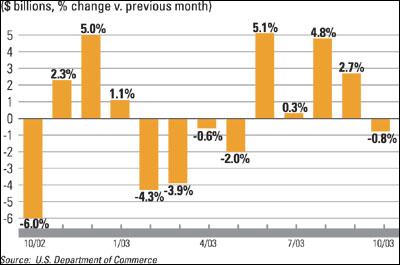 Construction equipment prices have been nearly steady for five months, rising only at a 0.3-percent annual pace. But expect higher price increases early in 2004. Prices jumped 2.5 percent early in 2002 before the initial economic recovery fizzled out. This will be repeated in the next few months. Already equipment shipments are up 25 percent from the low point early in 2003, matching the rise 18 months earlier that produced the last surge in prices.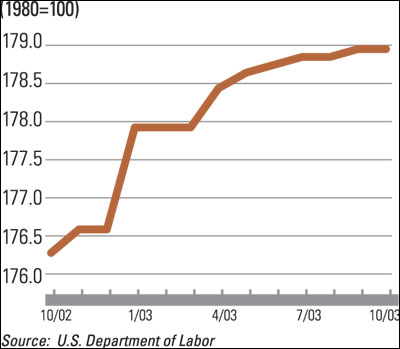 October's 6.4-percent decline in factory construction project spending is counter to the expected strong rising trend over the next few years. Future construction activity depends on industrial production that has been inching up since May and is forecast to grow at a 5- to 6-percent annual pace during 2004. Economic recovery will temporarily mask the continuing loss of world manufacturing market share to low-cost Asian countries.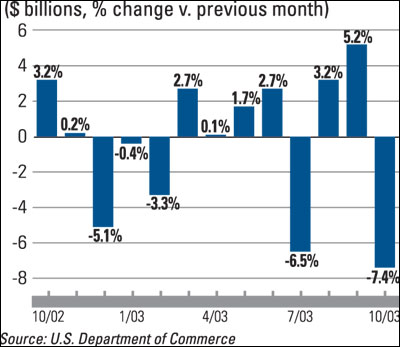 Consumer confidence jumped 10 points to 91.7 in November as consumers' assessment of their present economic condition soared to the highest level in more than a year. The November present-economic-condition sub-index equaled the January to June average of expected conditions six months ahead. Expectations sub-index is now 25 percent above the present-conditions sub-index, so confidence—and spending— is likely to rise sharply by next summer.