By Jim Haughey, Director of Economics | September 28, 2010
Subscribe to the monthly Economic eNewsletter update
View sample of the monthly Economic eNewsletter update
Spending for public buildings and civil projects is nearly 12 percent higher than a year ago; the gain at private jobsites is less than 1 percent. Civil spending, especially for highways, declined at midyear. Projects were slowed or postponed in response to higher-than-budgeted costs for concrete, asphalt, steel and profit margins. This should be temporary because materials costs are declining, public budget balances are well above average, and tax receipts continue to rise strongly.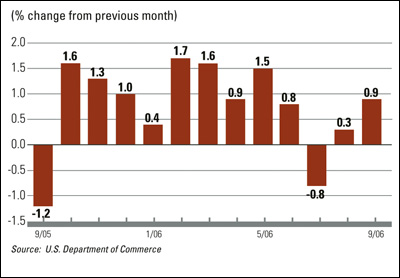 Contractors laid off 26,000 workers in October, dropping employment back to the February 2006 level. Homebuilders and their subcontractors cut faster than nonresidential builders hired. A few more months of little or no hiring are likely before persistent but modest hiring resumes, adding at least 100,000 jobs in 2007. Availability of skilled workers for nonresidential projects will tighten further because the value of starts is up 10.1% year to date compared to 2005.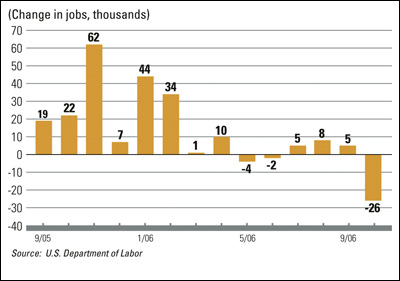 U.S. factory shipments have been stalled for 10 months at $3 billion a month with a 6-percent decline expected by the end of 2007. Nonetheless, orders soared to $3.9 billion in September, so factory sales may briefly increase. The end of the long market boom is reflected in the 17-percent rise in factory inventories in the last 10 months and the decline of equipment price increases to less than a 1-percent annual pace in the last quarter.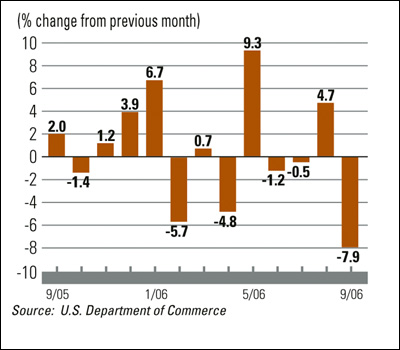 Housing starts came in at 1.772 million in September and have averaged 1.760 for the past four months. Starts are expected to average slightly below this level through 2008 as homebuilders work off their surplus inventory. Expect the surplus to be bigger than now reported. This is at least 100,000 units below the underlying demographic demand due to excessive building in 2004–05. The housing decline is most severe in the Southeast, Southwest and the declining manufacturing centers in the Midwest.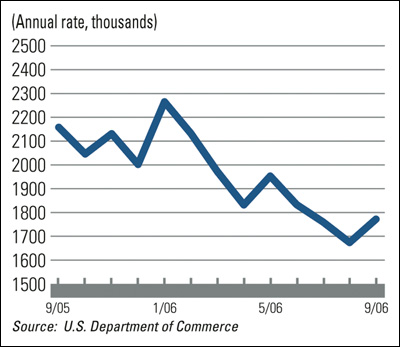 Spending continues to rise quickly at commercial project jobsites with a 6.7-percent gain in the last two months through September and a 16.3-percent gain in the last year. The increase is almost entirely for shopping centers and large discount stores. Spending for shopping centers and malls is 57 percent above a year ago. The value of retail store construction starts is up 15.4 percent year to date compared to 2005.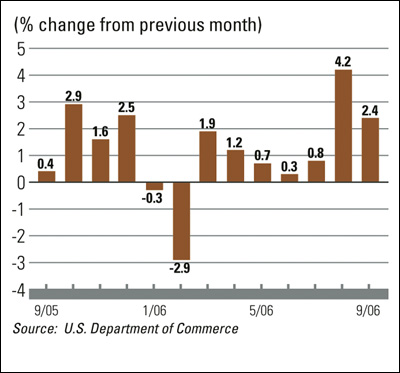 For more Construction Economic Information, please visit www.BuildingTeamForecast.com or email ReedForecast@ReedBusiness.com.