By Jim Haughey, Director of Economics | September 28, 2010
Spending peaked early this year, then declined into the fall as the housing market collapsed faster than the rest of the construction market expanded. After inflation, total jobsite activity fell as much as 4 percent. Total hours worked in the construction industry dropped an outsize 1.7 percent in September even though more than 10,000 new construction jobs were added. Total spending will be rising again by the end of 2006 and will rise 7–8 percent during 2007.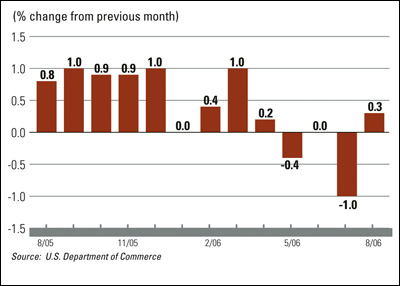 Highway construction spending was 18 percent higher late in the summer than a year ago although it was unchanged during the summer when soaring pavement and structural-steel costs forced some projects to be slowed or postponed. Bridge work continued to expand, and pavement work stalled partly because of concrete worker strikes and material delivery problems. Spending is expected to grow at a 7-percent pace through 2007, slightly ahead of project cost inflation.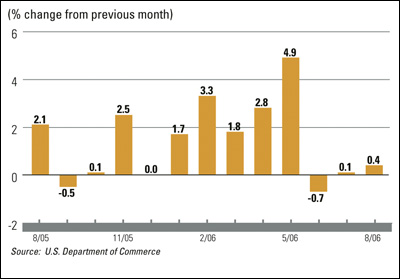 Inflation stalled during the summer after increasing more than 3 percent in the prior year. The stall reflects a 16-percent downturn in orders for equipment after a late spring surge that capped a three-year boom. Prices are expected to increase at a less than 3-percent pace through 2007 as manufacturers are forced to reduce the "shortage" premium in their pricing as their order backlogs ease. Demand, and hence pricing pressures, will remain strong for road-specific equipment.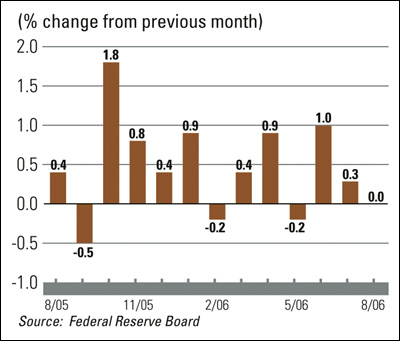 Factory production stalled during the summer but is expected to resume expanding through 2007 at about the same pace as GDP. Ahead, chemical and other process industries will grow faster than equipment and consumer durables industries. Production gains were larger than GDP gains for several years until spring 2006. Nonetheless, factory capacity utilization will remain near the current 82 percent.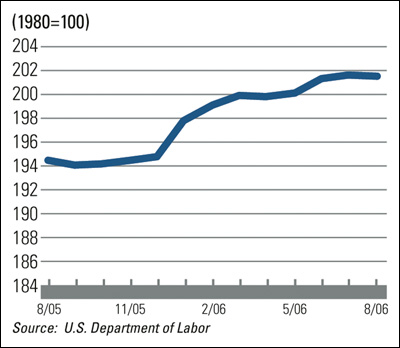 GDP growth is forecast in the 2.5–3.0 percent range for the next two years. The housing boom is reversing, and the equipment-investment boom will slow soon. This growth pace will be slightly below the economy's growth potential so there will be a modest easing of pressure on available supply, materials and labor cost. Credit rates will average slightly above the current depressed level. But, supply condition will remain tight in the rapidly expanding civil and nonresidential building construction markets.