By Jim Haughey, Director of Economics | September 28, 2010
Spending expanded at a 12-percent pace in the first half of 2006; private construction spending fell in April and May, and homebuilding declined. This difference will not persist. Most of the gain was inflation, especially cement and asphalt. As a result, many projects are over budget. Delays and postponements are increasing. The value of heavy-construction starts reported by Reed Construction Data declined 0.8 percent year to date through May after a 35-percent surge in 2005.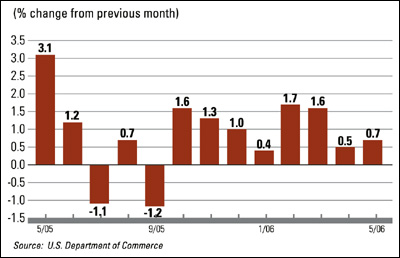 Construction employment has been steady for four months. Hiring for nonresidential building projects has been offset by layoffs in homebuilding and heavy construction. Several more months of little, if any, net job additions are likely until home builders work off their surplus of unsold homes and heavy project budgets are updated to cover recent surges in cement/ asphalt prices. Then 160,000 more jobs are expected by the end of 2007, although this is half of the hiring pace of 2004–05.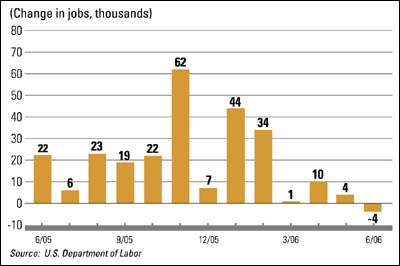 Construction equipment shipments from U.S. factories were a record $3.1 billion in May. Orders were $3.4 billion, so shipments are expected to average near the May level for several more months and then slip under $3.0 billion a month through the end of next year. This outlook assumes that equipment prices will rise faster than overall inflation well into next year. Extended delivery lead times will remain although they will begin to shorten later this year.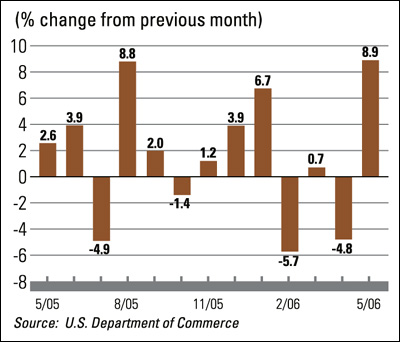 Housing starts increased in May, but the starts outlook is for a decline from 2.2 million early in 2006 to less than 1.9 million by next spring. Mortgage rates approaching 7 percent are trimming demand at the bottom of the market. The 50-percent slowdown in home price appreciation is trimming demand at the top of the market. There is little risk of a deeper housing slowdown because jobs and income will continue to expand, although more slowly than in the past three years.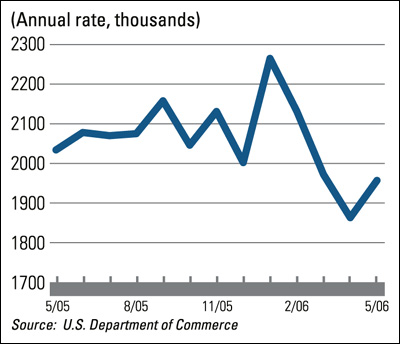 Spending declined, after inflation, in the first half of 2006 after a large surge late in 2005. Spending is expected to outpace inflation by 2 to 3 percent through the end of 2007 following the 20-percent increase in the value of retail construction starts year to date through May measured by Reed Construction Data. Shopping center starts are strong, but stand-alone store starts remain weak. Early summer declines in retail employment signal that chain retailers are turning cautious.