By Jim Haughey, Director of Economics | September 28, 2010
Spending increased steadily during 2005, and the November total was up 7.8 percent from 2004. More than half of this gain was due to higher project costs, especially for concrete products. Spending for water and sewer projects is up 24 percent, fueled by the development of new neighborhoods and higher government budget balances. Highway spending is up 8 percent, but transportation, communication and conservation spending is essentially unchanged.
Contractors laid off 9,000 workers in December, the first decline in jobs in 23 months. Some 491,000 construction workers have been hired since February 2004. Cold and wet weather during December contributed to the decline; the cuts were concentrated in heavy construction and building subcontract work. About 150,000 new construction jobs are expected in the next 12 months, down sharply from the 258,000 jobs added in the last 12 months.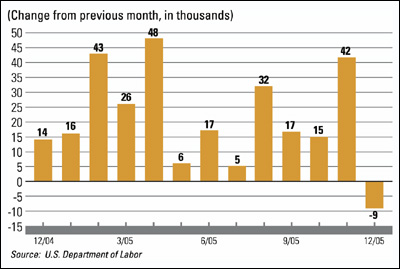 Monthly equipment shipments have been steady at $2.9 billion for four months. Factory orders have averaged $3.1 billion a month since early summer, so manufacturers' order backlog continues to expand with delivery lead times now stretched to 15 weeks. Equipment imports account for a steady 40 percent of U.S. equipment supply. The recent starts surge for highways and nonresidential buildings will keep monthly shipments near the recent level through '06.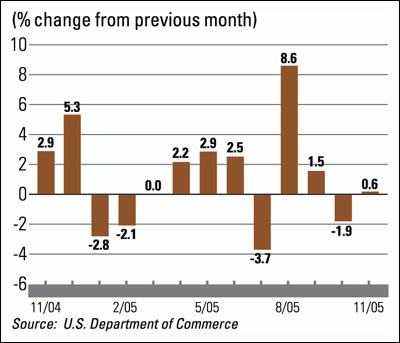 Housing starts have peaked, but new-residential construction spending continued to inch higher through November. Homebuilders are building out their order backlogs. Recent monthly gains in residential construction spending were largely due to higher materials prices rather than more homes under construction. Homebuilders are now reducing speculative-housing starts because they have a five-month inventory of unsold homes.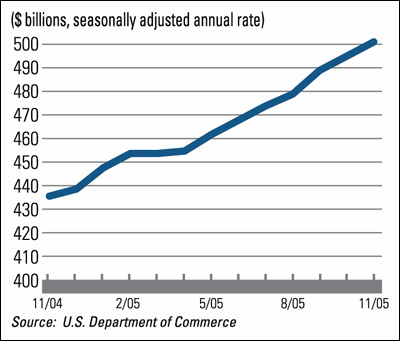 Spending was 7.8 percent higher in November vs. last year. But real market expansion, after inflation, was slightly higher than in the public market because private projects use relatively less concrete and more lumber. All of the gain over the past year has been in new-home construction. Nonresidential buildings will provide the increase in private construction spending in 2006–07. Leading sectors will be shopping malls, hotels, high schools, college facilities and hospitals.