By Jim Haughey, Director of Economics | September 28, 2010
Spending has inched higher since last spring, but 2003 averaged only 2.9% higher than the 2002 average. Inflation accounted for most of the increase. A 3.9% rise is expected in 2004. This gain consists of starting the year at a high level, a dip until public budgets improve, and then a rebound at the end of this year to 1% above the year-end 2003 spending level. 2005 will be significantly stronger.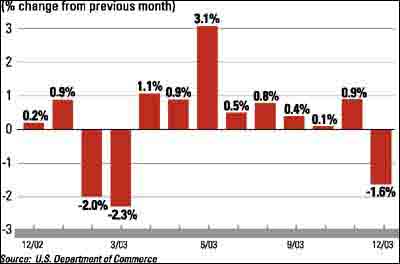 Employment has steadily risen 173,000 jobs over the past 10 months, including increases of 14,000 in each of the final two months of 2003. Ahead, residential jobs will be declining slowly after this spring, and nonresidential and heavy contractors begin hiring. Expect 115,000 new jobs in 2004 and 150,000 more in 2005 with few availability or wage cost problems until late next year.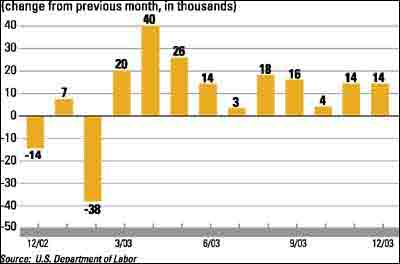 Shipments jumped to a three-year high of nearly $2 billion a month at the end of 2003, pushing the full year to an estimated 3.6% gain. The turnabout put year-end shipments 27% higher than the depressed, pre-war total last March. A 12% gain is expected in 2004, although year-end 2004 shipments will be only 3% above year-end 2003 shipments. A strong gain is expected in 2005 when public project funding has rebounded from the recession.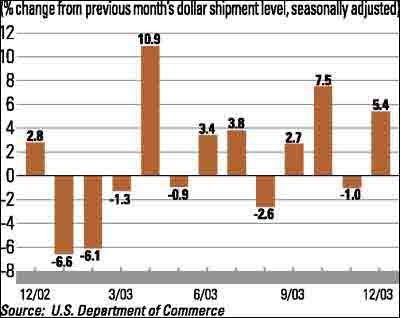 Spending soared late in 2003, entirely for single-family, and now is forecast to peak this quarter at nearly 15% higher than a year earlier. Contractor spending trails housing starts by several months so peak spending will likely be reported for January 2004. The trend should be slowly down for the rest of this year, but total 2004 spending will be up 5.3% from 2003. Expect another 2.6% decline in 2005 although the trend will turn up early in the year.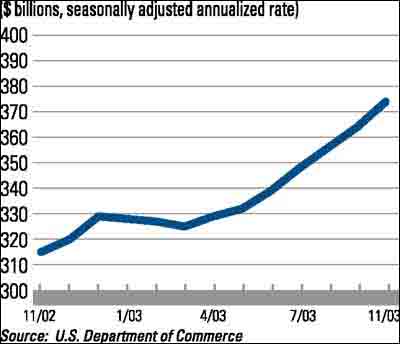 Spending jumped at a 15% annual pace in the second half of 2003, due to the surge in single-family housing, but spending growth will slip to the 2% to 3% range this year as the housing boom subsides. The initial recovery in the nonresidential market is neither soon enough nor big enough to offset the forecast slowdown in housing. The private market will expand faster in 2005 with housing more stable and commercial project work expanding quicker.