By Daryl Delano, Director of Economics | September 28, 2010
The number of units started is falling more steeply, but the value of construction continues growing.
Offices remain vacant, both in suburban and downtown locations.
Demand for production and warehouse space continues to wane.
Total spending has slowed after a strong first quarter, with year-to-date numbers a bit behind 2001.
Overall spending is up from 2001 levels, led by private non-building construction activity even as telecom is declining. Public spending has kept pace with year-ago levels.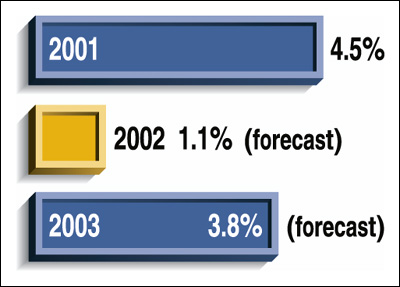 Output rose for the fifth year in a row, bringing the year's number nearly up to 2001 levels. Capacity utilization rate also moved higher in May.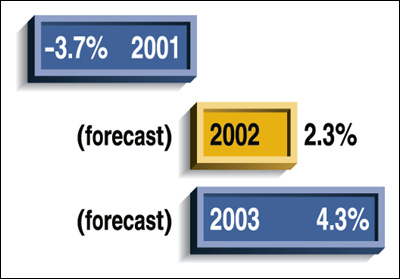 Public-project spending in May was higher than in 2001; private spending dropped in May from April. Total spending year to date is running ahead of 2001 numbers.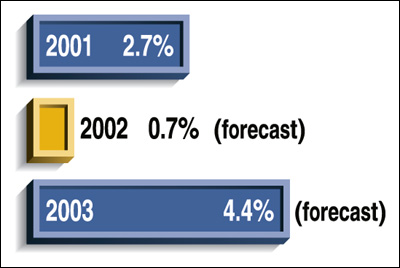 Waning demand for new equipment and a surplus of used machines has kept inflation in check. Add foreign competition and capital spending cutbacks, and pricing power of U.S. manufacturers has been neutralized.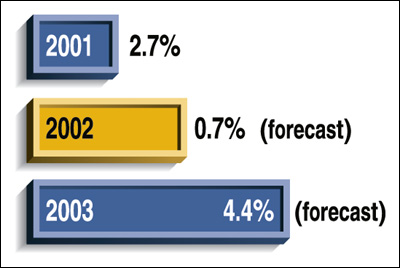 Prospects are slowly improving, although 2002 production will fall short of 2001's none-too-robust level.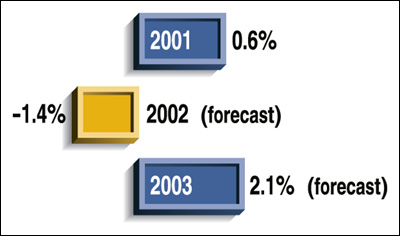 Unemployment rate fell a bit in May, signaling a slow but steady improvement in labor market conditions. Construction employment still lags 2001 level.